Where are the the best restaurants in Lourmarin?
Where can you enjoy a paper thin pizza fresh straight from the wood smoke of a 'feu de bois' oven? 
Perhaps you'd like to sample fresh, beautifully presented local ingredients within the captivating ambience of a former olive mill?
Or be pampered by award winning chefs at a Michelin star restaurant?
For a tiny village in the Luberon, there are several restaurants in Lourmarin to choose from ~ here are some our favourites!
RESTAURANTS IN LOURMARIN
Rue du Temple, 84160 Lourmarin Tel: +33 (0)4 90 68 06 69
Price: from €35.00 per person Closed: mid January – February
Fabulous restaurant in a delightful old olive mill, as delicious
as the charming hotel, in which it is located!
Beautifully presented regional food, excellent service, you won't be disappointed
Rue du Temple, 84160 Lourmarin 
+33 (0)4 90 79 00 46 
(no web site)
Price: from €35.00 set menu
You will almost certainly be introduced to some new flavours here!
Photographed above, No 9 consistently serves some of the best food in Lourmarin.
Route Apt, 84160 Lourmarin, France    +33 (0)4 90 68 00 33
Price: Lunch and dinner (same menu) mains €12.00 – €30.00
One of our favourite spots in Lourmarin for a delicious, thinly sliced steak,
smothered in a roquefort, mustard or shallot sauce,
the most wonderful 'frites' & a crisp salad.
On a cold winter's night, sit by the central open fire and dine by candlelight, perfect!
Also offers scrumptious crêpes and offers good daily specials.
2 Rue Albert Camus 84160 Lourmarin, France +33 4 90 68 23 33
Price: From €12.00
Best pizzas in Lourmarin, cooked to perfect in the 'feu de bois', also available for take away.
Serves other delicious Italian dishes, booking required as it's always packed!
RESTAURANTS WITHIN 5 MILES OF LOURMARIN
Route de Lourmarin [ D943 ] 84160 Cadanet, Tel : +33 (0)4 90 68 11 79
Price: Restaurant, approx: €80.00 Bistro, mains from €30.00
Closed: mid January – February
Renowned chef, Reine Sammut's 
exceptional, gourmet restaurant (closed Mondays and Tuesdays)
and an equally delicious but more casual Bistro (closed Wednesday and Thursday).
Also a wonderful, 4 star boutique hotel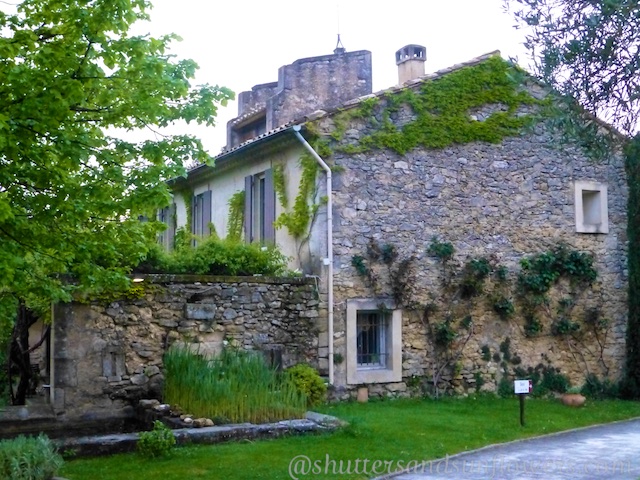 32 Place de la Mairie 84160 Vaugines, France     Tel: +33 (0)4 90 77 11 08
Price: €32 set menu   Closed: Sunday and Mon &Tues lunchtime
Caroline and Benoit will welcome you to this charming former pizzéria,
now a delicious bistro.
LAURIS ~ LOU PEBRE D'AIL
78 avenue J. Garnier, 84360 Lauris, France   Tel: +33 4 90 08 27 00 (no website)
Price: From €28.00 – 4 courses all inclusive (exc wine)
Casual, country atmosphere, friendly service and the most amazing value,
especially for such incredible food!
The set menu has 3 – 4 choices for each course, each one beautifully prepared and scrumptious, booking essential!
Place de l'Étang, 84160 Cucuron, France   +33 (0)4 90 68 21 99
Price: from €40 set menu  Closed: Mon and Tues
1 Michelin star, pretty wonderful!!!
Let me know what restaurants in Lourmarin you have discovered!
Next time other restaurants in the surrounding Luberon villages!