The COVID pandemic has consumed us all. My heart goes out to those that have lost loved ones and the debt owed to our health care workers can never be repaid. Globally the world has been tipped on its axis. As it continues to spin it sometimes feels that it will never stop, will life ever return to normal?
For us, amongst other things, we have been disappointed not to be able to travel to Lourmarin. We've kept in touch with friends we've made there and just recently I heard from Susan and Towny in New Hampshire who like us have a long enduring love affair with Lourmarin. It was wonderful to hear from them but also very humbling as reading Susan's email I realized that however frustrating and financially challenging the effects of COVID might be, compared to the life changing tragedy they've been forced to deal with our problems pale into insignificance.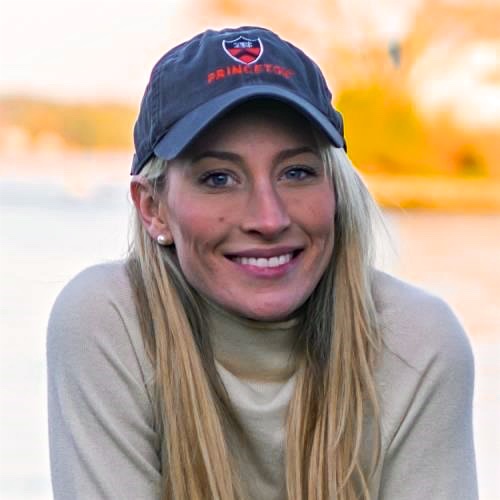 Two years ago, unrelated to COVID, Susan and Towny lost their beautiful, vivacious, twenty-six-year old daughter Alex to a devastating little-known illness called PANDAS.
Susan and Towny lived with Alex in Lourmarin in 2002 and during that time made lifelong friends. It is actually because of Susan that we met our friend Walter, whose help with the purchase and renovation of our house was invaluable.
Three years ago our families spent a wonderful evening together in Lourmarin. Our lovely daughter Kate was with us. Two bright, bubbly young women of a similar age found they had much in common, a mutual love of Provence being one of them. We still have our Kate but Alex is gone……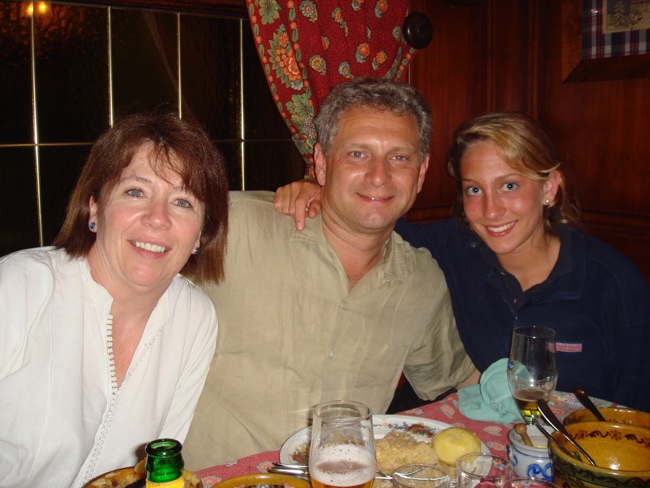 It is impossible to recover from such terrible loss but Susan and Towny are an incredible inspiration. Determined that other people don't have to endure their suffering and pain they have bravely committed themselves to educating people about PANDAS which if detected and diagnosed can be treated. By establishing The Alex Manfull Memorial Fund, and attending medical conventions they are committed to telling her story and with the help of dear friends in Lourmarin have begun a project, À Table! to help spread awareness.
There's is a story of deep sorrow but it is also a thought provoking story of courage and a reminder of the goodness of people. It's one I asked Susan if I could share, to help raise awareness about this ugly disease which so cruelly stole their only child away from them.
Several of Susan and Towny's friends from Lourmarin have joined with them in the À Table! project to help. I know Gérard and Christine Isirdi, Gérard did a commission  for my friend which we are in!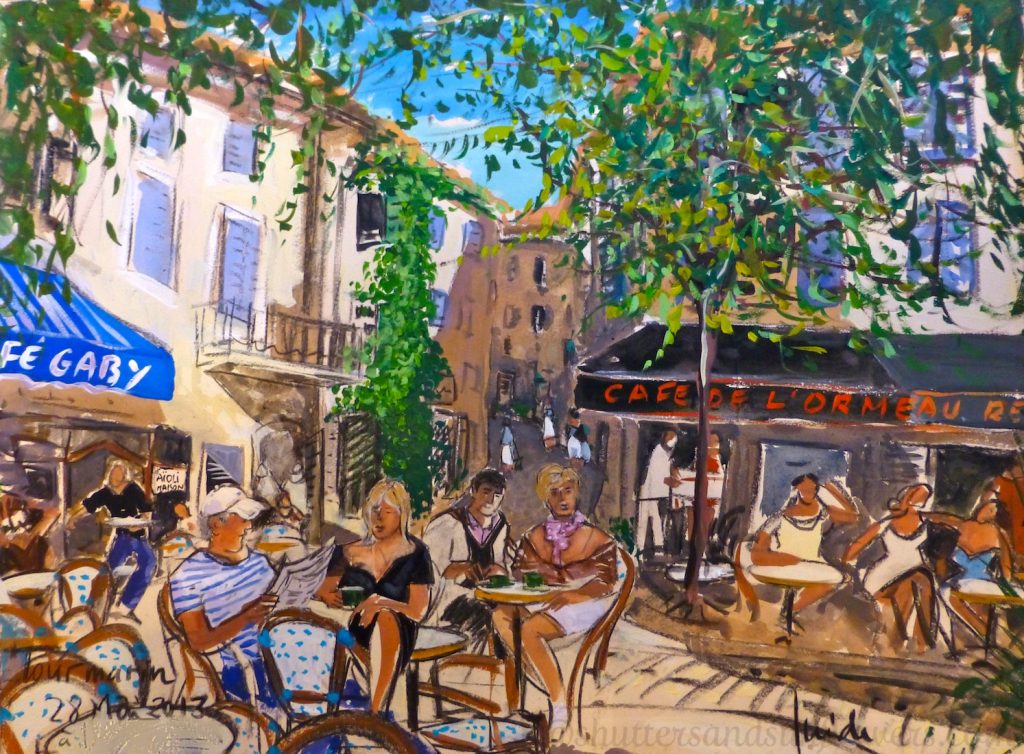 Madeleine Premmereur of Château Barbebelle I've not met but I'm hoping to do so. And Hervé Giustiniani, the owner of De la cuisine Au 20 in Lourmarin, I don't know personally, yet, but I know his smiling face and his delightful shop.
So how are they helping the À Table! project and what exactly is it?
Susan and Towny are dedicated wine connoisseurs, they author a wonderful blog Provencewinezine and decided to use their knowledge and passion for wine via the À Table! project as one of their ways to raise awareness about PANDAS.
As Susan wrote "….. we got the idea of using bottles of wine to spread the word about the deadly role of strep in causing neuropsychiatric symptoms. Many people know that strep infections can seriously affect the heart, kidneys, skin, and joints (e.g., rheumatic fever, scarlet fever, and even necrotizing fasciitis) but they don't know how it can lead to very serious inflammatory conditions in the basal ganglia part of the brain. The label on the wine bottle and an attached booklet would contain information about strep and PANDAS (and a related condition called PANS)".
Gérard is a renowned painter whose atelier is on the main street in Lourmarin.
His iconic scenes of village life and the Luberon are admired across the continents.
Gérard has designed the wine label
Madeleine Premmereur (née Herbeau), is the 4th generation of her family to manage the 16th century Château Barbebelle, one of the oldest estates in the Coteaux d'Aix-en-Provence, located in Rognes, near Aix-en Provence.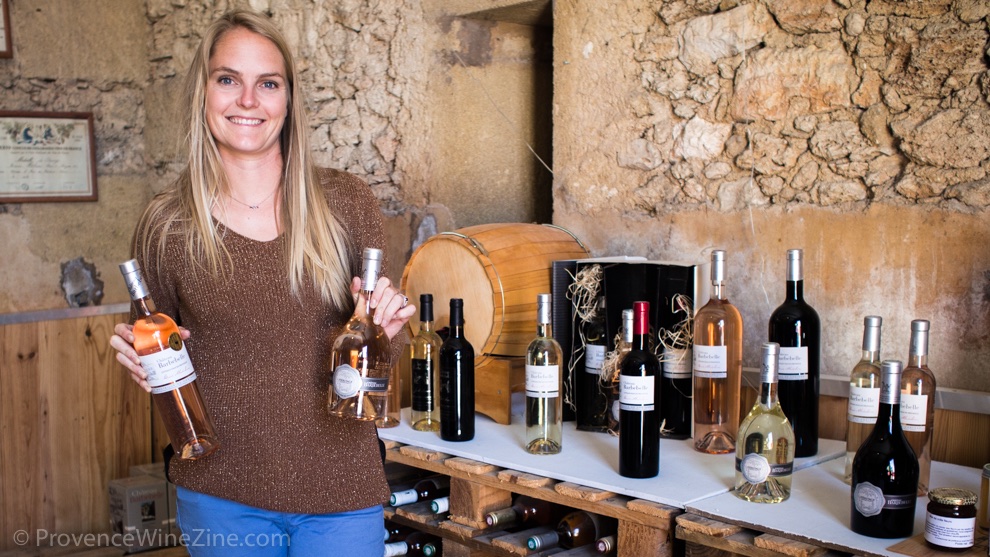 Madeleine, here with Susan, has supplied the vintages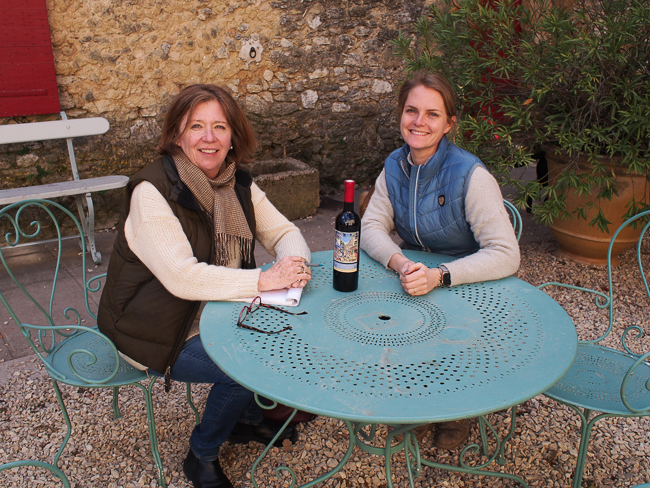 Hervé, pictured here with Towny, is selling the wine in Lourmarin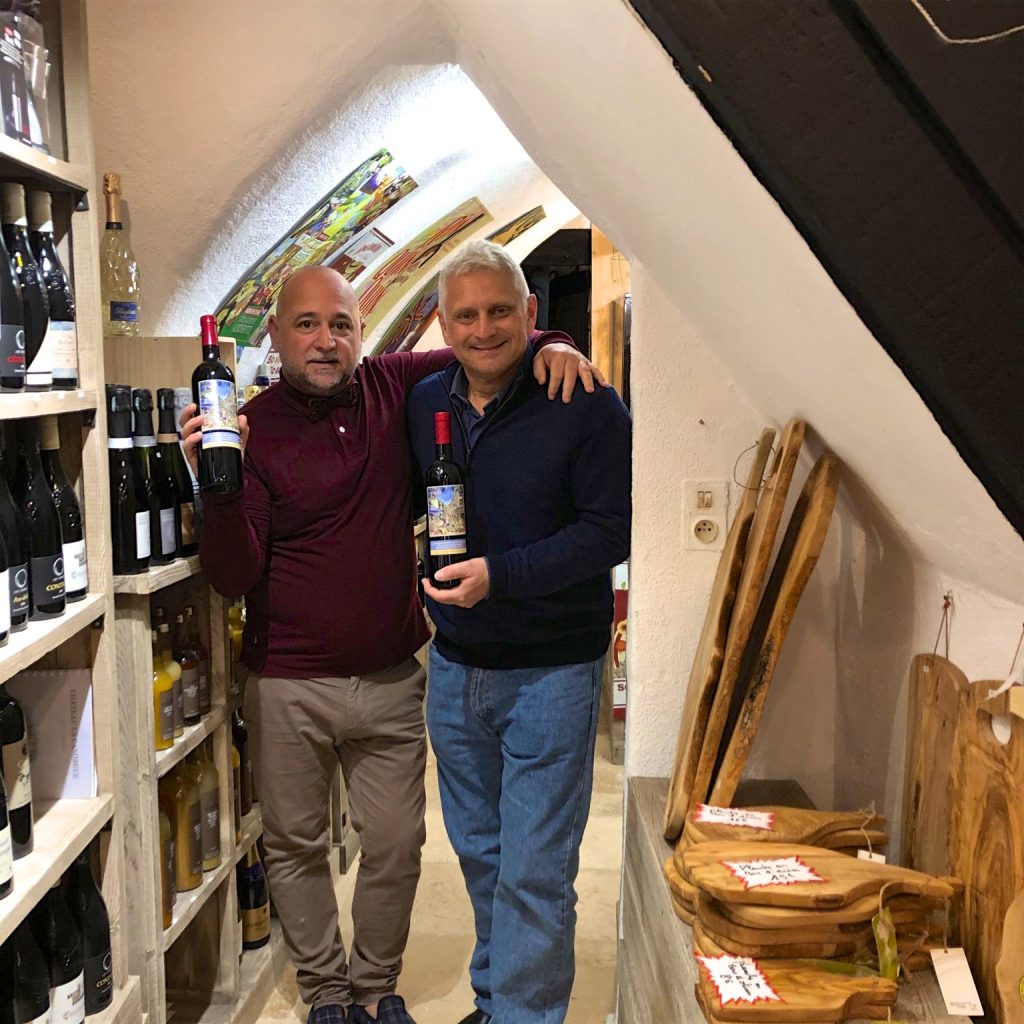 Susan wondered if somehow I might have found my way to Lourmarin and be able to interview their dear friends to write this article. Sadly, like Susan and Towny we have not been able to get there. It will however be my first blog post when I return but for now I hope I can help in this tiny way to let you all know about the incredible work they are doing.
COVID has currently prevented them, for now, from moving their project forward in the way they'd hoped. Travel to Lourmarin from USA is almost impossible but Hervé has the wine for sale at De La Cuisine Au 20 Wine and Épicerie in Lourmarin.
From July 31st 2020 the wine has also been for sale in Susan's local wine merchant in Portsmouth, New Hampshire at the South Street and Vine Wine and Cheese Shop.
As part of their awareness campaign Susan and Towny are asking everyone to raise their glasses (of Alex's wine or their favorite beverage, even tea or sparkling water) to Alex and every other person diagnosed with PANDAS with the promise that they will spread the word about this horrible disorder.  Please take a photo of the toast and send it to Susan at: susan@provencewinezine.com. She will post them all on Instagram (@TheAlexManfullMemorialFund) on Alex's birthday, September 7.
I wish Susan and Towny all the luck in the world. This is written with so much love and respect for them and the special people that are helping them from the beguiling little village in the Luberon that connects us all so profoundly, our enchanting village of Lourmarin.
To purchase the wine contact Susan: susan@provencewinezine.com
Contact Information:
Château Barbebelle
Route D 543, 13840 Rognes, France
Tel: (33) 4 42 50 22 12 Email: contact@barbebelle.com
Gérard Isirdi
Atelier Isirdi, 4 rue Henri de Savornin 84160 Lourmarin, France
Tel : (33) 4 90 08 50 96 Email: isirdi@wanadoo.fr
De La Cuisine Au 20
20 Rue du Temple, 84160 Lourmarin, France
Tel : (33) 9 53 96 96 61 Email: contact@delacuisineau20.com
South Street and Vine
359 Marcy St, Portsmouth, NH 03801            Tel: (603) 430-2984 Email: robin@southstreetandvine.com