A TRAVEL GUIDE FOR EXPLORING SAN FRANCISCO
Download the San Francisco Travel Guide  here or read it below
First light in the 'City by the Bay', the iconic red pillars of the Golden Gate Bridge peek out above the fog, gradually slipping away to reveal a cloudless, blue sky. A new day to discover San Francisco; grab your San Francisco Travel Guide and explore this stunning city. Wander the shores of the bay & its endless steep hills fringed with soft, pastel buildings along which runs its world famous cable cars. Cross the water over its incredible suspended bridges, visit the waterfront, wander the piers, explore the San Francisco museums and dine in one of its sumptuous restaurants. 
An overview of San Francisco
Even if you only have a day to spend in this beautiful city you must take a cable car ride. There are three lines: Powell-Hyde, Powell-Mason and The California Street Line. The Powell-Hyde & Powell-Mason lines begin at Market Street (Union Square). The Powell-Hyde Line ends near Ghiradelli Square, the Powell-Mason Line at Bay Street in Fisherman's Wharf and both lines stop at the Cable Car Museum  where you can gain a fascinating insight into how they operate. The California Street Line runs east-west from Van Ness Avenue to the Financial District close to The Yerba Buena District, a vibrant cultural area. Cable Car website
Don't leave without winding your way down Lombard Street, the world's wiggliest street! Meander the shops and restaurants by Union Square, along Union Street, or by San Francisco's Civic Center home to The San Francisco Symphony and Opera houses.
Climb the steps of Coit Tower and if you yearn for good Italian food, nearby North Beach is just one of  San Francisco premier restaurant districts. Take a ferry to Alcatraz, San Francisco's infamous island prison or rent a bike to explore neighboring Angel Island.
GOLDEN GATE PARK
San Francisco has many world class museums several of which are in Golden Gate Park ; The California Academy of Science, The De Young  Museum and Japanese Tea Garden.
Look out for the buffalos in the park and then head to the Presidio, The Walt Disney Family Museum and on to incredible fine art collection at the The Legion of Honor.
ACROSS THE GOLDEN GATE BRIDGE
Walk along the shoreline in The Marina towards the Golden Gate Bridge and join the joggers at Crissy Fields  below the bridge's spectacular arches at Fort Point. Climb the hill above and take an unforgettable walk across this remarkable bridge. Afterwards drive up the Marin Headlands to gaze back in wonder at the city. The delightful Bayside towns of Sausalito and Tiburon are a short drive away and Muir Woods where an unforgettable meander through the Californian Redwoods awaits.
Rent a GOCAR, a GPS story telling car and depending when you're there, catch a baseball game at AT&T Park.
Lots to do in this wondrous Californian city, let's take a more detailed look!
WHAT TO DO IN SAN FRANCISCO
The Ferry Building  At the opposite the end of Market Street you'll find the Ferry Building, gourmet food stores packed with local artisanal temptations and on Saturdays, Tuesdays and Thursdays, a fabulous regional farmer's market.
The Marina explore this vibrant area including the:
Palace of Fine Arts a monumental structure, built in 1915 for the Panama-Pacific Exposition.
Crissy Fields meander along the shores of the Bay by this former military air field, stop for a drink at the Warming Hut before you walk further to:
Fort Point Don't miss the short film about the construction of the bridge.

Golden Gate Bridge stand below it, walk across it or just stare at this breathtaking San Francisco icon, it's a site you won't forget!
The city's beautiful central park, home to its buffalos & world class museums:
The California Academy of Science San Francisco's incredible science museum, be sure to find the white alligator!
The De Young  Museum  home to a stunning collection of fine art and host to an ever changing collection of world class exhibitions.
Japanese Tea Garden originally built as part of the 1894 World Fair, come and admire the Japanese architecture and seasonal blooms, the sakura trees, gingko leaves and azaleas blossoms.
THE PRESIDIO San Francisco's former military center now also home to:
The Walt Disney Family Museum learn about the incredible life and legacy of Walt Disney.
OTHER SAN FRANCISCO SIGHTS

The Cable Car Museum  Learn about the cable cars fascinating history from their first run in 1873.
The Yerba Buena District A cultural arts center in the heart of the city.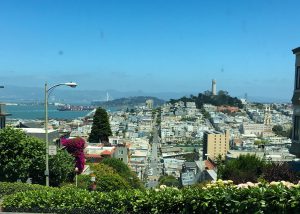 Lombard Street the world's most crooked street.
Union Street shopping and culture.
The Civic Center beautiful civic buildings, shops, restaurants & San Francisco Opera & Symphony.
The Legion of Honor ~ Housed in a stunning
French neoclassical building, the Legion of Honor's fine art collection spans four millennia of history. Don't miss the Holocaust Memorial just opposite.
North Beach San Francisco's Italian district, excellent authentic restaurants and Coit Tower The 210-foot tower in the Telegraph Hill opened in 1933 in memory of Lillian Coit, a wealthy eccentric and patron of the city's firefighters.
Alcatraz  This former prison was home to criminals like Al Capone & Machine Gun Kelly, Alcatraz is accessible by boat from
Pier 41. Buy tickets through Alcatraz Cruises.
Angel Island take a ferry, rent a bike and explore!
AT&T  Park to watch the famous Giants swing their baseball bats!
WHAT TO DO NEAR SAN FRANCISCO
MARIN
The Marin Headlands~ From the city cross the Golden Gate bridge and take the first exit on the right, turn left, back under the freeway to access the road which will take you to the headlands. Wind up this headland road for stunning views of the bridge and city.
Sausalito ~ shop and dine in this charming Riviera style then across the bay form the city
Tiburon ~ a few miles further along the coast to this charming waterside town which basks in the view of San Francisco. Enjoy lunch by the water, Sam's Cafe is always a fun choice!
Muir Woods~home to California's beautiful Redwoods, come and spend the day exploring local nature along the beautiful trails.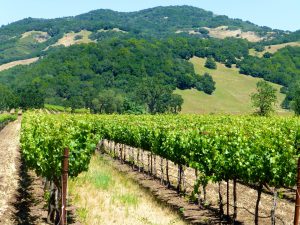 WINE COUNTRY ~ NAPA & SONOMA VALLEYS
One hour north ~ 50 miles. Sample world class vintages in perhaps America' finest wine region.
MENDOCINO Three hours north ~150 miles a picturesque town on the wild northern coast.
POINT REYES One hour north-east ~45 miles. Hike the trails near the ocean & visit The Cow Girl Creamery to sample their amazing artisanal cheese.

CARMEL & THE MONTEREY PENINSULAR One hour south ~ 100 miles. One of California's most spectacular spots, for further details see the Carmel Travel Guide.
YOSEMITE Three hours east ~ 160 miles. One of America's most breathtaking National Parks. For information about trails and hiking see Mountain IQ
ROUTE 49 GOLD COUNTRY Two hours north ~140 miles, the original Gold Rush center well worth visiting on route to Lake Tahoe.

SACRAMENTO One half hours north ~85 miles. California's historic capital.
LAKE TAHOE Three & half hours north ~200 miles for more details see the Lake Tahoe Travel Guide.
WHERE TO STAY IN SAN FRANCISCO
THE SCARLET HUNTINGTON Contact: 1075 California Street San Francisco 94108 Tel:+1 415 474 5400  Price: From $330 Comments: Located in prestigious Nob Hill, originally a 1920's apartment building, 134 unique guest rooms with first class service
THE FAIRMONT HOTEL Contact: 950 Mason Street San Francisco 94108 Tel:+1 415 772 5000 Price: From $300 Comments: Also in prestigious Nob Hill, this is one of San Francisco's most beautiful historic hotels.
RITZ CARLTON Contact: 600 Stockton Street, San Francisco 94108 Tel: +1 415 296 7465 Price: From $420  Comments: A lovely hotel with the excellent standards you'd expect from a Ritz Carlton.
HOTEL VITALE Contact: 8 Mission Street, San Francisco CA 94105 Tel: +1 415 278 3700 Price: From $300 Comments: Great location on the Embarcadero overlooking the Bay Bridge
W HOTEL Contact: 181 Third Street, San Francisco 94103 Tel: +1 415 777-5300 Price: From $390 Comments: In the middle of the city's South of Market district, modern and chic!
CLIFT HOTEL Contact: 495 Geary Street, San Francisco, CA 94102 Tel: +1 415 775 4700 Price: From $200 Comments: A modern, boutique hotel in the theatre district 375 rooms, unique interior design.
THE MARKER Contact: 501 Geary Street, San Francisco CA 94102 Tel: +1 415 292 0100 Price: From $200 Comments: Opposite the Clift (see above), The Marker (formerly the Monaco) has 201 vibrantly decorated rooms many with canopied beds.
FOUR SEASONS SAN FRANCISCO Contact: 757 Market Street, San Francisco CA 94103 Tel: +1 415 633 3000 Price: From $700 Comments: Luxurious and stylish located on Market Street opposite the Yerba Buena Center.
HOTEL DES ARTS Contact: 447 Bush Street, San Francisco, CA 94108 Tel: +1 415 956 3232 Price: From $200 Comments: Small but stylish rooms well located on the cable-car route next to Chinatown and downtown.
HOTEL DEL SOL Contact: 3100 Webster Street, San Francisco CA 94123 Tel: +1 415 921 5520 Price: From $180 a night Comments: In the Marina District, a converted 1950s motor lodge with 57 rooms including 10 themed suites such as The Love Shack & The Dream Factory!
HOTEL DIVA Contact: 440 Geary Street, San Francisco, CA 94102 Tel: +1 415 885 0200 Price: From $160 a night Comments: Located opposite very near to Union Square this glitzy but stylish hotel has 116 rooms, good value!
CAVALLO POINT Contact: 601 Murray Circle, Fort Baker, Sausalito CA 94965 Tel: +1 415 339 4700  Price: From $350 Comments: At Fort Baker across the Golden Gate Bridge. 68 rooms with fireplaces in the original buildings and 72 contemporary hillside rooms; spa and restaurant.
HOTEL KABUKI Contact: 1625 Post Street, San Francisco, CA 94115 Tel: +1 415 922 3200 Price: From $250 Comments: Comfortable Japanese style rooms The Izakaya Lounge Restaurant serves a Japanese breakfast bento and hosts a karaoke night every Thursday.
HOTEL MAJESTIC Contact: 1500 Sutter Street, San Francisco CA 94109 Tel: +1 415 441 1100 Price: From $130 per night Comments: A meticulously restored 1920's mansion with 58 rooms decorated in period style hotel. Café Majestic, opened in 2007 & is highly acclaimed.
HOTEL REX Contact: 562 Sutter Street San Francisco CA 94102 Tel: +1 415 433 4434 Price: From $220 per night Comments: By Union Square, this 94 room hotel has a cool 1920's ~30's literary, artistic theme.
PHOENIX HOTEL Contact: 601 Eddy Street, San Francisco CA 94109 Tel: +1 415 776 1380 Price: From $180 Comments: A former 1950s caravan lodge, now transformed into a trendy urban oasis.
ST REGIS SAN FRANCISCO Contact: 125 3rd Street, San Francisco CA94103 Tel: +1 415 284 4000 Price:From $500 Comments: In a 40-floor tower across from the Yerba Buena Center, the rooms are spacious & luxurious. Spa Remède spa & a 50ft pool in the fitness centre.
THE PALACE HOTEL Contact: 2 New Montgomery Street, Financial District, San Francisco, CA 94105 Tel: +1 415 512 1111 Price: From $500 per night Comments: Old style elegance with excellent service in this grand, historic hotel on Market Street by the Financial District
WHERE TO EAT
San Francisco has become a gourmet destination and I couldn't even begin to do justice to all the choices available but here our some of our favorites:

SUTROS at THE CLIFF HOUSE ~  Contact: 1090 Point Lobos Ave, San Francisco, CA 94121 Tel: +1 415 386-3330  Price: Appetizers from $12, Mains from $23 Comments: Enjoy dramatic ocean views by the historic Sutra baths. Close to Golden Gate Park & cliff top walks
LA MAR ~ Contact: Pier 1.5 Embarcadero, San Francisco, CA 94111 Tel: +1 415 397 8880 Price: Appetizers from $14.00  Mains from $24.00 Comments: Peruvian tapas, fresh & delicious 'where life the sea and Peruvian culture are celebrated' reservations recommended!

EPIC ~ Contact: 369 The Embarcadero, San Francisco, CA 94105 Tel: +1 415-369-9955  Price: Appetizers from $14.00 mains from $36.00 Comments: Nestled under the Bay Bridge with fabulous views of the Bay & Delicious food too!
THE WATERBAR ~ Contact: 399 The Embarcadero San Francisco, CA 94105 Tel: +1 415 284 9922 Price: Appetizers from $12 Mains $37 Comments: Next to Epic, especially good sea food.
STATE BIRD PROVISIONS ~ Contact: 1529 Fillmore St, San Francisco, CA 94115 Tel:+ 1415 795 1272 Price: From $5.00 -$30.00 Comments: An Urban-rustic storefront setting of American small plates served dim-sum style.
GARY DANKOS ~ Contact: 800 North Point St, San Francisco, CA 94109 Tel:+1 415 749 2060 Price: 3 Courses $87, 4 Courses $106, 5 Courses $124 Comments: Amazing food well worth the splurge, reservations essential.
FOREIGN CINEMA ~ Contact: 2534 Mission St, San Francisco, CA 94110 Tel: +1 415 648 7600 Price: Appetizers from $7 Mains $21 Comments: Sit outside & watch various film screenings whilst enjoying eat Californian-Mediterranean fare,  popular for brunch
ACQUERELLO ~ Contact: 1722 Sacramento St, San Francisco, CA 94109 Tel:+1 415 567 5432        Price: 3 courses $95, 4 courses $120, 5 courses $140 Comments: Fine Italian cuisine served in a converted chapel with vaulted, wood-beam ceilings.
MICHAEL MINA ~ Contact: 252 California St, San Francisco, CA 94111 Tel: +1415 397 9222       Price: Seasonal 5 course dinner $135.00 Comments: Celebratory chef's flagship restaurant for elegant American dining.
OZUMO ~ Contact: 161 Steuart St San Francisco, CA 94105 Tel: +1 415 882 1333 Price: From $l5.00 Comments: Creative sushi, robata grilled items & an extensive sake menu in a cool
COTOGNA ~ Contact: 490 Pacific Ave, San Francisco, CA 94133 Tel: +1 415 775 8508 Price: Appetizers from $15, Mains from $19 Comments: Rustic-modern Italian dining serving wood-fired pizzas, house-made pasta
KOKARI ESTIATORIO ~ Contact: 200 Jackson St, San Francisco, CA 94111 Tel: + 1 415 981-0983 Price: Appetizers from $12 Mains from $25 Comments: Delicious Greek food in a fabulous upscale rustic setting, reservations essential.
ZUNI CAFÉ  ~ Contact: 1658 Market Street, San Francisco CA 94102 Tel: +1 415 552 2522 Price: Appetizers from $10, Mains from $30 Comments: Inspired by family style european restaurants, Zuni Cafe is known for its incredible roast chicken from the wood-burning oven, delicious!
THE SLANTED DOOR ~ Contact:1 Ferry Building, San Francisco CA 94111 Tel:+ 1 415 861 8032 Price: Appetizers from $14, Mains from $35 Comments: Classic and delicious Vietnamese food 'family style', as stunning as the view – across the water Bay by the Bay Bridge
QUINCE ~ Contact: 1701 Octavia Street, San Francisco CA Tel:+1 415 775 8500 Price: Set price from $180 Comments: Set in an old wooden building constructed as an apothecary Quince serves excellent Italian inspired cuisine
RANGE ~ Contact: 842 Valencia Street, San Francisco CA 94111 Tel: 1 415 282 8283 Price: Appetizers from $14, Mains from $27 Comments: Like many of San Francisco restaurants, an open kitchen separates a busy bar at the front from a rear dining room offering great food!
This is by no means an exhaustive list, there are many more great restaurants to try, hotels to stay in and other San Francisco discoveries, let me know what you find!
Download the San Francisco Travel Guide  here, suggestions for where to stay, where to eat and what not to miss!