Eating out, or more to the point eating outside, is very much a part of restaurant life in France. There are lots of places to choose from, and we love finding new ones. Here are a few restaurants we've just discovered as well as some old favorites.
Uzès
Restaurant Ten, in the middle of beautiful Uzès, is somewhere we've been returning to since it first opened several years ago. One of the most delightful things about this restaurant, apart from the food of course, is the owner, Kate Tucker. A bubbly, warm, English girl from Devon with a million dollar smile who make you feel like she's welcoming you to her home every time you arrive.
And I'm pretty sure that Kate is the reason that celebrity chef and writer Rick Stein recommends and speaks so highly of Restaurant Ten in his fabulous cookery book Secret France.
Kate just get's it right; the ambience the vibe, the service and the menu. Doubtless drawing on her experience at The River Café in London (where Jamie Oliver also learned a few tricks) together with her French husband and their fabulous chef Damien Rolain, they've created an unpretentious little jewel of a restaurant. Interesting, well priced, beautifully presented, delicious food which never fails to impress, quite fabulous!
10 Pl. Dampmartin, 30700 Uzès  +33 (0)466 22 1093
Open Wednesday – Sunday 12.00 -14.00 and evenings from 19.30
Reservations are advisable ~ tell Kate I sent you!
Click here for menu and website
Other favourites in Uzès
Villa Curti we haven't here yet but it's recommended by Kate from Ten & it's where she goes out to eat!
Saint-Remy-de-Provence
We normally go to St-Rémy-de-Provence on a Wednesday, market day, and if we have visitors, after lunch we often go on to Les Baux de Provence to the incredible art show, Carrières des Lumières. We've eaten in several places in St Rémy but no one restaurant has really stood out. Then a few weeks ago we stumbled upon Bistrot Les Pieds dans L'Eau, an old manor house and former school right in the middle of town where lunch is served on an expansive terrace.
The ambience was delightful and the staff cheerful and attentive. The overall concept at the restaurant of shared, family style plates was perfect, especially for lunch.
The building itself is an interesting property. The dining terrace restaurant is at the rear and there is a lovely courtyard at the front.
When you walk through the courtyard, before you reach the Terrace restaurant, you pass through a charming shop selling household goods, gifts and clothes.
On a busy day, should you have to wait for a table, you can watch the world go by out on the street from the comfort one of the restaurant's arm chairs and order a cocktail until your table's ready!.
Click for more information on Bistrot Les Pieds dans L'Eau
22 boulevard Victor Hugo , Saint-Rémy-de-Provence
+33 04 90 90 74 49
For restaurant ideas & information about St Rémy visit my friend Keith Van Sickle's website here. I'd highly recommend his guide book, 'An Insiders Guide to Provence' which you can purchase from this link.
Aix-en-Provence
'Café' in France can mean many things, a place just for a coffee and lights snacks, somewhere serving casual meals, or an elegant restaurant such as the café at Hotel de Caumont, a beautiful art museum in the center of Aix-en-Provence. The dining room is exquisite, and when the weather allows the Terrace is a wonderful setting for breakfast, lunch or afternoon drinks.
My salade crevette was delicious and the desert trolley is outstanding!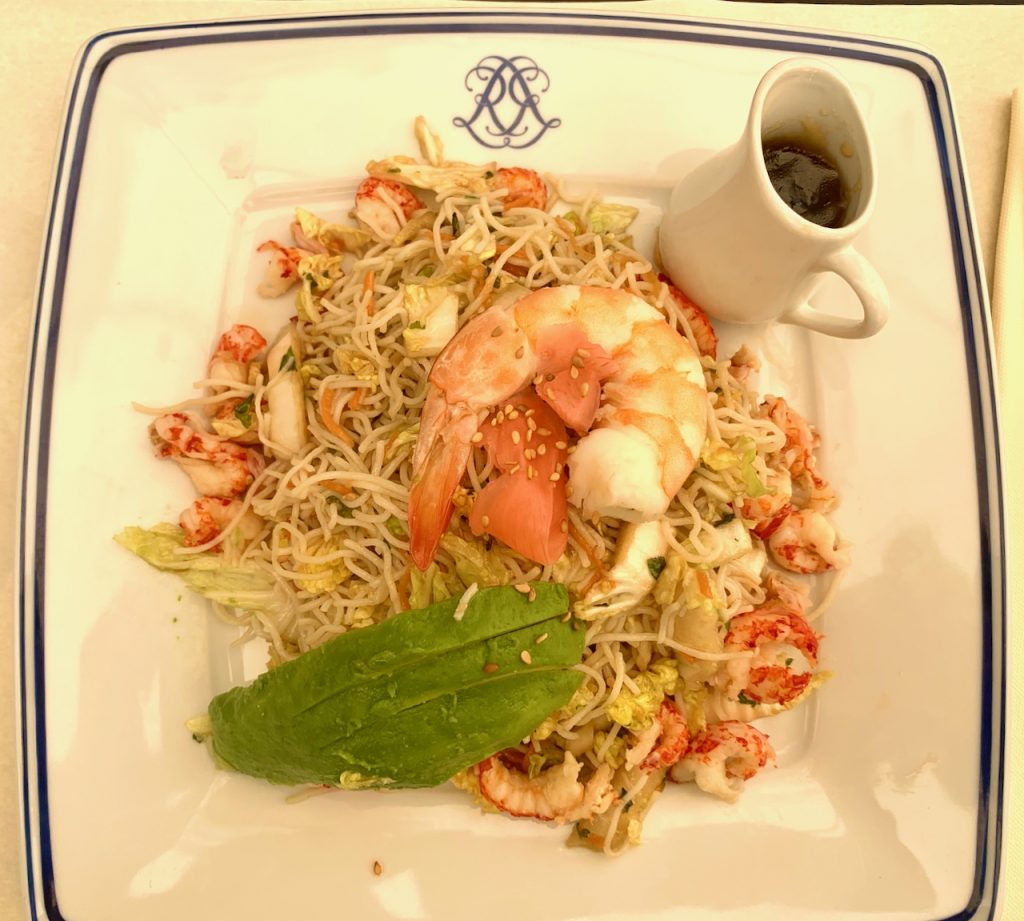 Café Hotel de Caumont is open daily from 10.00 -19.00. Unfortunately it is not possible to make a reservation. Check their website for unusual hours
Click here for Hôtel de Caumont website
Hôtel de Caumont a historic property and center for the arts
And of course Hôtel de Caumont is not all about the food, it's primarily a wonderful art museum boasting a vibrant history.
Hôtel de Caumont was built in 1715 by the President of the Court of Auditors in Aix-en-Provence, François Rolland de Réauville, the Marquis de Cabannes, in the desirable Mazarin quarter of the city.
In 1758 it was purchased by François Bruny de la Tour-d'Aigues, the richest ship-owner, merchant and banker in Marseilles who named it Hôtel de Bruny. The property was inherited by Bruny's son who died shortly afterwards and so in 1796 it passed to his sister, Pauline. This resulted in a further name change to Hôtel de Caumont, after Pauline's husband the Marquis de Caumont.
During the late nineteenth century the property fell into decline. By 1939, it had been divided into apartments run by Resistance member Hélène Ardevol (1892-1976), who during WWII bravely sheltered other Resistance members in the apartments. Its' last private owner was General Isenbart who completed extensive restorations before he sold it to the city of Aix-en-Provence in 1964 when it became the Darius Milhaud National Conservatoire of Music and Dance.
Hôtel de Caumont today
In 2010 Hôtel de Caumont was sold to Culturespaces (who run Carrières des Lumières and other fabulous exhibitions throughout France) and they restored it to its former glory. It was reopened on 15 April 2015, and now hosts two temporary exhibitions annually. A film on Cézanne is shown every day, and a variety of concerts, musical performances and lectures are scheduled. Currently, until September 18 2022 the work of Raoul Dufy is on display.
The gardens are beautiful and well worth a visit.
Tickets to the museum can be bought online, click here
Hôtel de Caumont  3 Rue Joseph Cabassol, 13100 Aix-en-Provence  +33 04 42 20 70 01
Click here for website of Hôtel de Caumont
How often do I hear from perplexed overseas guests 'We're going to a Pizza Restaurant  in Provence, we're not in Italy?'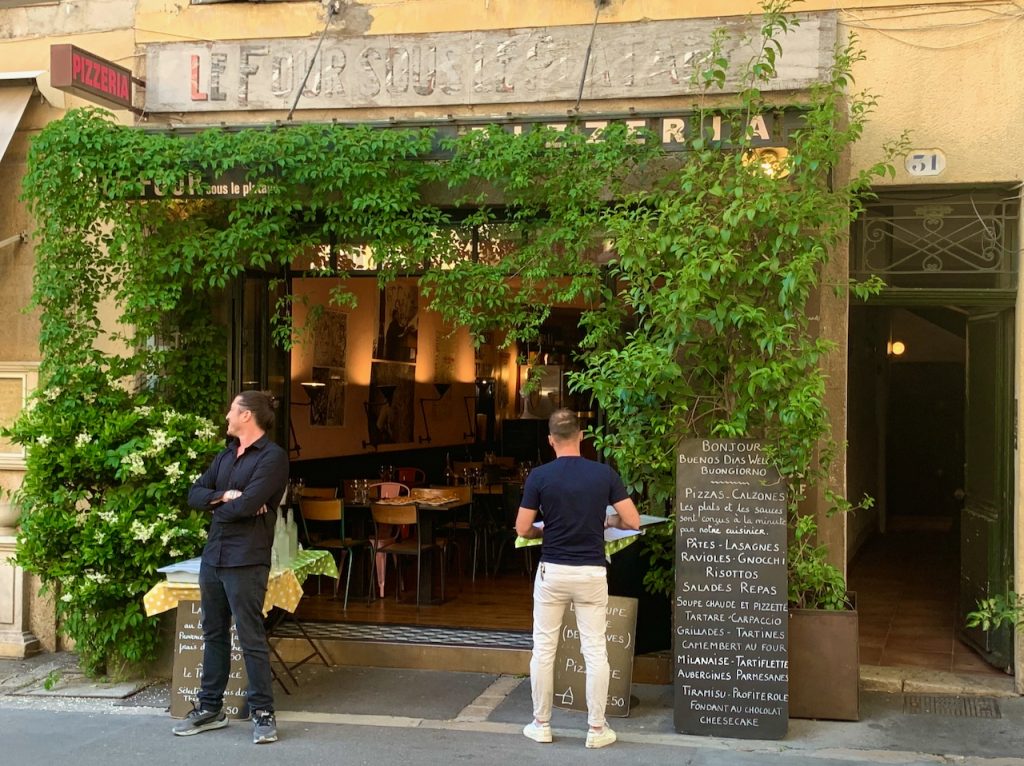 We may not be in Italy (although it's not far away) but the French certainly love, and know how to make great pizzas normally in wood fired ovens, feu de bois. The terrace at Le Four Sous le Platane is one of our favorites.
And if we can, we try to grab a spot by the fountain from where the restaurant get's it's name. Scrumptious pizzas served as huge wedges with a green salad and glass of wine, yum!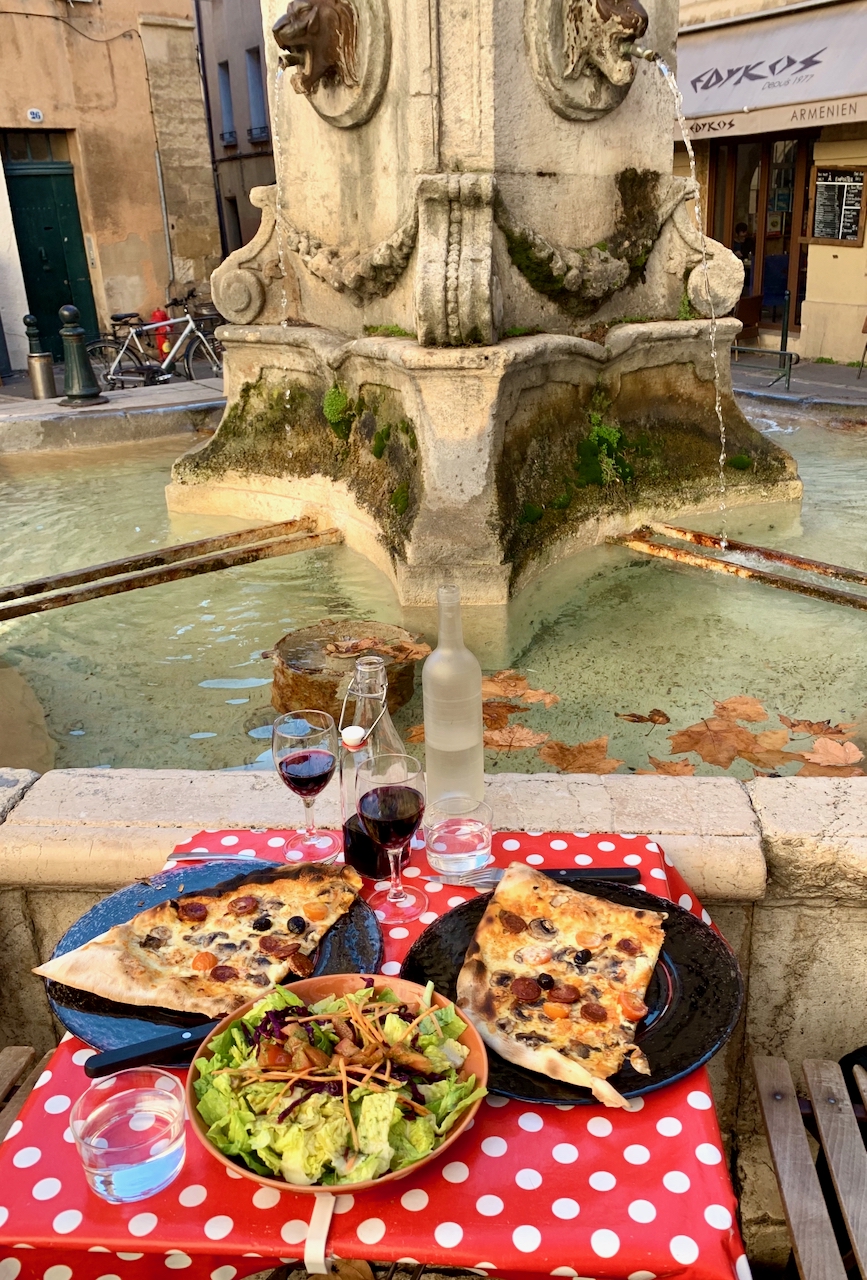 Click for more on: Le Four Sous le Platane
Lourmarin
There's no where new to recommend in Lourmarin and sadly a few places we thought were great have changed owners, not for the best ~ Le Moulin in Lourmarin and Petit Resto in Vaugine.
But we still love:
Louche au Beurre ~ the best steak frites!
Pizza Nonni ~our favorite for Pizza
Gina's Café ~ delicious homemade food, great for lunch
Café Gaby ~ the place for people watching in the very heart of the village, be it for coffee, an apéro or a casual meal!
La Maison Café ~ Great cocktails and small sharing boards, we love coming here after the Friday market  or for an evening drink.
If you'd like more information, download for free:
A PDF Travel Guide for Lourmarin
I'd love to know any restaurants you recommend in Provence!