I am often asked if I could help to plan a stay in Lourmarin, so voilà! This itinerary would work from any of the nearby Luberon villages, I've planned it round my favourite market days, listed below. But don't rush around too much, allow yourself to simply 'be' ~ to enjoy just being there, immersing yourself in the captivating ambience of this intoxicating part of the world! And don't forget if you need a place to stay I have a village house right in the middle of the village, do get in touch if you're interested in learning more.
SUNDAY
Maybe a day to stay home, explore the village, discover the story of the Lourmarin chateau.
Perhaps take a drive around the immediate vicinity, visit the chateau in tiny Ansouis or sample the local wine at the neighbouring vineyards, Château Constantin just along the road from should not be missed, tell the owners that I recommended you visit them, they will take extra special care of you! Sunday is a very popular day for the French to go out for lunch so definitely make a reservation. If you have just arrived & need to stock the pantry, local supermarkets close at lunch time, locations & hours below.
MONDAY
Within 30 minutes
 THE LUBERON

Drive up to Bonnieux, visit the Bread Museum (1 April – 31 October: 1 pm to 6 pm every day except Tuesdays). Enjoy a lazy lunch in the lovely gardens of La Bergerie, afterwards discover Lacoste Ménerbes & the nearby wine domaines before meandering the streets of the ghost town of Oppède-le-Vieux. If you wanted to book a wine tour for later in the week we loved Avignon Wine Tours.
Within 90 minutes 
Avignon (70Km) visit Les Palais des Papes and Avignon's famous bridge Pont d'Avignon/Bénézet, remember the song 'Sur La Pont D'Avignon?' Click here for what to see in Avignon.  Combine a trip to Avignon with a visit to its neighbouring iconic wine region Châteauneuf-du-Pape.
 The Roman towns of Arles (84km) and Nimes (115km) & their incredible Roman arenas.
Aigues Mortes (130km) the most well preserved medieval walled city in Europe, famous for its salt, Le Saunier de Camargue, mined since the 8th century, factory tours available, so worth the drive!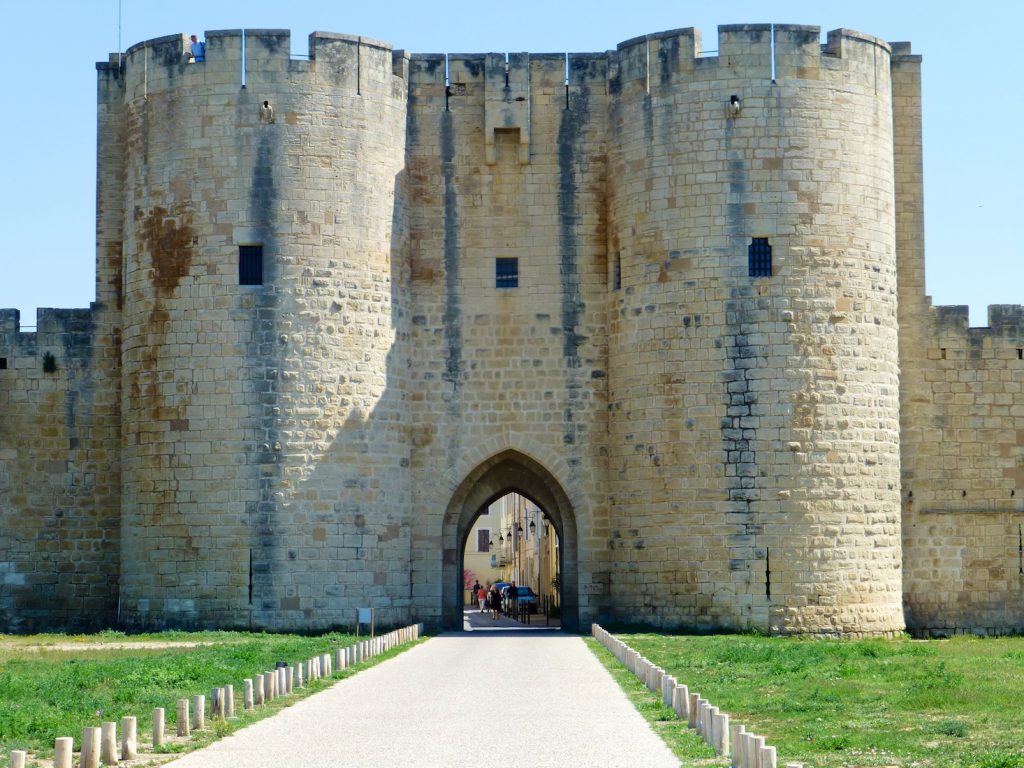 TUESDAY
Gordes and Roussillon
Tuesday is market day in Gordes! After lunch maybe visit the Le Village des Bories. Don't miss L'Abbaye de Notre-Dame de Senanque,
 a great photo opportunity especially in June when the lavender is blooming. The tour takes an hour & is in French but is a fascinating insight into a working Silent Order. Then continue on to explore the ochre wonders of the village of nearby Roussillon.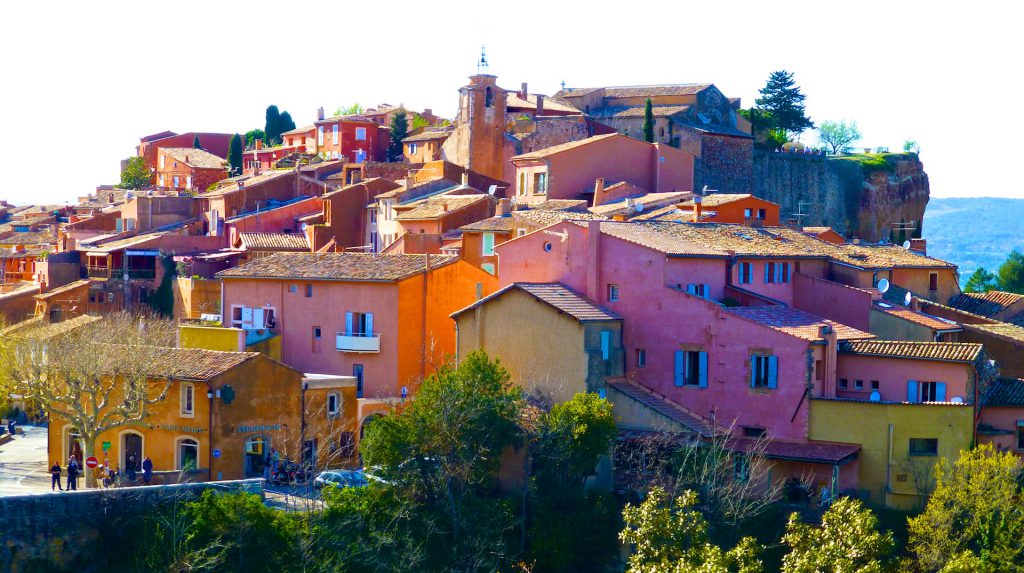 WEDNESDAY
 St Remy-de-Provence, Les Baux de Provence & Carrières de Lumières

If you only do one day trip it should be to the video art spectacle at Carrières de Lumières by the perched village of Les Baux de Provence. Admission to the château ruins at Les Baux (an excellent self-guided audio tour, allow an hour)  and to Carrières de Lumières is combined at a discounted rate if you have time.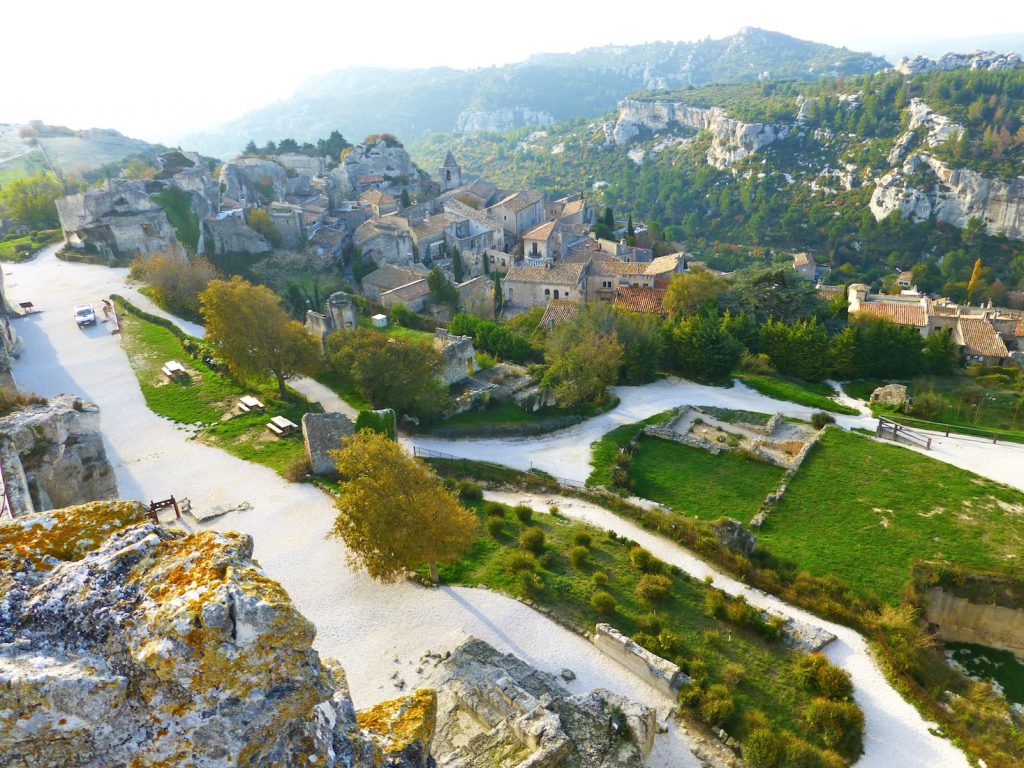 Visit on a Wednesday, stopping first at the charming town of St Remy-de-Provence where it's market day. Have lunch in St Remy (poor options at Les Baux) before you take the short drive through the olive groves & vineyards; the view of Les Baux will catch your breath as it become visible on the rocky escarpment to your right!
Within 90 minutes
If you are feeling in need of some sea breezes, Wednesday (& Friday) is also market day in the pretty coastal town of Cassis.

 Take a boat tour to see the incredible finger like inlets Les Calanques de Cassis.
THURSDAY
Within 30 minutes
Bonnieux  Lacoste, Ménerbes, Oppède-le-Vieux  ~ see Monday. This time have lunch at the delicious La Terrasse in Goult. If like me, you love the film 'A Good Year' (shot locally in Bonnieux & The Luberon) you could visit Chateau la Canorgue & the filming locations, click here for details.
If you haven't already done so maybe this is your day to spend in beautiful Aix-en-Provence. (39km)
Within 90 minutes
Avignon(70Km), Nimes(115km), Arles(84km) and Aigues Mortes(130km) ~ (see Monday)
FRIDAY
Lourmarin market day
Stay local enjoy the market and lunch in the village!!
SATURDAY
Within 30 minutes
Market day in Apt. You could drive back from here on a different route stopping for lunch at L'Auberge des  Tilleuls in Grambois and then go on to the Occitane factory at Manosque. If you still haven't been to Aix-en-Provence go there today!!!
Within 90 minutes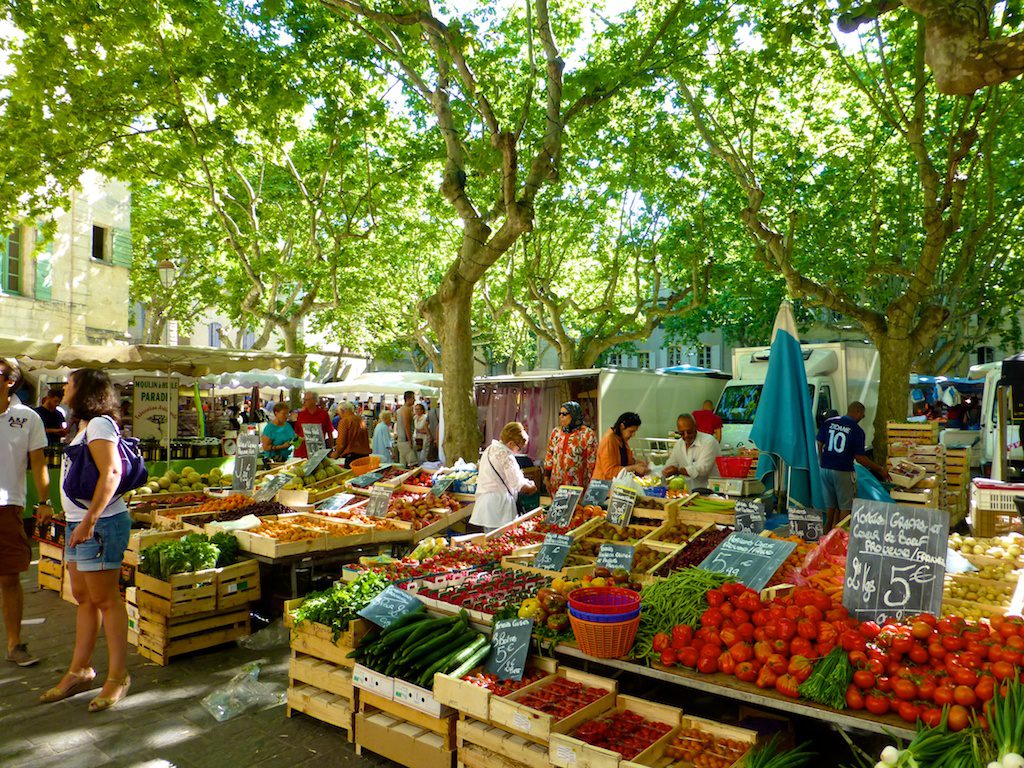 Uzès' (107km) Market day, reputedly the best market in Provence, if you haven't visited this delightful bastide city it is truly heaven, again leave early parking is tough on Saturdays, click here for the Uzès Travel Guide! Do
stop at the Roman Aqueduct Pont du Gard (UNESCO site) on your way home, quite unforgettable!
SUNDAY
l'Isle sur la Sorgue antique market, stroll the rows of antique stalls by the canals! Great fun but get there early
as parking is tough and beware, prices are higher than Paris!! Afterwards you could visit Fontaine de Vaucluse the mysterious source of the Vaucluse river!
MARKET DAYS IN PROVENCE
Monday: Cadenet, Cavaillon, Lauris
Tuesday: Cucuron, Pertuis, Gordes, Lacoste, Coustellet, La Tour d'Aigues, St Saturnin les Apt
Wednesday: Mérindol,Cheval-Blanc, Salt, Aix-en-Provence, Arles, St Remy-de-Provence, Le Thor, Nimes, Cassis
Thursday: Goult, Ménerbes, Rousillon, Pertuis, Lauris, L'Isle sur la Sorgue, Aix-en-Provence,- La Motte d'Aigues & Ménerbes evenings
Friday: Lourmarin, Lagnes,, Les Taillades, Bonnieux, Aix-en-Provence, Cucuron evenings July & August, Cassis
Saturday: L'Isle sur la Sorgue, Maubec, Vaugines, Mérindol, Apt May- mid November, Aix-en-Provence, Arles, St Remy-de-Provence, Uzès
Sunday: L'Isle sur la Sorgue antiques, Ansouis, Coustellet, Mormoiron, Aix-en-Provence, Aigues Mortes
LOCAL SUPERMARKETS
Lourmarin  
VIVAL: Place du Clos Building Savournin 84160 Lourmarin
~ just along from the Tourist Office, a small grocery shop
Tuesday – Saturday: 08:30-13:00/15:30-19:00  Sunday:08:30-13:00 Monday:closed
SUPERT TAF 2:  42 Rue Philippe De Girard 84160 Lourmarin
BOULANGERIE:  8 Rue Henri de Savornin 84160 Lourmarin
Tuesday – Sunday: 07:00-13:00/15:00-19:00  (Summer hours:15h30-19h30)
Larger Supermarkets
SUPER U PUYVERT: RN 913  84160 Puyvert ~ a 5 minute drive towards Lauris.
Open every day 09.00-20.00 Sunday until 13.00
CARREFOUR PERTUIS:  Route d'Aix En Provence, 84120 Pertuis ~23 minutes drive
Mon- Sat:08.30-20.30 Sunday:08.30-12.30 (In Pertuis there are a few large supermarkets)
To read more about this beautiful region download the printable The Lourmarin Travel Guide
If you need an on-sight expert contact Christel. Christel manages my village house Maison des Cerises in Lourmarin. She also offers wonderful gourmet cooking and other great concierge services. Christel has a wealth of local knowledge, speaks fluent English & is charming. Tell her you found her through me, she'd be delighted to help make your visit special.
There are many others places I've yet to discover, let me know what you find!