Christmas is about who we are with.
Celebrating together with the traditions that have become woven into our families' celebrations.
Do you, like me, think of the enchanted Christmases of your childhood,
pondering upon an a world wrapped in a mantle of white, bathed in candle light?
In each home, in every corner of the world, the scene is set on a different stage
the magic of another Christmas, where ever that may be.
In Northern California, as winter creeps up on us, the beaches become deserted, the delighted squeals of barefoot children chasing the waves upon the sand long gone. Along the stunning 17 Mile Drive a swollen ocean heedlessly continues its ceaseless crescendo upon the shoreline.

The days draw in and at dusk in Carmel-by the Sea everything is dusted in a soft pink glow.


Napa Valley Vines, bereft of their bounty, stand in regimental rows under a winter sky heavy with expectant tears.


In the mountains of Lake Tahoe excited children have built a snowman


and a puppy becomes acquainted with soft, white, icy powder between his paws for his first Christmas.


Homes everywhere are lovingly decorated, enticing Carmel doorways leave you wondering what lies inside.


Fireside hearths adorned in greenery,


and baked indulgences prepared, special treats we only make once a year; mince pies,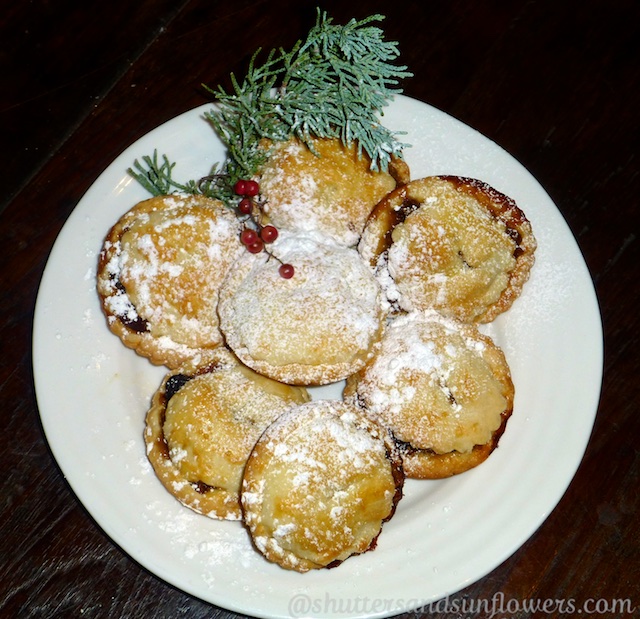 and scrumptious, chocolate, festive deserts.


Treats for a Christmas table are bought and squirreled away


spotted amidst the gourmet abundance in San Francisco's delightful Ferry Building.


Candle wreaths are made to adorn a Christmas table, preparations tying us up amongst the wrapping paper and ribbon.


Christmas trees are everywhere; nestled amongst poinsettia on a Carmel town street corner,


adorned with tinsle and baubles in frenzied San Francisco stores,


each one more elaborate than the other,


dominating Union Square, sparkling majestically in the inky, night time sky.


For it is at night time when the Christmas magic captivates.
The twinkling lights on Danville's streets,


where shop windows are reminiscent of those Christmases long ago.


Reindeers in Carmel herald in the season


pulling Santa in his sleigh across the roof tops with Christmas greetings,


which for me will always be 'Happy Christmas' !
No matter where you are, I hope it's merry and bright filled with laughter and joy, surrounded by those that you love.
Happy Christmas everyone!!!
Click on the links for downloadable PDFs from Northern California, where to stay where to eat and what to see in
Carmel-by-the-Sea and Lake Tahoe