When ever I am feeling far away, yearning to be back in the Luberon in Provence, one of my solutions is to re watch, yes for the hundredth time, 'A Good Year.' Filmed at Château La Canorgue, minutes from Lourmarin, it perfectly encapsulates this stunning region; the alluring natural light, the breathtaking 'campagne', the picturesque perched villages and most of all its entrancing way of life. Comedy, romance, beauty, maybe not oscar winning, but heart warming and delightful, transporting you to this special corner of Provence. Come with me on a tour of its locations and I think you'll see what I mean
Château La Canorgue
'A Good Year,' was written by Peter Mayle (who lives in Lourmarin) and the movie was directed by Ridley Scott. Château La Canorgue, (Château Siroque in the film), an organic winery, tucked within the shadows of the lovely hill top village of Bonnieux.


Château La Canorgue, is a magnificent property, sadly you can't go inside but just as in the film, it looks warm and inviting, gently 'aged to a soft patina'. Staring up at it next to the vines you can almost hear Monsieur Duflot humming to himself behind you and Uncle Henry, muttering to the young Max about his next chess move.
It is possible to sample the wine, a major feature of the film, not surprisingly its Coin Perdu (very significant in the film) being one of its best! The winery is open Monday to Friday 9.00am ~7.00pm Saturday 9.00 am~12.00 & 2.00~7.00pm.
Of course, I love to drink good wine, so was excited to read this article extolling the health benefits of doing so, an article I just had to share, thanks Jen Reviews!

Dining near Bonnieux
There are great dining choices in Bonnieux, near Château La Canorgue, My favourite is 'La Bergerie' part of chef, Edouard Loubet's, sensational Relais and Château hotel, Domaine de Capelongue, enjoy the gardens & spectacular views of the Luberon. For a truly gastronomic experience dine at the main restaurant. Chemin des Cabanes, Les Claparèdes, 84480 Bonnieux  + 33 (0)4 90 75 89 78  Booking essential for either.
Gordes
A few miles further at the impressive perched village of Gordes you can circle the war memorial as did the star of the film, Max, (Russell Crowe), in his 'little yellow car'.


You can eat at Hôtel le Renaissance, Fanny's Café in the story (Fanny, played by Marion Cotillard)
1 Place du Château, 84420 Gordes   +33 4 90 72 02 02

The Luberon
Driving back across the valley, on the meandering roads by Bonnieux and Lacoste is where Max topples Fanny from her bike.


Near Ménerbes you can stop by the road sign for the 'D3′ which so confused the irate Max and you will pass the tree lined avenues where he yells at the unsuspecting bikers!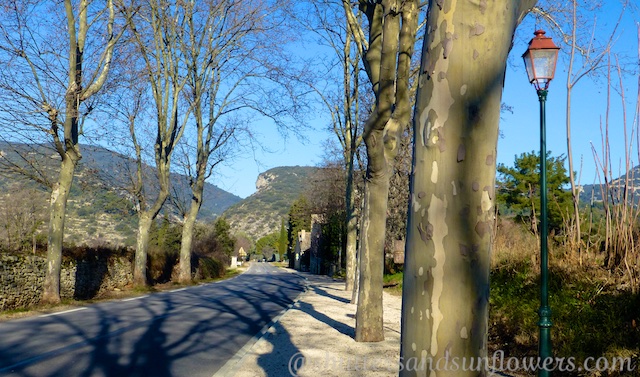 Cucuron
On the other side of Lourmarin, Cucuron is where Max and Fanny have their first date, watching a black and white movie in the square by the basin under the plane trees.


You could also dine here, a bit of a splurge but worth it: La Petite Maison de Cucuron, Place de l'Étang, 84160 Cucuron +33 (0) 4 90 68 21 99
I love this film not just because it is set against the stunning backdrop of the Luberon but also for the profound part its story. It's a story about someone 'finding' themselves, coming to understand what is really important, realizing that 'This place' which ''doesn't fit into their life' is not the issue rather that it is 'their life that does not fit into this place'.
It's about embracing the soul of somewhere different, a captivating place, where often the only important appointment of the day is lunch, where people stop to smell the lavender, where values are deeply rooted, a place which is intoxicating.


I am of course hopelessly sentimental, few of us can just abandon our lives to move to Provence; and Max was hardly giving it all up; inheriting a stunning château, a thriving boutique vineyard and in love with a 'French Goddess'; this, after all is a Hollywood movie!
Yet those words are imprinted in my heart '….it is your life that does not fit into this place'
Ask yourself are you really living the life you want, in the place you want to be?
And if not what could you do to make your life more authentic more special. It's something to think about…………..
Download The Lourmarin Travel Guide to learn more about this beautiful region
Driving 'The Good Year route' from Lourmarin you could start at Curcuron, take the route back through Lourmarin, on to Bonnieux, then Gordes returning via Ménerbes and Lacoste.