The Luberon in autumn, a flame with colour, as paintbrush strokes of magenta and ochre sweep the summer away. As each season appears, I say to myself, that this is my favourite. In winter I love the crisp mornings, sparkling frost, magical snow flakes and bundling up in soft woolens but am always happy to see the first signs of spring, to gather boughs of blossoms and fill my home with daffodils. And then what could be more intoxicating than long, warm summer evenings, eating el fresco on a table laden with sunflowers. Then autumn comes once more, the leaves become burning flames of crimson and gold as Mother Nature sets the stage for crackling log fires before the year draws to a close and the winter chill descends once more.
Being in the Luberon in autum this year  I found myself wondering whether perhaps this was Provence adorned in her most beautiful of Mother Nature's gowns………..
Trees kissed by a flame of colour in St Remy-en-Provence
I love to visit this delightful Provencal town especially on market days, Wednesdays and Saturdays. Having filled your baskets, enjoy lunch somewhere delicious like Aile au La Cuisse. Then meander through the olive groves and vineyards which lead to the enchanting perched village of Les Baux-de-Provence.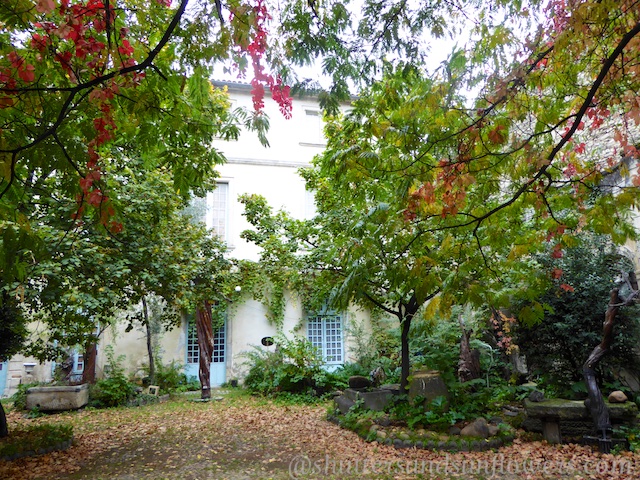 A short stroll from Les Baux, don't miss the spectacular video art extravaganza set within a towering former bauxite quarry Les Carrières de Lumières this year featuring the incredible works of Chagall.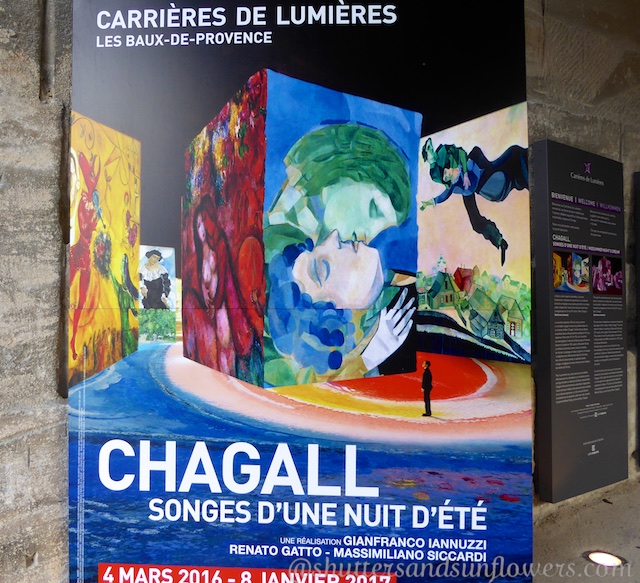 A splash of autumn colour in Goult
Goult is of the Luberon's prettiest villages, quieter and less visited which makes it even more beguiling. Enjoy a meal at La Terrasse and be indulged by your charming hostess, Natalie and her excellent cuisine; if you are visiting in the summer or at a weekend reservations are advisable.


Before you leave make sure you explore the winding streets that lead to the windmill and enjoy the magnificent views.

The Luberon Vineyards  ~  near Ménerbes
At this time of year, the Luberon vineyards are brushed with a brilliant carpet of crimson, burnt oranges and cinnamon. Visit the local domains as they complete the vendage (click here for ideas) and replenish your stocks for the winter.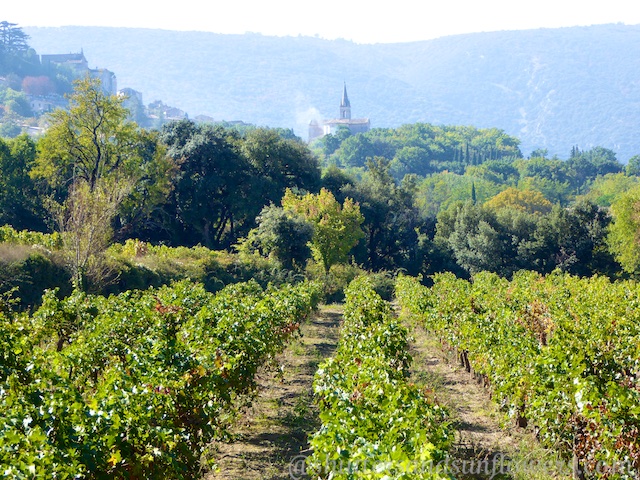 A harvest bounty in Gordes
The markets everywhere overflow with an abundance of seasonal bounty, perhaps its time to find those recipes for hearty stews and soups!


There is a brisk chill first thing at Gordes' fabulous Tuesday market, where the stalls seem to reflect the colours of the season.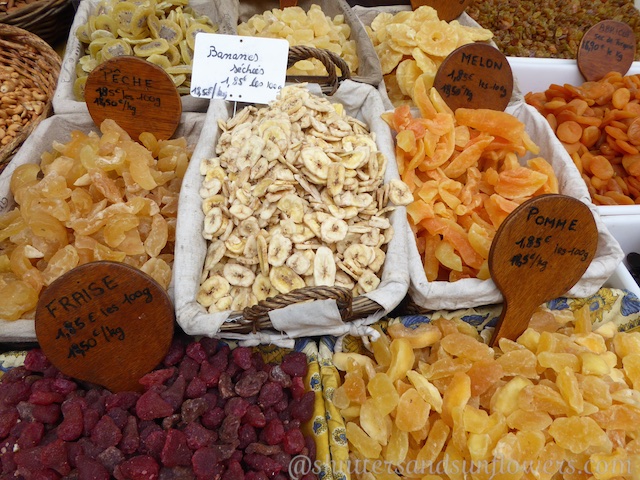 A golden avenue of trees in Lourmarin
Towards the end of the day in Lourmarin, the light becomes golden, a soft, a misty haze hovers and the air is perfumed with wood smoke. Enjoy an apéro at one of Lourmarin's many cafés and maybe stay for dinner, there's many good choices; where to eat in Lourmarin and where to eat nearby.


Earlier, when the sky was a deep provencal blue, only the scarves and jackets gave away the time of year but the little town still bustled, its boutiques and galleries as bustling as on a summer's day.

Thanksgiving in Provence
Everywhere it felt as if Nature was gently seducing us to gather berries and olive branches and to fill the house with pumpkins and gourds


as some prepared to celebrate Thanksgiving in Provence
White Christmas dreams in a Lourmarin boutique
As the nights drew in people were checking their log supplies and preparing for winter. Gentle hints in the local shops reminded us that Christmas is just round the corner.
I will be far away by then although, of course, a little part of me will remain in this, my special place.…..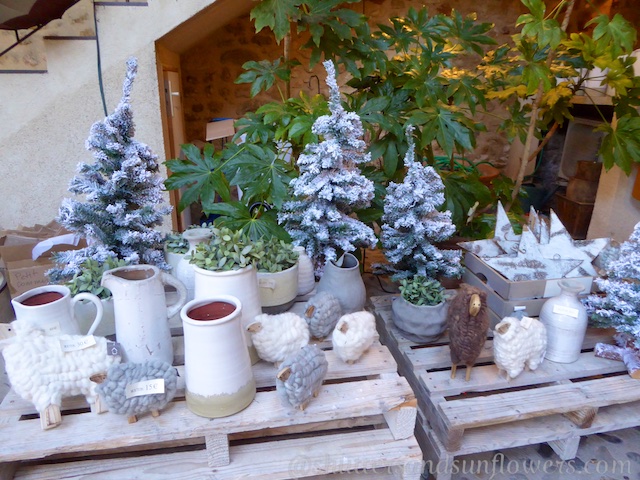 Perhaps you would like to discover it's magical charm, let me know if I can help you plan a visit here, maybe next year!
and the surrounding area of The Luberon, Provence.
Suggestions where to stay, eat and play!