"Provence appeals to so many because the region offers something for everyone.
From sea to sky, from mountains to meadows,
from history to contemporary, it is an endless canvas." 
Esteemed writer, Carolyne Kauser-Abbott's, perspectives about Provence. Visit the stunning city of Aix-en-Provence with her here…..

Carolyne is the author of three wonderful blogs; Perfectly Provence being my particular favourite. Carolyne grew up in Montreal and describes herself as someone who has France in her soul. Early in her career, as a fluent French speaker, she spent five months in Paris but left knowing she was destined to return. In 2003 she first visited Provence, biking in the Luberon and the Alpilles and was smitten! So in 2010, with her husband and black Lab, Jade, she moved to France for six months. Six months became thirteen, it's no surprise that they now return every year, who wouldn't?!
As an avid follower of Perfectly Provence, I knew that Carolyne could offer some excellent travel advice about one of Provence's most delightful cities, Aix-en-Provence. Aix's location makes it a great base for exploring Provence, especially if it's your first visit; it's within an hour's drive from the coast, the Luberon, Avignon and Marseille. Aix-en-Provence is a vibrant, sun-drenched university city, one of the jewels of the Bouches-du-Rhône region of Provence. Home to artists and writers, enthused over by a never ending stream of delighted visitors, whatever the time of year!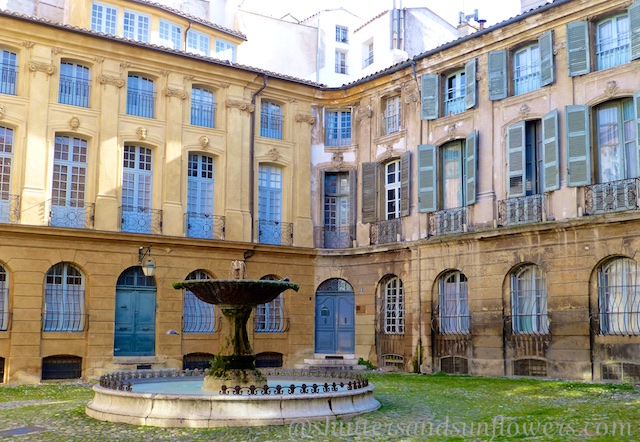 It's a city Carolyne knows well although initially it was not quite 'love at first sight';  "This was the city I should be in love with and I was not, but that is because Aix needs to warm up to you."(you can read her initial impressions here) and it did, as you will see from Carolyne's recommendations below!
What to see in Aix-en-Provence
The markets of Aix-en-Provence
Dining in Aix-en-Provence
Lunchtime
Dinner