Lake Tahoe, California, in mid January, should be wearing her winter ermine coat and at this time of year, quite often, a heavy scarf of grey. The surrounding mountains should be mantled in thick, deep, powder, the dark green pines weighed down by snow, their branches looking almost like someone has dropped great spoon loads of frosting on them. By now frequent storms should have enveloped the region, ferocious winds whining above the peaks, blasting great swirling flakes of snow across every corner of the landscape, blanketing it all in a thick coverlet of white. Deep snow drifts should be in evidence making smaller roads impassable and travel often quite treacherous. Not this year, the driest season on record, has left the ground barren, a sparse scattering of white here and there, the ski resorts desperate for a dramatic weather system change to bring the winter sports enthusiasts back to the slopes.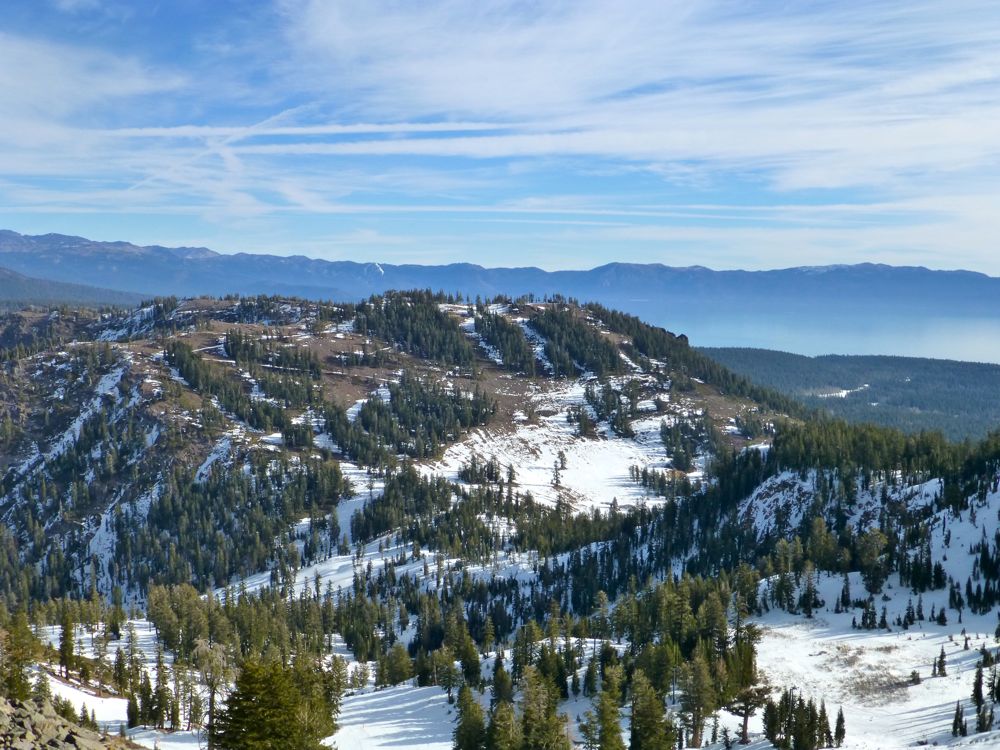 The lake lies serene and tranquil, unflustered by any disappointments in the weather. A shimmering, glassy spectacle, incased by bare mountain peaks soaring high above its shores as if demanding the skies to open and deliver a deluge of ceaseless, much needed, white precipitation.


The wonders of modern snowmaking and the daily night time chill, way below freezing, enable a few slopes at Alpine Meadows to entice a handful of skiers and snowboarders to venture out.

On a day of such unseasonable warmth and mild, brilliant blue skies with a breeze that was hardly strong enough to make a leaf flutter, we were incredulous at the conditions. The runs were surprisingly well groomed and the thrill of zig zagging ones way down a glistening corduroy slope was not diminished.
We watched the ski patrol chap amble up casually to the chair lift followed by his eager and excited companion. Proudly holding his master's pole between his teeth, soaking up all the attention and wagging his tail with joyful enthusiasm. I marveled at his agility to jump on the chair, clearly he had done this before and was totally unfazed as he was lifted high up above the ground!

Ambling back through the village at Squaw Valley we stopped to admire the statue of another intrepid mountain dweller.


Norwegian born 'Snowshoe Thompson', often regarded as the pioneer of cross country skiing in USA, who battled the elements between 1856 and 1876 to deliver the mail. He fearlessly carried back packs of mail, often as heavy as 100 pounds, over the 7500 ft high Sierras battling blizzards and winds up to 80 mph and snow drifts over 50 feet high.
Bravely and determinedly, at least 2 to 4 times a month, he delivered mail from Placerville, California to Genoa, Nevada on homemade, 10 feet long, 25 pound, oak wooden skis, known as snow shoes, with a 6 foot pole to help him steady his balance. For 20 years, during the long harsh winter months, Snowshoe Thompson was often the only link between the Californian Mountain regions and the East.
Snowshoe Thompson is also credited for many courageous mountain rescues, a man who was able to defy and conquer Mother Nature's most fearsome onslaughts with little else than his own grit and determination to protect him.
Such pioneers can do little but provoke deep respect and admiration. Today people often experience difficulty negotiating travel whilst protected within the warmth and comfort of their oversized SUV's! To do this on foot without 'gortex' and all the 21st century winter trappings, carefully designed to keep you safe and snug, with nothing but sometimes the sun but mostly your own keen sense of direction to guide you…….Snowshoe Thompson and others like him were incredible!
As much as we relished the glow of the sunshine and the warmth it provided we really hope that on our return the entire area will be shimmering in a sumptuous, thick, white winter gown. For the sake of the local businesses, that the crowds will have returned, people's excited laughter and chatter the crunching of boots over the ground, the swishing of skis and even the scraping of snowboards up on the slopes filling the air!
Download the Lake Tahoe, California Travel Guide PDF here