L'Auberge La Fenière is a delightful hotel with an award winning, Michelin star restaurant and bistro run by renowned chef Reine Sammut and her daughter Nadia. On the outskirts of Lourmarin it's one of our favourites. We've enjoyed  their delicious food and the delightful ambience several times so I was intrigued to read fellow blogger, Keith Van Sickle's recent article posted in France Today and discover that it is now totally gluten free. L'Auberge La Fenière is the world's only gluten free, Michelin star restaurant! t's an amazing achievement and fascinating story which with the addition of a few of my own photos Keith has kindly allowed me to share.
An Oasis of Serenity in Provence ~ L'Auberge la Fenière by Keith Van Sickle
The Auberge la Fenière lies at the foot of a forest-covered hillside, just beyond the charming village of Lourmarin. It's a hotel and restaurant that have been welcoming guests for decades, with beautiful old buildings made of golden stone. Next to them is a broad, inviting lawn bordered by olive and cherry trees and a large herb garden. You can feel yourself relax the moment you walk in.
The main attraction of L'Auberge la Fenière is undoubtedly its restaurant, the proud holder of a Michelin star since 1995. It draws food lovers from all over the world for its refined and creative cuisine. And, remarkably, there's not a speck of gluten to be found anywhere, even in its many homemade breads.
Why no gluten? Let's find out—it's a fascinating story.
Since its beginning, the restaurant had been run by Reine Sammut, one of France's top chefs and one of the rare women to be honored with a Michelin star. She created what she calls a "Mediterranean cuisine," influenced by the many countries that border that wide sea. In the last few years, Reine has handed the reins to her daughter Nadia, another talented chef who has cooked in restaurants all over the world. Reine remains active in the restaurant but Nadia has made a number of changes, some subtle and some unmistakable.
About ten years ago, Nadia became very ill and doctors determined that she has celiac disease, a severe gluten intolerance, as well as an intolerance to lactose. This is a big problem for a chef! But the resourceful Nadia, who is also a trained chemist, decided to team up with her mother and convert the restaurant's menu to make it entirely gluten-free. The menu is also nearly lactose free, though you can still order a cheese course and get milk for your coffee and things like that.
This menu conversion was quite a risk, to fundamentally change an approach that had been successful
for decades. And it wasn't without tension, because how do you tell your mother she needs to change? But Reine and Nadia persisted and three years ago the menu became entirely gluten-free.
Then came the big questions: what would the inspectors from Michelin think? And would customers still come?
The news was good on both fronts. The people at Michelin loved the new menu and the restaurant kept its coveted star, making it today the only completely gluten-free restaurant in the world so honored. And customers continue to flock to Fenière for its delicious food, with most of them not even realizing that it's gluten-free!
This new approach to cooking means not only changes to recipes, but changes to the way ingredients are sourced and prepared. "The challenge is that gluten is found in so many places where you wouldn't expect it," explains Nadia, "like bouillons for sauces or chocolate for desserts. Even things that you would expect are ok, like chickpea flour, is often milled on equipment that also mills wheat, so it becomes contaminated."
"The answer is what I call pure food. We source directly from local farmers as much as possible and work closely with them to make sure that they meet our standards. We even mill our flours ourselves—chestnut, oat, buckwheat, and others. Then we start from these pure ingredients for all of our dishes. And we cook at a low heat to retain all of the freshness and goodness of these wonderful ingredients. The result is pure flavors."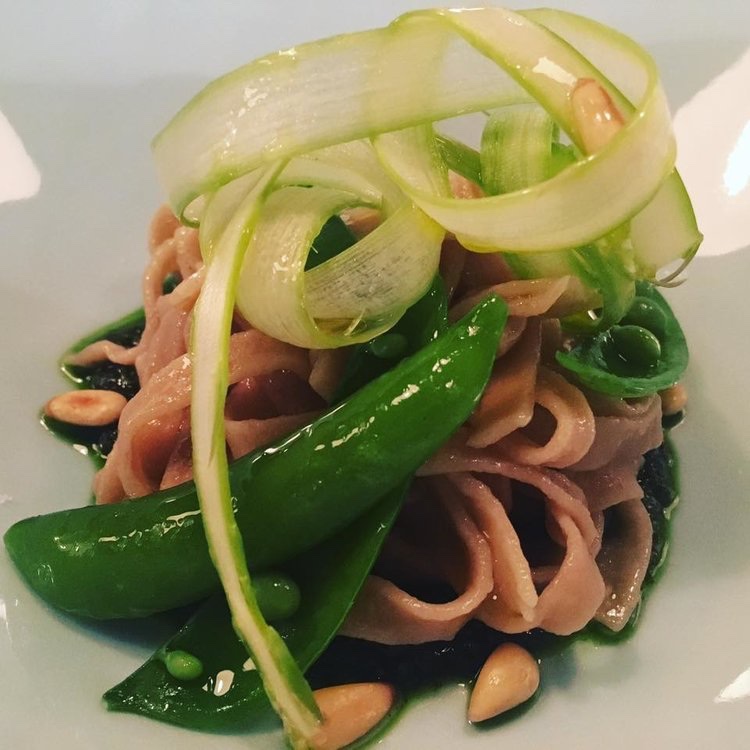 And what flavors! A recent menu included a "bourbouillade," a kind of stew made of whole baby artichokes in a broth with onions and herbs—the artichokes were so tender you could cut them with a fork. Another dish featured bacon from a special breed of pig that roams wild in the nearby countryside. The meal was topped off with a Paris-Lourmarin, Fenière's version of the famous dessert Paris-Brest—a rich layer of thick whipped cream between two flaky crusts. At Fenière, the whipped cream is made of almond milk (homemade, of course) and the dish is so good that once you've had it, you may never go back to Paris-Brest again.
Bread is a specialty at Fenière and is one of the highlights of any meal. And interestingly, the chefs there use an ancient technique to keep their breads moist—cooking them in clay pots! Gluten-free bread tends to be dry, because gluten is what helps retains moisture. But it turns out that back in olden days, our ancestors had the same problem because wheat back then had less gluten in it. So they came up with the trick of using clay pots and Fenière does the same thing. What's old is new again!
Besides the gourmet restaurant, Fenière also has a fun bistro that serves lunch and dinner, plus a Sunday brunch. It's in a rustic, relaxed setting, just perfect for the casual fare it serves. And for guests lucky enough to stay in one of the auberge's rooms, the morning breakfast buffet will definitely start the day off right, with a wide variety of fresh juices, breads, jams, fruits and nuts, plus eggs, prosciutto, yogurt, and chia pudding.
Nadia wants to change the world and her vision extends far beyond L'Auberge la Fenière. She has started a movement she calls Cuisine Libre (Free Cuisine), training other chefs in her approach to cooking. The famous Parisian baker Eric Kayser, for example, developed some of his bread recipes in collaboration with Nadia. She also gives cooking classes and has started her own bakery, and a book on Cuisine Libre will be published next spring. She is certainly keeping busy!
Many people today hear "gluten-free" and think "ick," but that needn't be true. One visit to the L'Auberge la Fenière will change their minds in a hurry. Article by Keith Van Sickle
Thanks Keith! I will definitely be making a return visit to L'Auberge la Fenière when I'm back in Lourmarin in a few weeks time!
L'Auberge la Fenière 1680 Route de Lourmarin, Cadenet, France  +33 (0)4 90 68 11 79