Life perspectives change maybe just like the seasons. Right now Uzès is bursting into life. The new leaves have gently uncurled, already beginning to form their natural canopy of shade along the streets and in Place aux Herbs. Shops and restaurants, previously closed are opening everywhere and there has been an influx of people for the Easter weekend. It is fun to watch them stroll across the Place aux Herbs, so obviously tourists with their 'holiday garb', clutching cameras with that familiar look of curiosity and exploration. Probably looking just as I did when I arrived and probably to the real locals still look!
We have a whole weekend to enjoy together. Chris' recovery from surgery has been
excellent and smooth, right from when the ambulance drove him home and the nightmare of the previous 3 weeks has begun to fade. As so often in life when you are immersed in a drama it seems never ending and then almost as quickly as it turned you life upside down it is over and things gradually resume to normal leaving you with some scars and bruises, the lesson being that nothing lasts forever, good or bad. Our dear friend Kristen, from California, has come and gone. For 5 days she sprinkled her joy and friendship arriving with her grandmother's WWII nurse's uniform to help tend the patient!
 Together, in-between 'hospital duty' we revisited many of my favorite spots, Les Baux en Provence, Pont du Gard and Avignon. Seeing these sights through others eyes, what they notice and comment upon and equally what they don't see is fascinating.
Pondering this whilst sipping a coffee outside the Palais des Papes as Kristin was doing the tour, (I declined, a 3rd time in one month seemed excessive!!) As I stirred by cappuccino I first reflected on the very many different ways the French served their coffee. Each time I thought I was ordering the same thing and each time 'quelle surprise', so many different interpretations! Café crème, café au-lait, café longue, never mind espressos, americanos, cappuccinos, all presented in a myriad of ways depending on where you ordered and yet not a Starbucks in sight, phew 'quelle délivrance'! Café crème for instance could come with frothed milk, too much milk, too little milk, with whipped cream, without, in a tall glass, in a mug, or in a cup with a saucer. A plethora of different presentations.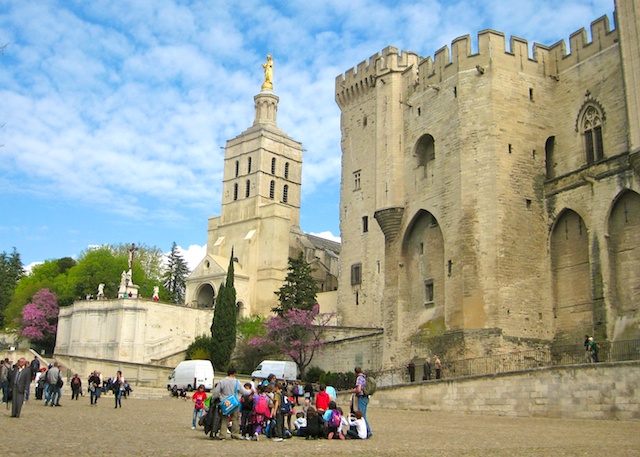 In some regard a bit like the people I was watching in the square in front of me. All the same and yet all uniquely different. Many clad in the 'uniform' of jeans, but adorned slightly differently, sneakers, ballet flats, boots and heels. With scarves, without, sporting hats or not, smiling, scowling, looking absorbed or perplexed or bored or just exhausted.
Most posing for photos outside a world famous landmark, which they had travelled far and wide to marvel at. A moment held in time to be secreted away, uploaded, downloaded and stored in a private collection of memories. Some to be printed and lovingly mounted, included in a carefully crafted album of vacation reminiscences along with the ticket admission stubs, postcards and other vignettes of treasured travels. Others merely stored within in the bowels of a personal PC, photo collections maybe to be glanced at once or maybe not at all. People doing the same thing but all so different, just like my coffee experiences all different but yet the same. Different people on different days, playing the tourist. Relishing the experience or letting it pass by like a dandelion puff that blows almost unseen in the air right in front of our eyes, sometimes to be captured and noticed sometimes not. The rich tapestry of an every day tourist day unfolding in front of my eyes……
Download The Uzès, Travel Guide for Uzès and the surrounding regions of Languedoc Roussillon and Provence.