Garlic, onions and pumpkins, plentiful in a late October market in the Saturday market of Apt. A twisting drive through the hills passing carefully tended lavender fields, lying dormant ready for next year's burst of fragrant blooms. We meandered our way through the autumnal vineyards towards the unique splendor of Roussillon. The soil gradually changed colour, befitting for the time of year, as if a deep orange tablecloth has been spread out ready for an autumn, harvest picnic. The ochre of this land, responsible for this marvel became richer and more dominant the closer you approached Roussillon.
It was easy to see why this is considered one of the most significant ochre deposits in the world. It is as if mother nature has collected an artist's palette of flamboyant, colours, like the flames of a fire, warm vibrant oranges, deep crimsons, berry reds and golden
sunflower yellows and spread them around. A stunningly rich vibrancy, reflected in the village's architecture everywhere. This tiny town poised dramatically on a dominant burnt cinnamon ridge. The setting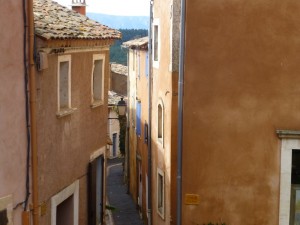 formed a spectacular mirage of contrasting colours; canopied under a deep cornflower blue, provencal sky and nestled amongst deep velvet green pines.
For over 150 years, starting in the late eighteenth century, when the demand for rich colours in the textile industry was at its peak, up until the 1930's, Roussillon's quarries employed thousands to mine their ochre deposits. Today the area is protected to prevent further degradation.
However the steep quarries and caverns can still be explored and the natural drama of Colorado de Rustrel provides an incredible walk through its deep gorges.
With mining long since forbidden, the area has returned to predominantly tending the land. Cherry and peach orchards and melons, much of this bounty being used for crystallized fruit production in nearby Apt. Vineyards dominate the landscape as they do much of the region and there are a profusion of local wineries to sample. The small
village square, full of restaurants and cafes is encased by ancient medieval buildings reflecting the local shades of mother nature.
Roussillon is old; many Neolithic artifacts have been discovered here and also Roman from when the Romans also mined the ochre from these hills.
But what gives this area its colourful vibrancy? Reputedly it derived its golden pigment from the mineral, 'goethite', when several million years ago, Luberon was under the sea  There also exists a legend from the Middle Ages about a young girl Sermonde, married to the Lord of Roussillion, Raymond d' Avignon. On discovering Sermonde's love affair with a local musician, Raymond cut the musician's heart out and served it to the unsuspecting Sermonde for dinner. When Sermonde was told, she threw herself from Rousillon's cliffs and the surrounding terrain has run red since and for eternity!
Download the printable
The Lourmarin Travel Guide
  which includes tips for visiting the surrounding area of The Luberon, Provence. Do let me know your recommendations !