Tucked away on one of its tiny streets, is a small jewelry shop in Lourmarin; not just any jewelry shop selling things which might be found elsewhere, but Mizso; owned by the delightful and talented Valerie. It is packed full of her beautiful, handmade treasures; création bijoux.
Valerie began her career in television, far away from Provence in Paris but she always knew that her creative spirit was calling. It led her to design unusual pieces of furniture, gluing thin cord into intricate designs, which she still uses today in her shop.
Never feeling entirely comfortable living within a city, even one as beguiling as Paris and enticed by the warmth and alluring light of the south, Valerie moved with her husband and two sons to Provence. Intrigued by a handmade ring she had purchased, one that she successfully recreated when it broke and anxious to be rid of her constantly sticky fingers, Valerie decided to start designing her own line of jewelry. Not long after that she opened her first shop in Aix-en-Provence.

Valerie then fell in love, like many of us, with the charming and captivating village of Lourmarin, she knew instantly that this is where she wanted to stay. It took sometime to find the right premise, for after all why would anyone want to leave, but five years later Valerie and Mizso opened her jewelry shop in Lourmarin at 1 rue du temple in the heart of the village.
When you step across the threshold of this delightful little shop it is easy to see why Valerie is now the proud owner of such a thriving business.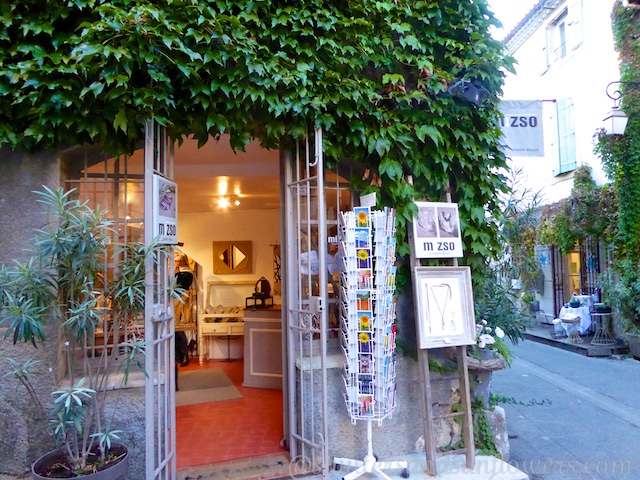 Valerie's designs are unique and beautiful, everything is individually designed and carefully strung together, the attention to detail is exemplary. Valerie is always happy to customize and offers a wide range of colours and materials.
Maybe you need a special gift or something to spoil yourself, stop by at this very special jewelry shop in Lourmarin, Mizso ~1 rue du temple 84160 Lourmarin and talk to Valerie, (she speaks perfect English!) and she will be only too happy to create it for you!