"Imagine liquifying the best campfire of the summer and bottling it as pure happiness."
"A dram in your hand, sand between your toes,
the world at your feet, embrace the passion, love life" 
This and much more has been said about the golden, peaty liquid which is Laphroaig whisky.
Laphroaig (pron. La-'froyg) literally means "the beautiful hollow by the broad bay". Resting in a secluded cove by the island waters of Islay it's easy to see how it got its name. The Laphroaig whisky's story began in the 1770's when Alexander Johnston rented a farm from the Campbell estate. By 1815, his sons Donald and Alexander were distilling Laphroaig whisky and in 1826 Donald licensed the distillery. His son Dugald, greatly increased capacity and sales creating one of the world's most iconic whisky brands. When Dugald's brother-in-law, Sandy Johnston, assumed control, he successfully negotiated peat and water rights securing Laphroaig's future.
Laphroaig remained in the family until Bessie Williamson took control in 1954. Bessie had visited Islay from her home in Glasgow in 1934, she joined Laphroaig to become a whisky legend; the first ever female whisky distiller, distillery owner and universally respected authority on the art of distilling whisky. Laphroaig whisky was sold to Long John Distillers in 1968 and today is owned by Beam Suntory.
We had obviously travelled to the tiny, isle of Islay (pron.'eyela'), off the beautiful, rugged, west coast of Scotland, to learn about its peaty, single malt. We managed to visit six of Islay's eight distilleries (they all offer excellent one hour tours) but with two 'connoisseurs' among us we wanted something a little extra special!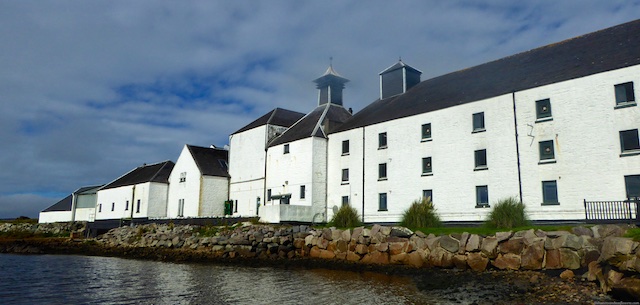 We found it at Laphroaig on their 'Water to Whisky Experience', widely acclaimed as the ultimate whisky tour, it was fabulous! Led by the delightful 'wee Jenny', who shared the secrets and stories of Laphroaig whisky, we toured the distillery and then donning our wellies (provided for our use)


were driven by Jenny for a walk across the heather to the Laphroaig whisky water source.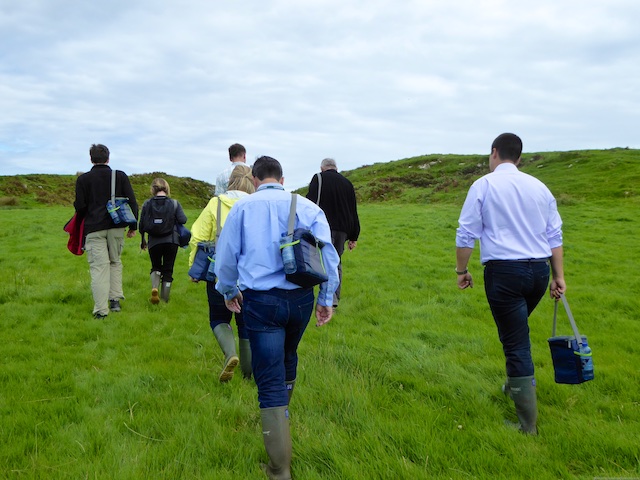 Each distillery has its own;


next to which we enjoyed a delicious picnic lunch,


before learning how to cut the peat at Laphroaig's peat field.


Finally, after quite a few 'snifters' along the way, we got to draw off our own drams from the cask selection, before bottling our favourite Laphroaig whisky, single malt tipple.

It is possible to become a 'friend of Laphroaig'; a lifetime's lease of your own square foot of Islay. Each plot is registered and you can collect your rent from Laphroaig – a dram of the finest! We joined the community, selected our country's flag and each staked out our piece of this hallowed turf!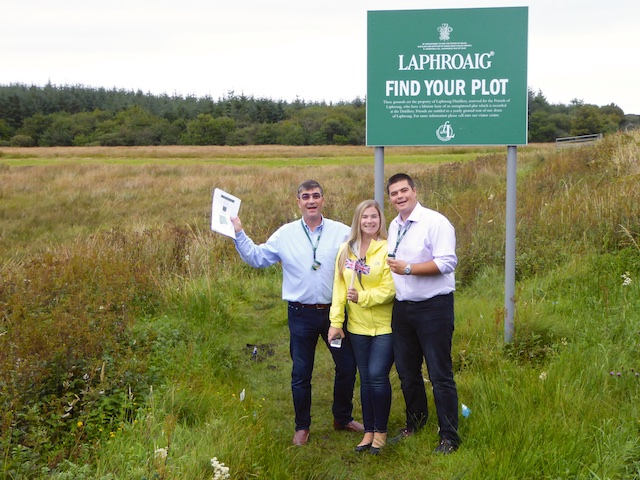 It was an unforgettable day, even for the novices among us, one we would highly recommend. I just hope I remembered all that Jenny explained to us about the fascinating Laphroaig whisky making process to tell you next!
Learn more about the tours at Laphroaig Distillery here