When I wrote my first thoughts about living in Lourmarin, in Provence, France, I asked: 'when do you know that you are somewhere special and what makes a place special?' Of course the answer is different for all of us. There are several places that are special to me, I can't choose one over the other for each has its own beguiling charm. Now, back in California, Lourmarin seems so far away, even though I find myself humming the evocative theme music to 'A Good Year', aptly titled 'Le Coin Perdu' (after the wine!)
But I am living back in California……. it's a big place, probably bigger than the whole of France and not all of it is wonderful, what place is? However, where I am right now, for the next few weeks is very special, to me and I know to many others, Carmel.

Not a medieval village or cobbled street in sight, but there are buildings with clay tile roofs;


and the stunning  Carmel Mission buildings, which date back to 1771.


There are rolling vineyards bursting with the new life of this year's crop.


Ambience and the charm of Mother Nature reside on the Carmel streets


There is breathtaking natural beauty along this area's dramatic coastline.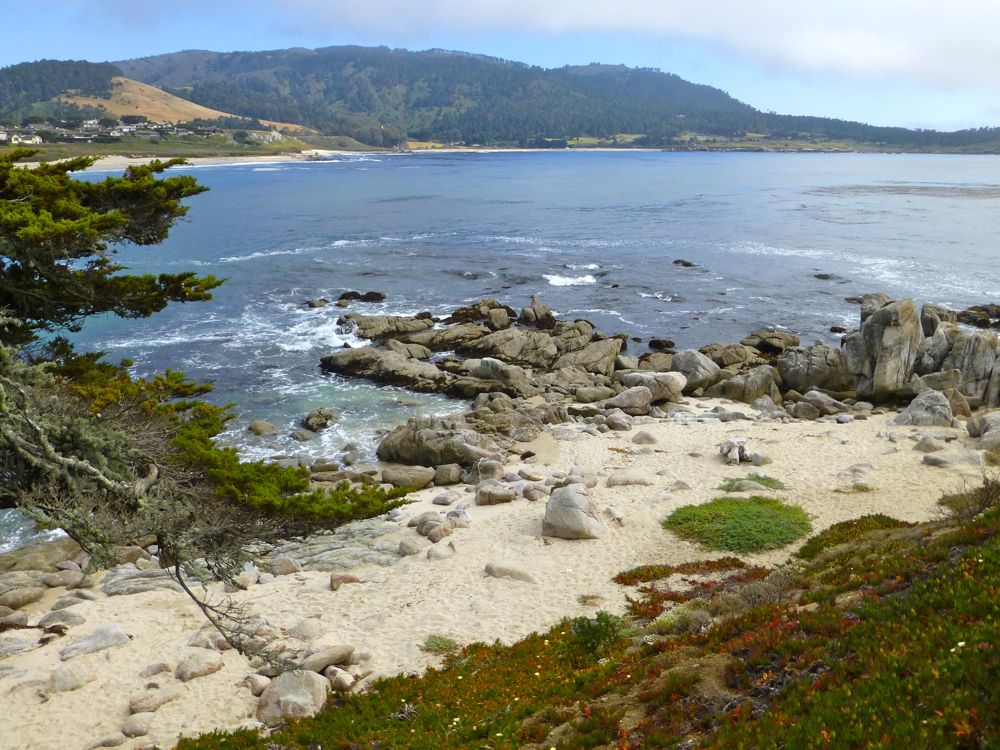 Perilous escarpments, covered with wind blown cypress trees, above powder soft white sand, where an often angry sea endlessly crashes against the rocks, stretching for miles like a giant broken necklace which has been laid out haphazardly next to the land's edge.


As I look out of my window there is scenery that truly could be the hills above Lourmarin towards Bonnieux.


Maybe it seems that I am comparing, that I am looking for that place here or maybe the reason that both of these two places speak to me is that they simply are beautiful. True, they share similarities, things I love; there are olive trees and lavender,


flowers and fresh locally grown produce,


'Earthbound Farms' (one of California's premier organic producers) is just a 15 minute walk away.


There is that feeling of 'getting away from it all', a gentler way of life, a peace and a calm, isn't that what many of us are searching for? So this is the next chapter in my journey. I will return to my lovely Lourmarin and I will always want to spend time in my England, but right now I am very happy to be where I am, in the valley just 5 minutes outside of Carmel.
Download the Travel Guide Carmel-by-the-Sea, California ~ ideas where to stay, eat and play!