Recently I have been busy networking with other writers, talking mostly about Provence. When the Franco-British Chamber of Commerce tweeted about me last week they referred to Shutters and Sunflowers as 'a fun Franco British blog with a US flavor'. I was thrilled to get the mention but it got me thinking, I have written a great deal about Provence, it's how I started this blog, but as the Chamber said 'I am an English girl from California……', maybe I haven't given enough attention to the place I actually live in, a charming, leafy suburb just 30 miles from glorious San Francisco, the little town of Danville. Not a cobbled street, shutter or ancient limestone building in site but still a place I choose to move to from England and somewhere which will always be special to me.
We have actually lived here twice. In 1993 for two years, when transferred with work from England, we choose Danville because it seemed to be a vibrant, family community, a good place for our two young children (then 5 and 3), it was attractive and well located for work, equally accessible for Silicon Valley, the Peninsular and the city. We were not disappointed and through the children made life long friends who visited us in England and with all our relatives an ocean away, became part of our 'American family'! In 1999, after four years back in England we returned; to the sunshine and a life style we loved and had missed. Skiing in winter and summers on the lake at Lake Tahoe,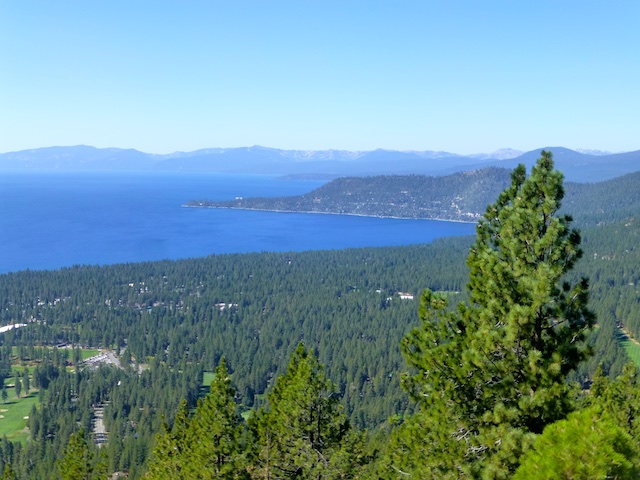 the breathtaking beauty of the Pacific Ocean and the coastline of Carmel,


The Napa and Sonoma Valleys, only a 45 minute drive away,


and of course San Francisco itself,

but why did we choose Danville?


Simply put, Danville is a pretty place to be. It is picturesque, full of restored, historic properties whose character has been preserved as the town has grown.


Nestled 30 miles east of San Francisco, at the foot of the mighty Mt Diablo, the area was originally settled by native Americans.


With proceeds from the Gold Rush the building of a town began in the 1850's and Danville grew as a small farming community. The coming of the railway in 1891 greatly helped its prosperity and growth. The old Railway Station is now the proud home to The Museum of the San Ramon Valley dedicated to preserving the history of the area.


Today Danville boasts good schools, with 2 well respected Public High schools, a small theatre, a beautiful library and an active community center. It has a thriving soul, with many small businesses, gift, fashion and accessory shops,


and an ever growing collection of restaurants and bistros which have made it a popular place for visitors.
Bridges Restaurant where 'Mrs Doubtfire' was filmed in 1993.


It plays host to many annual events; antique and craft fares, musical festivals and some magnificent automobile gatherings.


The older part of Danville is full of leafy lanes,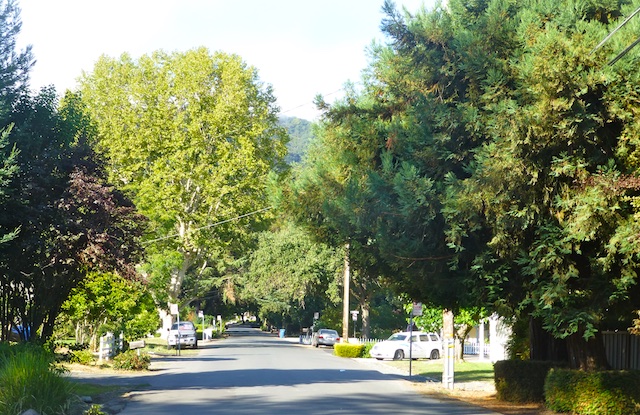 and like most Danville streets, they are flanked by well cared for homes and lovingly tended gardens.


Some of the original ranch properties and orchards still survive. The Love House, the oldest home in Danville, now a historic property, once surrounded by walnut groves and orchards owned by the Love family.

The old railway line, now part of the Iron Horse Trail, much loved and well used, threads its way through the center and beyond. On the ridges above the town more energetic hikes can be found, offering breathtaking views across the San Ramon Valley where the 680 freeway ribbons its way along. Danville straddles both sides of this valley, the wider community sprawling out mostly to the East towards Blackhawk and beyond. To the north it merges into Alamo and then Walnut Creek. Walnut Creek is Danville's closest main town, with its attractive downtown offering good shopping and also where the nearest BART stops, making San Francisco that much closer for commuters.


To the south, are the towns of San Ramon and Pleasanton where in gleaming business parks many Danville residents work. Every Saturday a bustling Farmers Market collects in Danville's center.


Families with small children, people with their pets in toe, walkers from the trail all happily filling their baskets and being entertained by local musicians.

The symbol of Danville, its massive oak tree, is its focal point.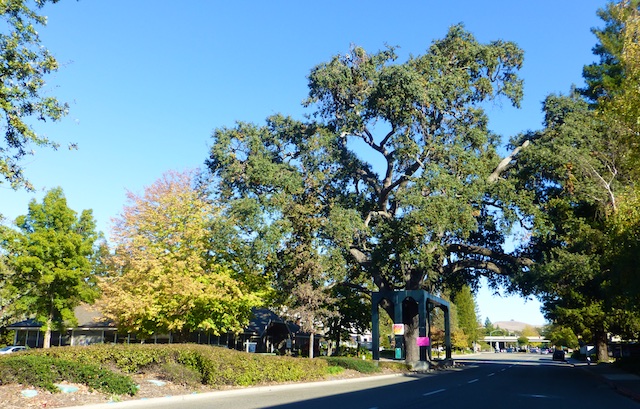 No more so than at Christmas when it is festooned by twinkling lights magically lit by the Snow Queen and Santa, cheered on by those same small children and their families as Christmas tunes fill their air and small mittened hands clutch hot chocolate or cider and nibble on cookies provided by local businesses. It's a prosperous, family community, a happy place where elementary children still ride their bicycles to school, play safely in its many parks and gather together for all those sporting activities that the majority of the over 5's participate in!
It's a place where our visitors always comment how 'unexpected' and pretty it is. It's the place where our children learned to ride their bicycles, danced in ballet recitals, found soccer stardom for the under 13's, graduated High school and left in different directions for college. It's a place our family loves, a place we call home………….