Lourmarin, charming and captivating, come here and wander through the meandering streets, explore the chic boutiques and galleries and then sit and gaze upon life as you ponder all the things to see and Lourmarin activities before a delicious lunch in the shade, there are many places to choose from.
Whilst there is lots to see and do in Lourmarin, people here just 'be', surrounded by beauty, relaxing on lazy, sun drenched days, maybe becoming lost in a good book. It's an intoxicating, a place of artists and authors, a place to dream about and yearn for when you are far away.
A part of Lourmarin since the 12th century.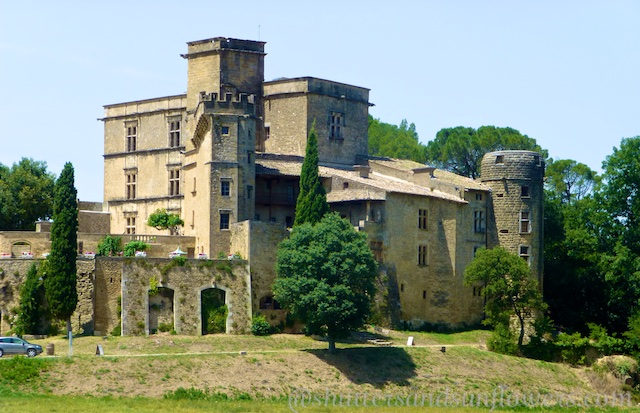 The château was saved from demolition in 1920 by Robert Laurent Vibert, having completed major restorations he tragically died in a car accident a few years later. He left the château to the French Academy for Art and Science in Aix-en-Provence on the condition that young artists could perform there. It now plays hosts to many wonderful concerts and exhibitions, these are one of the key Lourmarin activities, especially in the summer which attr
acts artists, writers and musicians from across the globe.
The Luberon area has always been an artists haven; writers Henri Bosco (1888–1976) and Albert Camus (1913–1960) both lived in Lourmarin and are buried in the local cemetery and British writer, Peter Mayle, whose books include, 'A Year in Provence' and A Good Year, lives in Lourmarin today.
Art galleries and shops
As a place of artists, it is hardly surprising that amidst the trendy boutiques and shops, Lourmarin has several art galleries profiling some incredible artistic ability, visiting these galleries should definitely be included on your list of Lourmarin activities.
The Isirdi Gallery is probably the most famous, where the extraordinary
talent of its owner Gérard Isirdi, with the help of his wife Christine, will entice you to take home a memory of your time in this special place. You might even be able to persuade him to paint something with you in the landscape, like our friends did, read how here!! 
The Lourmarin Market
Every Friday 8.30am -1.00pm, all year round, the streets are bursting with a vibrant collection of
wonderful local produce and all things Provencal! A visit to this market is a must on your itinerary of Lourmarin activities.
Other Luberon Markets: (NB: some are seasonal)
Monday: Cadanet, Cavaillon, Lauris
Tuesday: Cucuron, Gordes, Lacoste
Wednesday: Merindol, Pertuis, Sault,
Thursday: Goult, Menerbes Rousillon
Friday: Lourmarin, Bonnieux
Saturday: Apt
Wine in Lourmarin and beyond
Lourmarin is surrounded by the rolling hills of the stunning Luberon Valley, strewn with olive groves, fruit orchard and vineyards. Make sure you make time to include a visit to at least of these on your list of Lourmarin activities.
From the village stroll to Château Fontvert,  Path Pierrouret 84160 Lourmarin Tel: 04 9068 35 83
There is a great local wine selection available at both Les Caves du Château, where you can make your selection within the ancient, stone caves of the château and La Cave à Lourmarin, the excellent wine shop at Place H. Barthélémy in the village.
La Cave's apt slogan perhaps sums up the region's attitude to their wonderful wine:
"notre région la Provence 
 notre terre le Luberon 
 note passion le vin!"

Other activities
There is a 
tennis club
in Lourmarin and a public swimming pool, it is also possible to rent bicycles contact the
Office du Tourisme 
for details .
(Place H. Barthelemy 84160, Lourmarin Tel: +33 (0) 4 90 68 10 77 )
Exploring the region around Lourmarin
Exploring the surrounding region, the villages and cities should also be part of your Lourmarin activities. Within a short drive there are many other vineyards to stop by as you explore the stunning perched villages of the Luberon; each with their own fascinating history. The vibrant cities of Avignon and Aix-en-Provence are both less than an hour away and the sparkling Mediterranean coast line, with its quaint fishing towns, a short drive further; more next time!