Pumpkins are such happy things, when I see them arranged in a pile as they are so often are at this time of year, well pumpkins make me smile! Life is a journey, a journey, that regardless of how well you think you have planned the route, can sometimes takes you down paths you didn't intend to take. A journey, where the unexpected happens, where the bumps in the road make you wonder where you're heading and feel unsure. It's a journey when sometimes you feel really lost, when, with maybe tears not far away, you wonder in desperation how you ever got so far off course; health scares, money pressures, worries about people you love; they swim before your eyes like enormous road blocks…..
I know that feeling, I expect you do too, it is, as I said, part of this journey we are all traveling called life. Last week as I drove in seemingly endless circles around the same spot, my sunglasses all smudged I finally stopped. Momentarily dazzled, in that one tiny mili second of pausing, I looked upwards at the sky. The leaves rustled, sun rays dappled across the ground and I realized that the colours were changing, one season was quietly ebbing away as the next was re-introducing itself. I felt oddly reassured, and when I saw the pile of pumpkins outside my local grocery store I remembered nothing stays the same forever.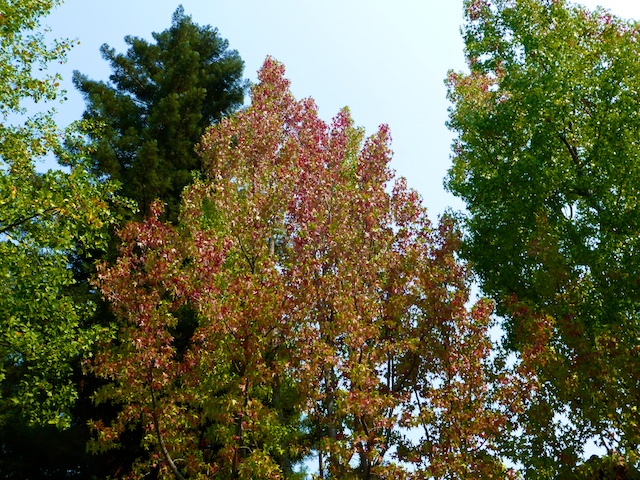 A crimson leaf, kissed by a rain drop lay at my feet as I opened the car door, it made me feel thankful, we so badly need some rain.
Outside the grocery store, huge preparations had been made to welcome the new season, it made me laugh, it made me feel happy, as I said pumpkins make me smile!
Cheeky red peppers in the market, sat next to baby pumpkins, just begging to be arranged upon a Fall table, it made me excited.
Oversized pomegranates seemed to demand to be caressed and turned over, anxious be able to make their contribution. It reminded me of my father and how he loved to buy us pomegranates at Christmas as a treat, it made me smile.
Giant sunflowers decked out in autumnal shades danced before me, they made me feel glad, glad that I had paused, glad that I had found the time to notice.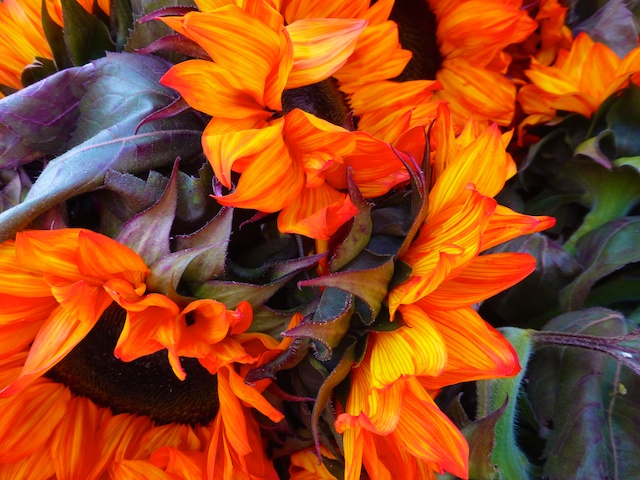 I could see a tiny clearing along the road, I wasn't lost after all. I just hadn't been looking closely enough around me to realize that there is always a way forward.