Every year at this time the air smells just that bit fresher, newly unfurled leaves seem greener than you recall, the daffodils are just that bit more dazzling, their trumpets bobbing up and down in the breeze as if announcing that Spring has arrived. Delicate blossom petals shroud their trees in a crinoline of pastels, you can almost imagine them dancing into the woods partnering with a tall redwood or pine tree to dance a spring waltz. Despite Mother Nature's consistency of setting her seasonal stage, it's almost as if you are witnessing her creative talent for the first time; embracing the beauty of the season, of new life and the promise of summer yet to come.
Meandering along on my bicycle through the leafy side roads of California's Napa Valley last weekend, surrounded by such new beginnings I felt immersed in this magic. Rows of endless vines sprouting their first buds, Californian poppies splashing their cheerful orange next to silvery green olive trees and clumps of lavender yet to burst into life. With rays of sunshine gently warming my back I dreamily peddled along, believing I was back in Provence and at the same time feeling blessed to have somewhere as equally tranquil so close by.

Fruit tree blossoms


California Olive Trees


Row after row of vines stretching in every direction. Lovingly tended to and cared for; its a wonder that each bottle of wine isn't a small fortune considering the amount of toil involved in its production.


New growth on the vines at the renowned Silver Oak vineyard seem just that little further advanced.


Vintners industriously checking each stem.


The tiny beginnings of the new crop in evidence. Protected in a veil of lace, almost like a caterpillar cocooned in a chrysalis slowly metamorphosing into a new life.


We left the cabernet vines of Silver Oak, which from a distance looked quite bereft of life against their golden mustard carpet and the backdrop of bright green foliage scattered across the distant hills behind them.


A lone proudly flag fluttered across the road reminding me which continent I was on.


We were flanked by sprawling vines on either side of the road.


Resting under a majestic Californian Redwood, we were gently reminded again of where we were, the stunning Napa Valley.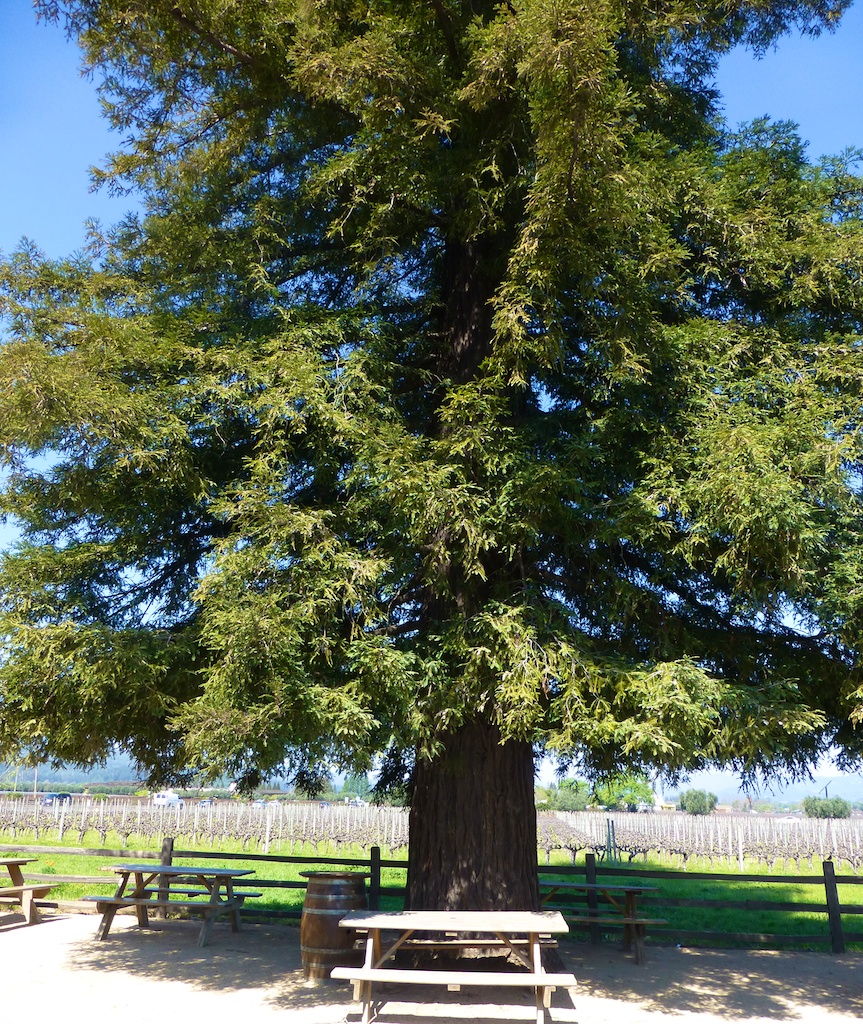 Looking across the famous Opus One Vineyards, incredible joint venture between the Robert Mondavi and Baroness Philippine de Rothschild.


Dragging ourselves away, we sought out somewhere for lunch and the possibility of sampling the local bounty from harvests gone by. As I passed by more vines and blossoms I felt so blessed being able to be so close to nature. Even if just for a few moments in time, to be surrounded by such spring time beauty was renewing. For isn't life all about stopping and noticing, the blossom petals, the shades of the leaves, the wonder that is all around us, if we only open our eyes to see it.