The Lourmarin Château lies on the edge of the fairy tale village of Lourmarin, nestled under the gently rolling hills of Provence's southern Luberon. Visit it to admire its beautiful antiques, discover its fascinating history and enjoy a musical soirée within it ancient walls.
Built as a medieval fortress by the Baux family, it became Provence's first Renaissance château with connections to the royal court. Visited by statesmen and English Royalty, over the years it has inspired the talents of writers and artists including Albert Camus, Henri Bosco and Sir Winston Churchill. In the early 20th century it was saved from ruin to become a renowned center of the arts, a veritable "Villa Medicis of Provence"  ~ this is the Lourmarin Château!
History of the Lourmarin Château
The Lourmarin château now sits on the ruins of what was the 12th century fortress. Little remains of the original wing, the 'Château-vieux', what we see today, the 'Château Neuf', was mostly built in the 16th century by Blanche de Lévis-Ventadour for her son François d'Agoult, a page at the court of King François I. Blanche restored the château and much of the village with great splendor. She employed renowned Italian masons whose craftsman ship was exemplary.
Over the centuries the château passed through the hands of the Lesdiguières and Villeroys families and during the French Revolution it was owned by the famous French inventor, Philippe de Girard.
In 1920, Robert Laurent Vibert, a historian and industrialist, saved it from ruin restoring and refurnishing it to its present glory. An extensive traveller, especially throughout North Africa and the Middle East, he amassed a priceless and fascinating collection of treasures which still adorn the château.
Laurent Vibert was tragically killed in a car accident in 1925, but fortunately his legacy did not die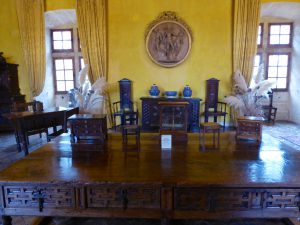 with him. He bequeathed the château and its lovingly selected contents to the French Academy for Art and Science in Aix-en-Provence, on condition that every summer the château host young writers, painters, sculptors and musicians. The Lourmarin Laurent-Vibert Foundation, was created and the concerts and musical soirees held at the château continue to dazzle and thrill audiences to this day.
Next time we'll take a peek inside!
Contact: The Lourmarin Château – Bp 23 – 84160 Lourmarin Tel: +33 (0)4 90 68 15 23
Email: @chateau-de-lourmarin.com
Hours: Open everyday except December 25 and January 1, for exact hours refer to web site
2017 Tariffs : Adults: €6.80    10 – 16 years:€3.00    Under 10 years:free
Download the printable The Lourmarin Travel Guide