Last time I told you about Provence's first Renaissance château, The Lourmarin Château and promised that next time we would peek inside. Here you will find a fascinating and sometimes quite surprising, eclectic collection of treasures, thanks to the legacy of its last private owner, Robert Laurent Vibert, and The Lourmarin Laurent-Vibert Foundation which he established. Vibert saved the château from ruin completing extensive restorations in the early 2oth century. Climb the well worn, 'Rapunzel' stone steps and let's see what we find inside the Lourmarin château!
The Sallestre, reception room
The Agoult family, who rebuilt the château in the 16th century would have entertained in this reception room ~ the Sallestre.
Most of the furniture here is Spanish. The monumental fireplace dates to 1560 and is decorated with Aztec or Inca heads inspired by Christopher Columbus' discovery of the Americas in 1492.
The Kitchen
On this wall, below the small windows, is an 18th century dresser displaying 19th century green china from nearby Apt, a major center for china in Provence.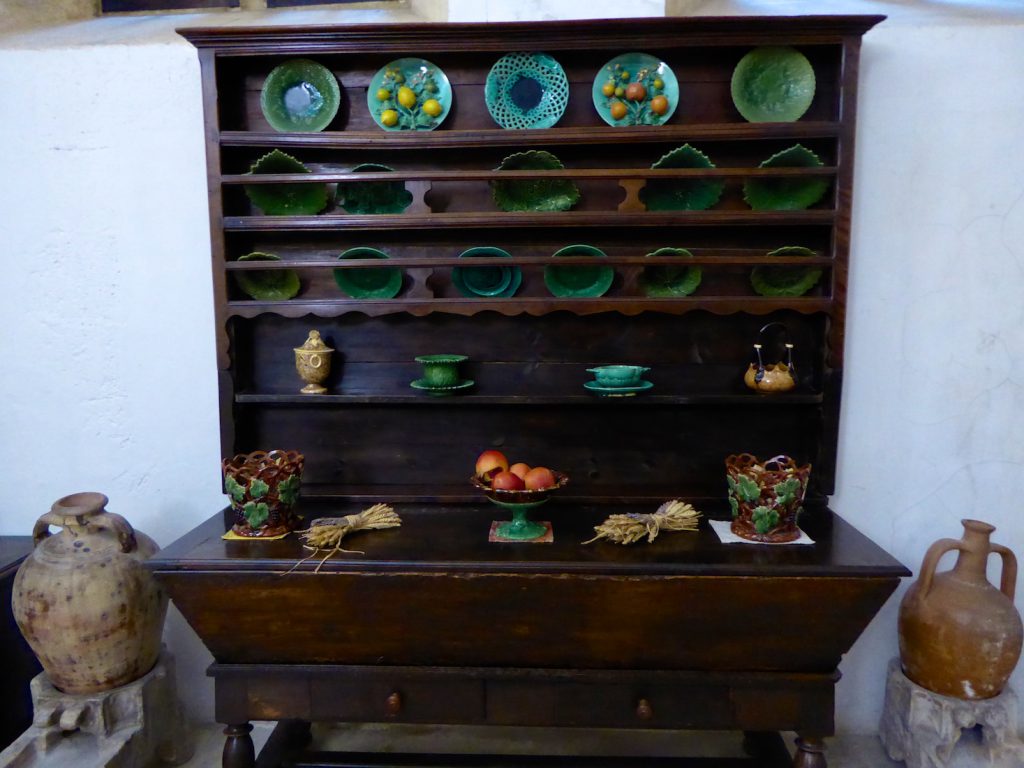 The china, decorated with fruit (barbotines) is very typical of Apt pottery.
The two stone fountains either side of the dresser are Egyptian and were bought by Robert Laurent-Vibert who traveled extensively, especially in The Middle East and North Africa. These fountains would have been used to house charcoal to purify the Nile water for drinking, in Cairo.
The kitchen has the largest fireplace in the château, big enough to roast a whole pig or sheep.
On the fireplace wall there are provencal copper utensils including a bassinoire which would have been filled with cinders to warm the beds. Many of the copper utensils are from the Middle East
The Lady's Bedchamber
This bedroom is entirely furnished in 18th century Provencal style. In front of the fireplace is a radassiere, a provencal style three seater settee. The screen, curtains and bedspread are in Toile du Jouey. The floor tiles, identical to those found elsewhere in the château, were made in Apt especially for Laurent-Vibert.
This renaissance walnut cabinet, shown here on the right, dates back to the end of the 16th century and is from the Burgundy workshops of Hugues Sambin (1520-1601) a master carpenter.
Sambim worked at the Château of Fontainebleau in 1544 with Sebastian Serlio who was probably the architect of the château of Lourmarin.
Outside, the gallery landing looks down on the chapel and beyound the château grounds across the meadows.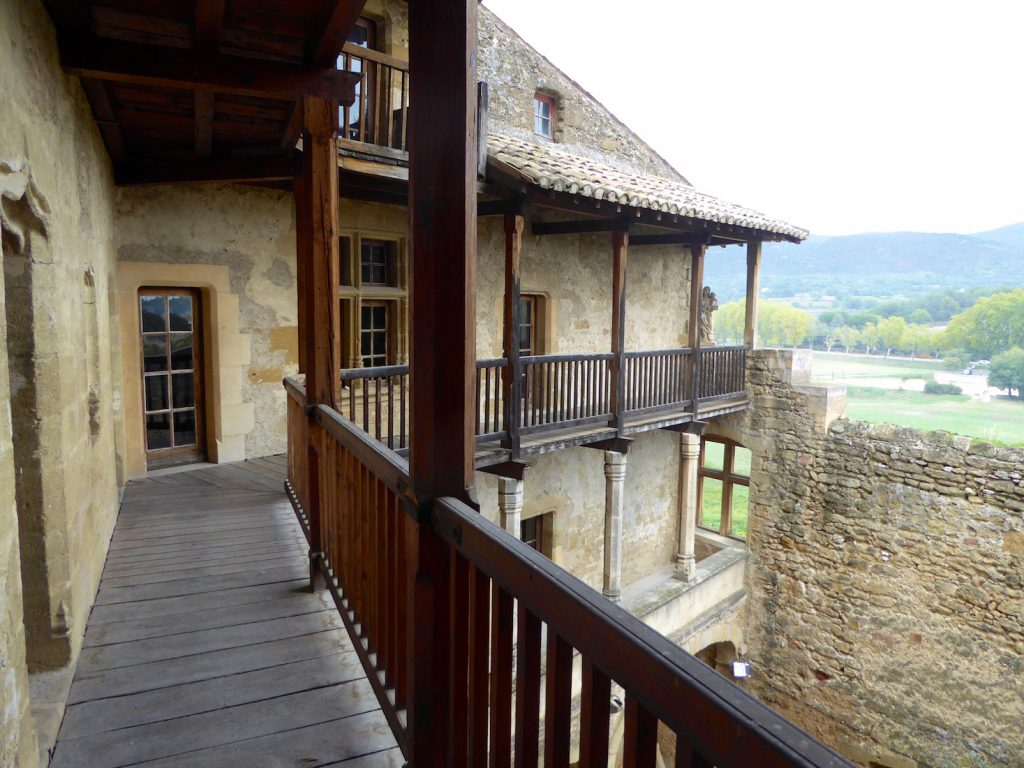 From the château's courtyard you can gaze back at the fairy tale village of Lourmarin. I think the courtyard would be a splendid place to host a summer party, if I invited you, would you come?!!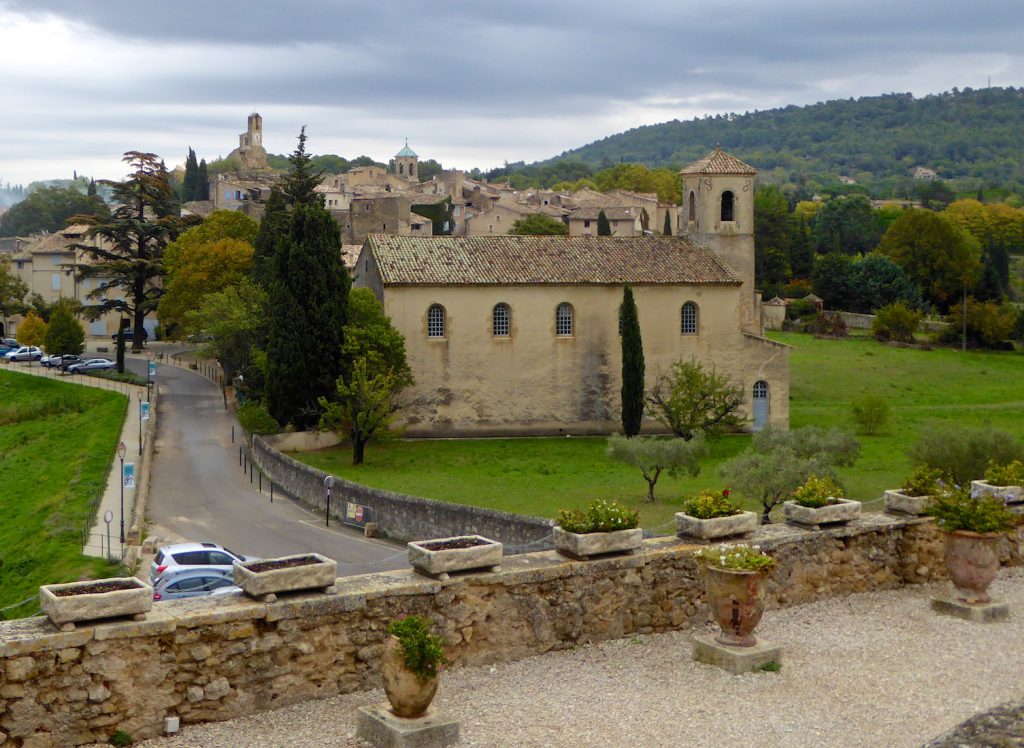 Contact: The Lourmarin Château – Bp 23 – 84160 Lourmarin Tel: +33 (0)4 90 68 15 23
Email: @chateau-de-lourmarin.com
Hours: Open everyday except December 25 and January 1, for exact hours refer to web site
2017 Tariffs : Adults: €6.80    10 – 16 years:€3.00    Under 10 years:free
Download the printable The Lourmarin Travel Guide to learn more about this beautiful region