Las Vegas, decadent or opulent, a place to get rich or get broke, a dining extravaganza or a buffet nightmare, tacky or incredible, exciting or depressing, architecturally stunning……all of the above or none! Love it or hate, it's totally 'over the top' for sure and amongst all these crazy things, is well known as a place to get married! I would never have expected to attend a real Las Vegas Wedding but we did just that last Saturday, taking part in some dear friends' 3rd Wedding celebration, and by that I mean their 3rd Wedding to each other!!! There's is quite a story and this was a quite a place to celebrate!
 'Viva Las  Vegas'!!

Wendy and Dave, the bride and groom, two Kiwis who live in Sydney, Australia, who have known each other for probably approaching 45 years. He was at one time a math's teacher, she an effervescent blond with a cute pony tail! He became a successful business consultant and she a P.E. teacher, still blond and cute! Apart from each other, there are two things they really love; physical fitness – triathlons, marathons, Iron mans, hiking Everest, canoeing in the Antarctic …they have done it all! Their other passion is travel – any country, any climate, any conditions, walking, driving, cycling swimming, cruising…………their passports are bulging with all the places they have visited and there are more to come!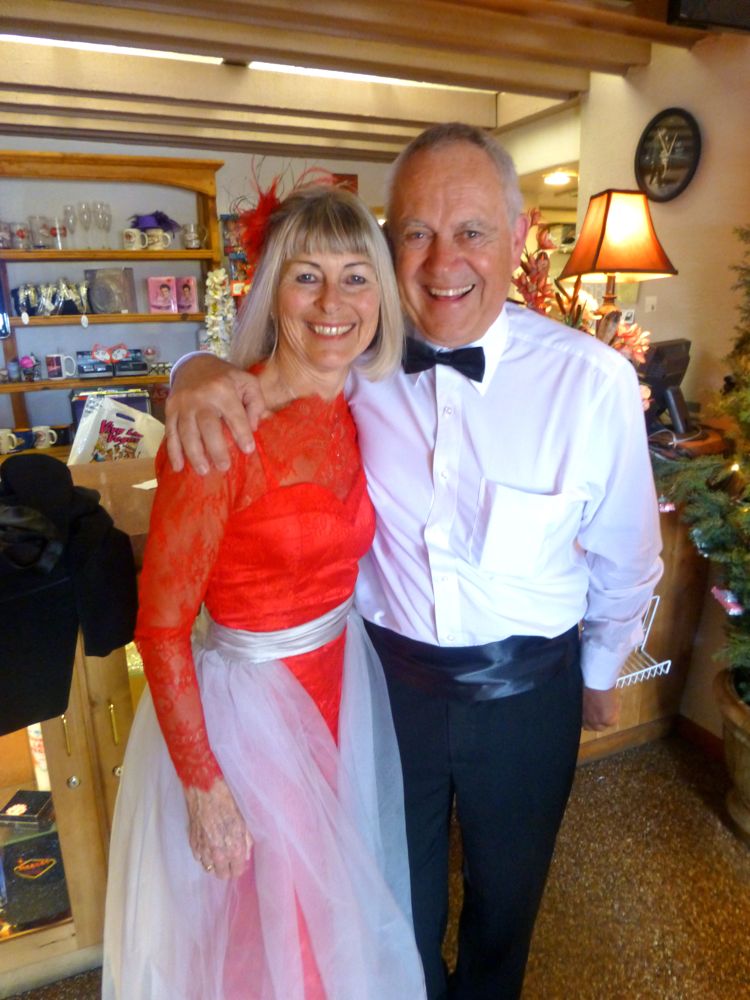 So what were these amazing two doing in Las Vegas getting married? They took their time tying the knot it's true but they were officially married on a sheep farm in New Zealand, several months ago! That was quite a Wedding, full of laughter and fun, there were 80 guests, plus 40 bridesmaids wearing black T Shirts and tulle skirts. And 40 groomsmen in rugby gear and all of them, bridesmaids and groomsmen alike, sporting sexy wellington boots………and I am not making this up!
Just to make sure they really were married, shortly after, they had a re-run at a stunning vineyard in Sydney, to include their Aussie friends. Then they decided to celebrate a 3rd time to allowing their American buddies to celebrate too, we were there as the token Brits!
We congregated in the 'Viva Las Vegas' Wedding chapel, the bride in her untraditional red and the groom suave in his DJ! Amazingly, 'Elvis' was available to serenade them to 'Love me tender'.


He pronounced them man and wife and then we twirled around them whilst he filled the room with 'Viva Las Vegas'!! Afterwards, Mr and Mrs David Upton burst from the chapel to announce their nuptials to the world!


……..in neon lights of course, we were in Las Vegas after all!


Along with the happy couple, Elvis and the chief bridesmaid, affectionately called 'N. O. B.' – 'Number One Bridesmaid' – (who bless her, has attended all 3 Weddings) posed for a photo.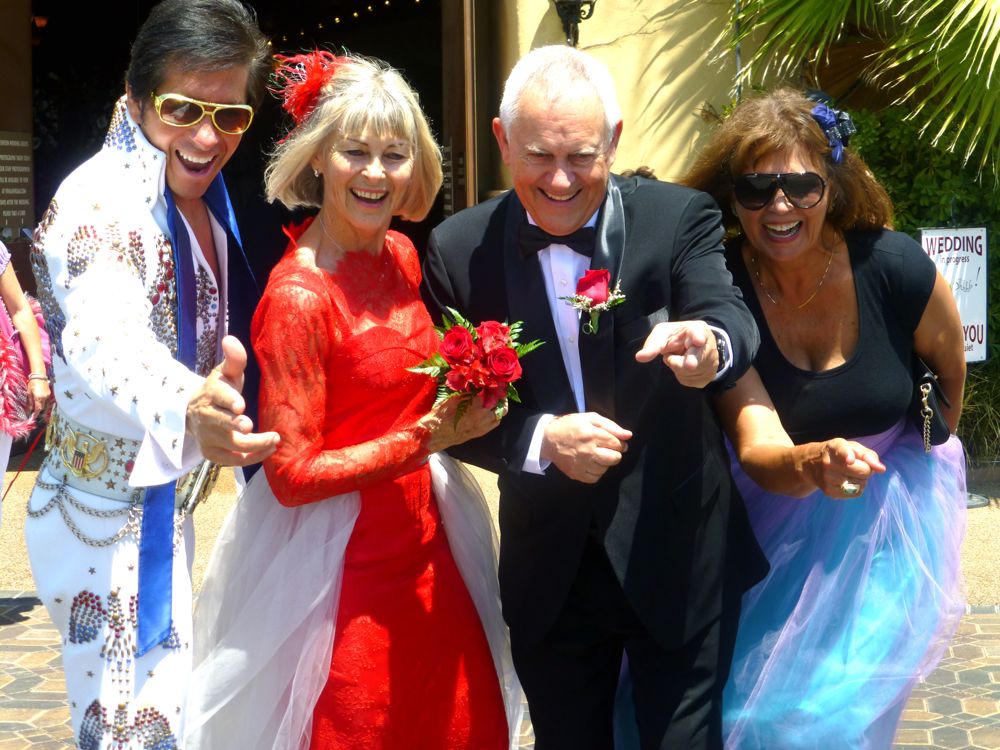 The reception was in the 'Doo Wop Diner', burgers, shakes and an 'Elvis' cake, complete with nodding head!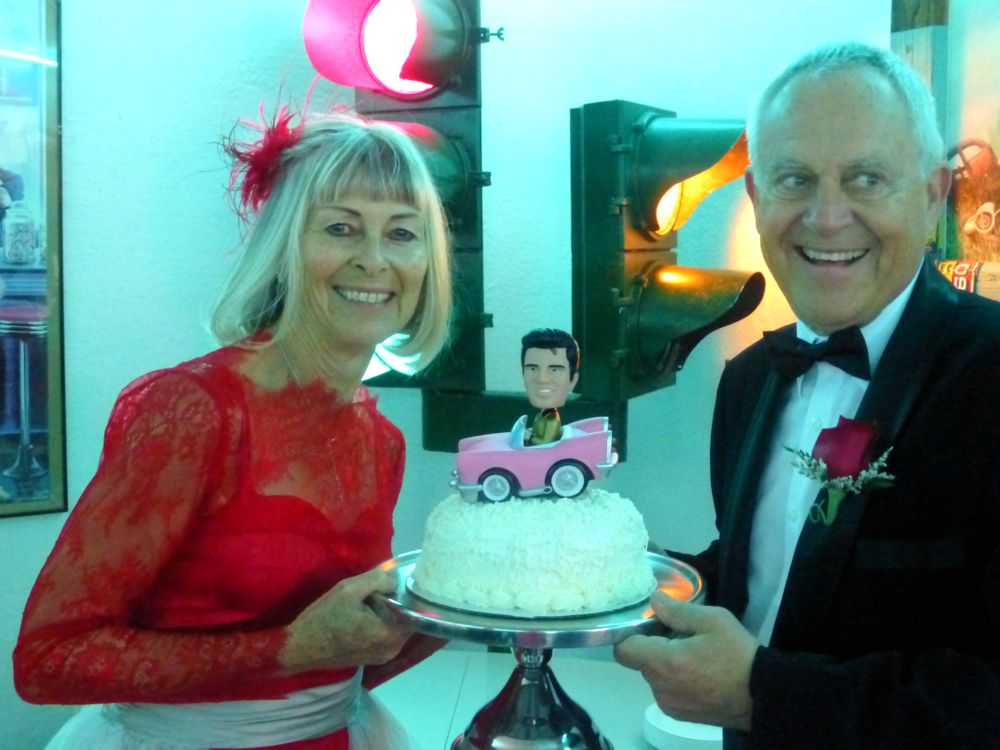 The car that whisked them away was just a small little saloon, pink of course, kindly loaned by 'Elvis'!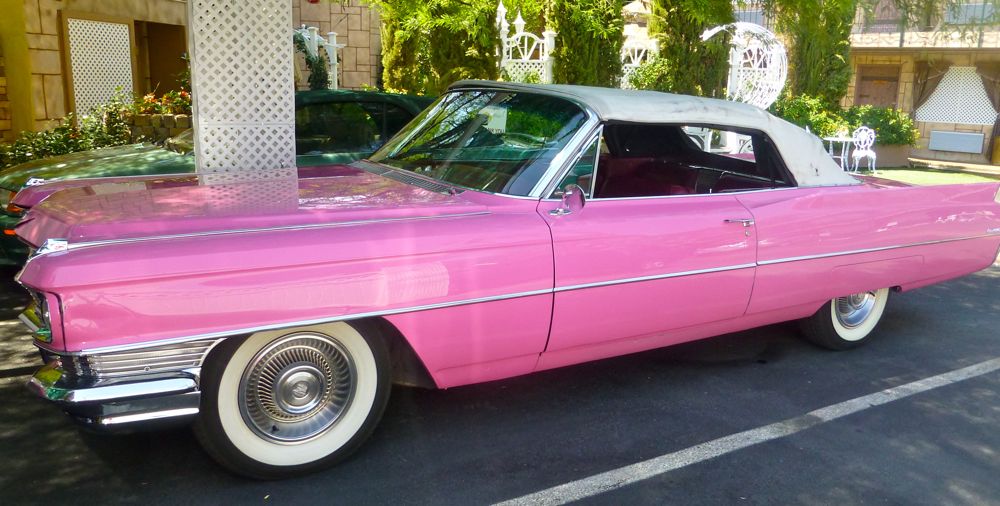 The following day, over a sumptuous  lunch at the Venetian Hotel, Dave sported a T-Shirt stating 'Game Over'! Hardly, it seems like' Game is just beginning,' for this Saturday they are doing it all over again! Opps, perhaps I forgot to mention, this was only Wedding #3, Wedding #4 takes place on July 27th in Holland………….
Congratulations you special pair! You live the life you dream of. You make it happen and you succeed in understanding what so few do, that life is about making beautiful memories. You have already made quite a few together, keep at it and when we can, we'll join you to make more memories with you.
Love and hugs to you both and 'Bon Voyage'!!!