Lourmarin in autumn; the intensity of the sun has faded but it still has some warmth. The crowds have receded but the region's vibrancy has not diminished. The vendage is almost complete and the air is perfumed with the heady scent of grapes and woodsmoke. The golden shades of autumn sweep a paintbrush of crimson and ochre flames across the landscape. It's a beautiful time of year to be here but actually it's always a beautiful time of year here…..
Sun hats have been replaced by softly flowing scarves but the beguiling atmosphere along the streets of Lourmarin in autumn still entices.


The pace is still bustling, especially at the weekends and there is always lots to see and do. Restaurant reservations are easier to secure.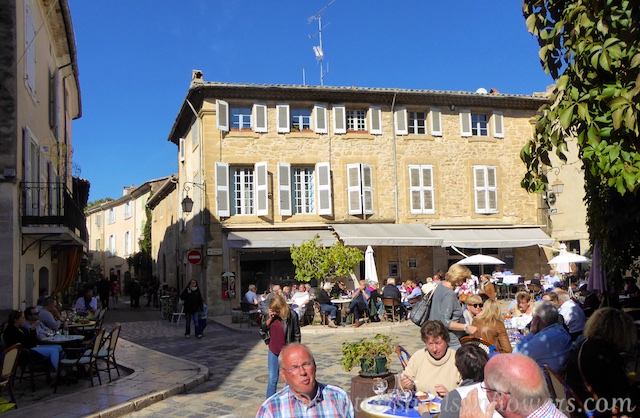 Parking on market daysalong the streets of Lourmarin in autumn is 'pas de problème' and there are still so many temptations!! Delicious fromage,


Flowers, lots of flowers, including sunflowers, of course!


Local vegetables,


and as you would expect, your choice of brightly coloured Provencal baskets.


So many stunning, vibrant French linens that it will be hard to  buy only one!


For the whole month of October in Lourmarin in autumn, Lourmarin celebrates its local artists, profiling their incredible collection of talent, hosting visitors with wine and canapes.


and a series of lectures within the mystical atmosphere of the caves of the chateau.


Gazing across the vineyards, as the late afternoon sun's golden rays bathe the creamy stone walls of Lourmarin in autumn, my heart skips a beat.


The clock tower reminds me of the time of day and I drag myself away from the captivating view to wander back through the village.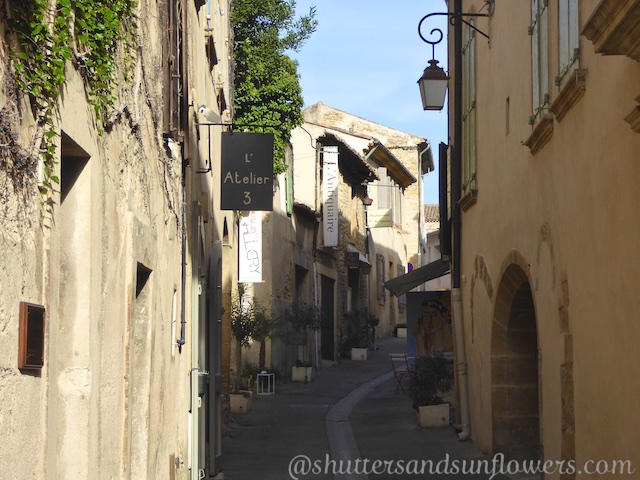 This truly is a magical place, my special place, click on all the links to remind yourself exactly what I mean…..
WHAT TO SEE AND DO IN LOURMARIN