I am so very many miles from where I was living last November, almost 5000 miles from Lourmarin in Provence, France. Yet as I drive around the sun-drenched, autumnal vineyards of California's Napa Valley the countryside is not so very different. Remembering the lanes of Provence in late Fall, in both places one is immersed in the warm vibrancy of the season. As another year draws to a close, Mother Nature has swept her paint brush over the landscape, drawing from a rich palette of golden reds, burnt oranges and nutmeg. The colours of flames, as if to prepare you for your own fireside when in the coming months  you will be snuggled inside, warmed by the glow of burning embers.

Just as in Provence at this time of year, the deep blue Californian skies almost belie the lateness of the season.


Gazing across the vineyards, which seem to stretch endlessly, your eye is soon drawn to follow the lines of the vines, their bounty long since harvested as drooping ochre leaves begin to flutter to the ground.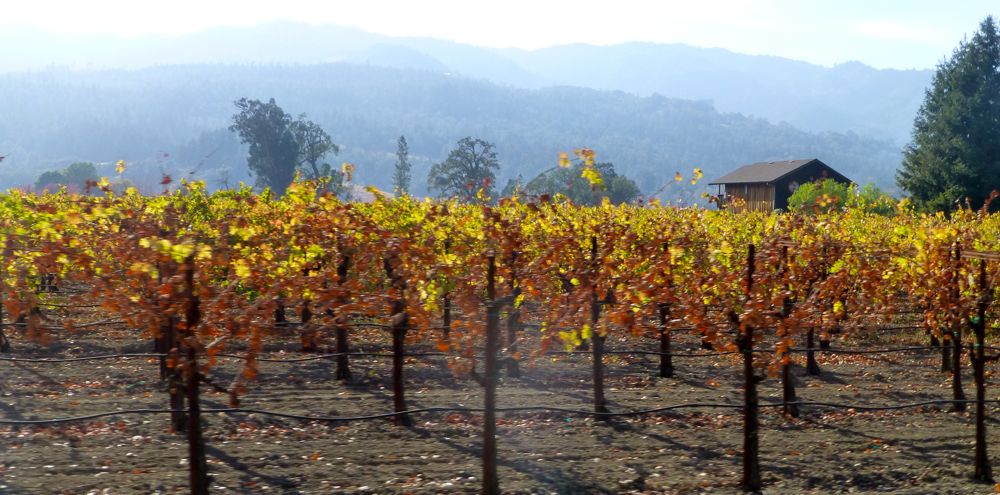 Wineries here are younger, built mostly from wood. Those that attempt to replicate the stone and low slung clay tile roofs of Provence do so politely but not convincingly. Age and character are, after all, the gifts of time.


However, charm and grace can still abound. The welcome one receives from behind these doorways can be just as beguiling as the longevity of the structure.


The sudden occasional appearance of a prominent palm tree reminds you that you are in California. The air is fragrant with the perfume of must and cork mingled with the smell of pine and wood smoke. Deep, enticing, chocolate aromas from the earth seem to reflect the richness of the soil from where life had earlier sprung.


Mother Nature has done her work yet again, seducing me with the season to gather branches and berries and placing fairy tale pumpkins on my doorstep as we start to think about the excitement of the festive season ahead.


Daylight is shortened and even in California we drag out our sweaters and boots. Homemade soups and stews tempt the palette. We watch the weather forecast in eager anticipation for news of snow in the mountains. Christmas and skiing are just round the corner.