We all know intellectually that a ten hour flight transports you to another world, yet no matter how many times you might make such a journey it never fails to surprise and amaze just how different that 'other place' is!  On Monday I left my home in Danville, just 30 miles East of San Francisco. The violet blue skies and 70 degree temperatures had enticed new leaves to unfurl, fruit trees to become kissed with clouds of cotton wool blossoms and camellias and magnolias to burst into bloom.

The English countryside, in the beautiful south Oxfordshire village of Ewelme, was a very different landscape. Brushed with an icing sugar dusting of snow, the fields glistened in the grey wintry light.


As I drew my bedroom curtains that evening, my heart skipped a beat at the view of the old Forge and the thatched roofs in the distance.


The next morning, as we strolled through Ewelme, the sheep were patiently waiting for their breakfast, it was hard for them to find much to nibble on in the frozen ground.


On the hillside above the village the view was captivating, no wonder it has been used for so many films, quite recently 'Les Miserables'!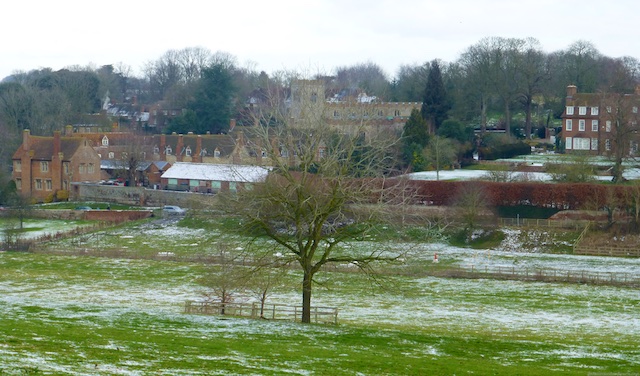 Opposite the church is the stunning Ewelme farmhouse, straight out of a Jane Austin Novel.


Opposite is The Ewelme Primary School, founded in 1437, it is the oldest continuously functioning school building in England. Imagine coming to school here each morning?!


Adjacent to the school is the 600 year old, St Mary the Virgin Church and its stunning almshouses.


Through the archway it opened out into the courtyard of the almshouses.


The church was up a stone stairway just steps away.Inside this delightful place of worship it was tranquil and serene. Stepping across the threshold one could not help wonder about all those that had trod the worn flagstones before you.


Outside, the graveyard is the resting place of several famous people, including Geoffrey Chaucer.


Wandering back through the village there was little doubt which country in the world we were in; thatched cottages,


stately country homes,


and the lush green rolling countryside.
This is the nearby village of Skirmett, a place very dear to my heart, our home when our children were babies. Unchangingly beautiful, it was so nostalgic to return here………..


We escaped the bitterly cold afternoon and warmed ourselves by the roaring fire of Skirmett's charming pub, 'The Frog', there really is nothing quite like an English pub, nothing like 'home'!