Just 6 miles outside of Uzès, towards Avignon,
serenely merging into the surrounding landscape,
sits the spectacular UNESCO World Heritage site
The Pont du Gard.
It has been here for well over 2000 years,
patiently waiting to be explored.
No matter how many times you have stood below its ancient arches
it will hold you spellbound,
as you stand and gaze up at in wonder.
400 Route du Pont du Gard, 30210 Vers-Pont-du-Gard  Phone: +33 (0)4 66 37 50 99
Open all year round. Admission is €18 for a car of 5 people, includes parking and admission to the museum and film about the Pont du Gard.
About the Pont du Gard
The Pont du Gard was built by the Romans in 50AD.
The Romans picked the source of the River Eure, near Uzès, to supply water to the nearly fifty thousand inhabitants of the vibrant city of Nimes, about thirty km away. It continued to do so for nearly 600 years.
The Pont du Gard was constructed with stone from the Roman quarry of L'Estel, just four hundred meters upstream.
The Pont du Gard is the largest and highest known Roman aqueduct in the world. It stands forty eight meters high with six arches on the first level, eleven on the second level and thirty five on the third level where the canal ran. It is fifty five kilometers long but its most monumental and best preserved piece is the Pont du Gard where it spans the beautiful River Gardon.
During the Middle Ages the Pont du Gard was partially destroyed and the stones were taken and reused in other constructions. The batteries were cut in the second floor and it was used as a road bridge.
During the 16th century a degree of restoration work was competed to preserve its integrity.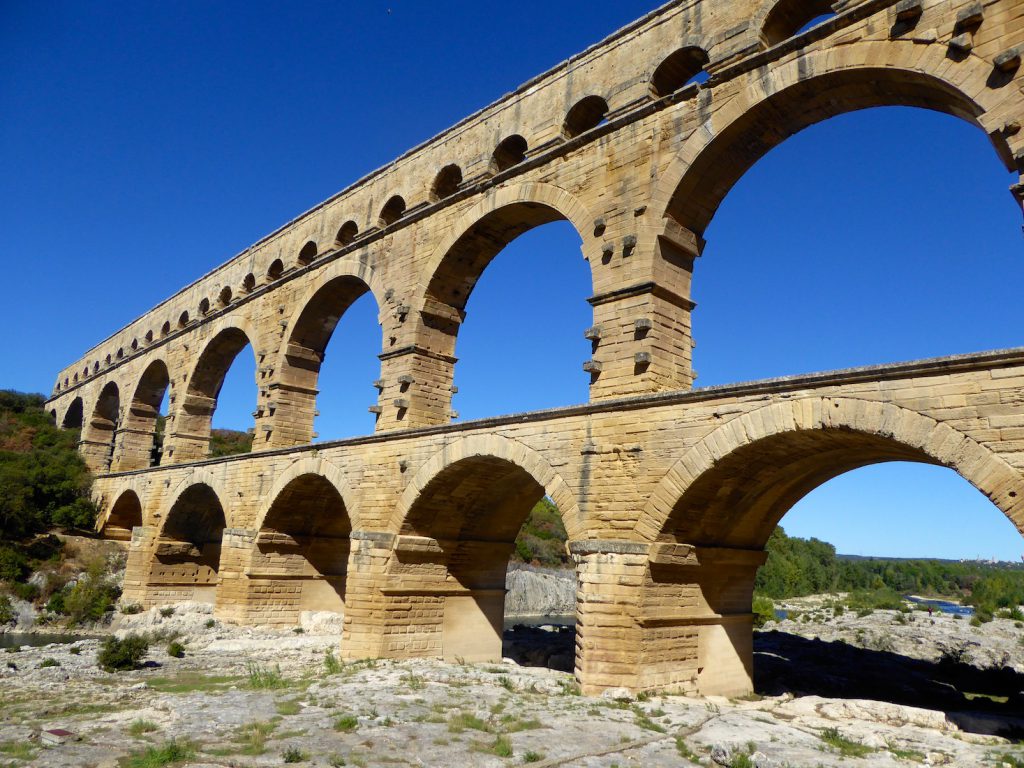 A road bridge was attached to it from 1743-1747 and finally in 1840 it was classified as an historic monument.
It is still possible to visit Prehistoric Caves at the Pont du Gard, evidence of just how long man has settled by the waters of the River Gardon
The Pont du Gard is a site to be behold, make sure you include it on your itinerary!
Download The Uzès, Travel Guide for Uzès and the surrounding regions of Languedoc Roussillon and Provence.