Uzes in winter, a wonderful time to sit over a coffee, when it's cold outside spending time with friends whom you met many years ago, before children, mortgages, health care issues and all the messy things called 'life' have deposited their debris upon you. Friends, you sadly don't see enough of, in our case because of a little thing called the Atlantic Ocean, yet when you do the years that have passed and the distance that has separated us just melt away and there is ohh so very much to chat about!
I have just spent such a week with my friend, Nadine. Together we have explored the countryside, walked the towns, sampled the local delicacies, soaked up the culture but most of all drunk delicious French wine and just enjoyed being together in Uzes in winter
We had a fun rendezvous with some equally dear English friends, Philippa, Kevin and my handsome, quite delightful godson Nicky. We all met in Aix-en-Provence, when finally the biting chill began to recede and we could actually walk with coats undone!
Aix is a sophisticated, charming city, 70 miles south of Uzès, energized by hurrying students, elegant shoppers and people like us, wandering aimlessly though its winding streets catching up on our lives, finding ourselves still absorbed in conversation over lunch and coffee, good friends, happy memories……………. The following day, Valentines Day, it felt like the warmth of the occasion had forbidden anything other than blue skies and a golden glow for young lovers to sit outside and sip their espressos, she pouting and he holding her hand, whispering to her softly and adoringly! No pouting or crooning for us but instead a wonderful, lazy lunch on the terrace basking in the sunshine pouring through Avignon's ancient splendid buildings. Together we window shopped and 'pooufed' at the tiny little sweaters, priced at several hundred euros, wondering how they would ever fit anyone other than members of the 'impossibly thin club', certainly not us!
We arrived at twilight at the stunning Palais du Papes, (it looked like the back drop of a movie set) having experienced the French vendeurs strutting across their chic, petite boutiques looking like they had just stepped straight from the Rodeo Drive scene in 'Pretty Woman', eyeing us up, deciding we were unlikely to purchase and then continuing with their pouting and strutting. So far from the normal, California smiles, welcomes and helpfulness (well apart from Rodeo Drive of course!!)…..
Later in the week in Uzès, in an equally chic boutique we were met with a California style warmth and our looking became buying, it never costs anything to be nice to people!!
Our exploring took us 70 km east of Uzès to the Haute Vaulcuse, tiny villages nestled under the shadow of Mount Ventoux, proudly wearing its seasonal mantle of snow.
We meandered through the medieval towns of Bedoin, Caromb and Carianne, lunching in Vaison la Romaine. Perched high up over the gorge, we sampled au feu de bois pizzas enjoying our two charming and attentive French waiters, one for each of us!! With 'Arabella's' help, we followed the twisting roads west through fields of vines protruding in rows like ancient, gnarled, bony fingers, impossible to believe the abundance they would produce within a few months.
The flat terrain gave way to gentle rolling hills as we wound our way into Châteauneuf-du-Pape
and marveled beneath the windswept ruins of the chateau at the magnificence of the Rhone and Avignon beyond it.
After a final déjeuner, now outside in Uzès, It was with sadness I pulled my faithful Clio from the curbside at Nimes airport and headed back alone.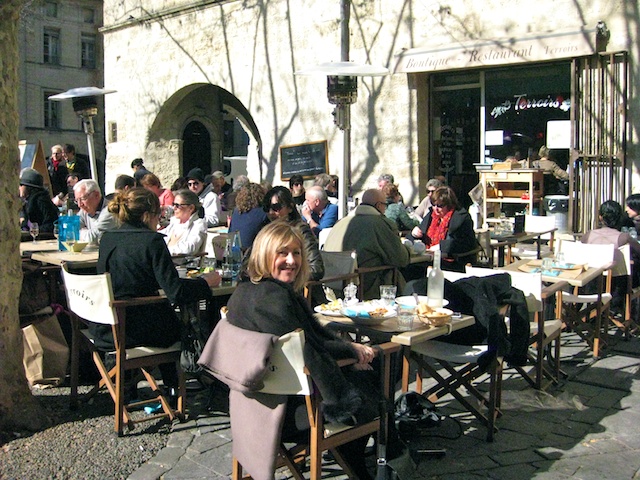 However, radio blaring to keep spirits high, as I turned onto the AutoRoute and saw the signs for Toulouse, Lyon and Avignon my heart warmed as I marveled, how could I be here, in the 'sud de la France', this wonderful place. Albeit alone again but only for 24 hours when finally I would return to another arrivals destination, this time the TGV station in Avignon to meet my Chris, safely returned to me from business in Asia, yes, life is good. I thought over my lovely week, a week of laughter and reminiscing over all that has been and all that has yet to come reveling in the thing that matters most in the world, people, love and friendship.