A village or small town such as Lourmarin, is made up of a community of people living and working together just like any other town or city. So many of our visitors fell in love with Lourmarin but also repeatedly asked us "..but what do people who live here do?" Well for such a small place, with just under a thousand permanent residents, quite alot
There are medical, legal, engineering, construction and other business professionals, people involved in the wine business, artists and many shops, restaurants and places to stay. Lourmarin is a much loved tourist destination with a wealth of visitors through out the year from both France and all over the globe. I was told it was particularly loved by the British, Australians and South Africans many of whom own second homes here. I was also informed by a local that the first vines to be taken to South Africa were from the Luberon Valley and that one of the biggest wineries in South Africa is called 'Lourmarin'! Fascinating, I shall have to check this out! This tiny community in southern France was one I grew to love and know, where we bought food and wine, gifts and memories to take home. Where we enjoyed delicious Provencal food and where we came to meet some warm and generous people who I will never forget.
La Boulangerie
There is only one bakery in Lourmarin and most mornings usually began with a visit to master baker, Stéphane's Boulangerie, we were always greeted with a friendly smile, never mind an enticing array of delicious temptations.

I normally restricted myself to une bannette (a floury, slightly denser version of a baguette!) although croissants and pain au chocolat were often added to my basket when we had guests! The photo outside paid tribute to just how long this particular business had been around. What must it have been like to have visited Lourmarin then?
Mizso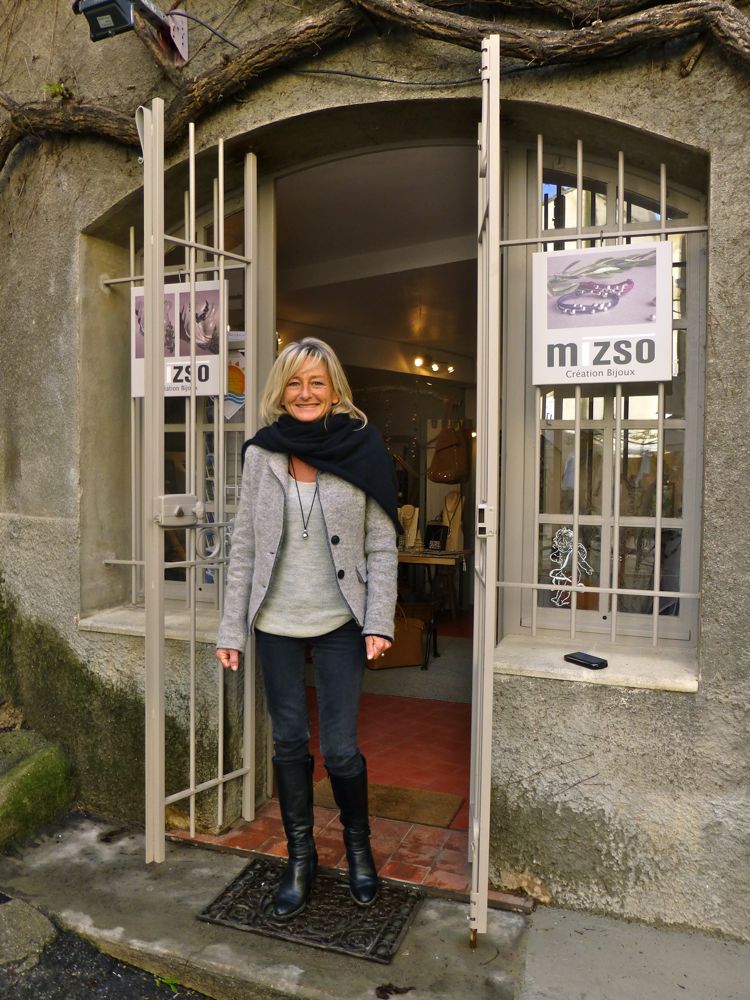 There are always gifts to purchase wherever one lives, birthdays, anniversaries, Christmas and Valérie's jewelry shop made my life so much easier. Originally from Paris, Valerie moved to Aix en Provence and then Lourmarin where she opened Mizso

Valérie makes all her own jewelry, beautiful simple twists of leather and beads which she will happily customise for you with her wide variety of different leather 'threads'. Talented and always helpful, anxious to assist in her excellent English, aswell as more than happy to dance with me on the streets of Lourmarin, when the music is good!!!
La Colline
Around the corner is Colline another spot where I often found unusual and tempting treasures!
Isirdi
Gerard Isirdi's gallery where we our painting was mastered in the square outside Café Gaby
La Cave à Lourmarin
The wine shop, which kept us well supplied with local vin rouge and of course a Provencal speciality, vin rosé.

Les Caves du Château

another excellent source for  purchasing the local harvest, set right into the Cave of the Château and also Lourmarin's local domain itself
Château Fontvert
Le Vival ~ Lourmarin's mini grocery store, totally deserves a mention. It is another place to buy wine, well most things actually. Sadly I never did find out the owners names but you could not have found a more friendly couple. Always cheerful and ready to help even though I was normally rushing in to purchase something, and not much of something, I had forgotten to buy at the hypermarket!
Lourmarin's Restaurants
La Louche à Beurre
(The Butter ladle) was a favourite and consistently excellent when one yearned for Steak frites.

Sitting in soft candlelight next to the crackling, raised open fire perfuming the air with a wonderful smoky wood, especially on a cold winter's night, eating melt in your mouth slices of steak covered in a sauce of your choice, crisp green salad drizzled in olive oil and a bite of garlic and frites to die for, yum! The owner, Babette and her team, made you feel part of the family, tolerating my French and taking care of us too well!

Moulin de Lourmarin
What could be more delightful and more Provencal than sitting in an old olive mill to eat dinner? Delicious food, beautifully presented and utterly charming service where we always were made to feel as if we were the most special guests of the day.
Pizza Nonni
for crisp, crusty pizza straight from the feu de bois, wood oven, consistently excellent, always packed, always scrumptious and we were always taken care of by the friendly waiters!
Bistro La Cour de Ferme

Tucked in beside Auberge la Feniere, is the Bistro La Cour de Ferme,  just outside Lourmain on the road to Cucuron.
The Bistro at La Cour de Ferme serves dinner in a converted barn next to its enormous kitchen range, oozing atmosphere and ambience!


Finally how can I forget the coffee shops where we sat so often? At either Café Gaby (sadly I only have this rather 'grey' photo snapped just as I was leaving, doing little justice to its warmth and vibrancy) or next door at Café de L'Ormeau where there was always a
smile and a cheery greeting, where no-one seemed to mind how long you sat and watched the world go by and the day unfold as you guilty nibbled you way through an almond croissant from La Boulangerie, how I will miss them all!