Imagine falling asleep in a luxurious room, once part of grand Renaissance French mansion
or under soft linens in the bedroom a now historical, listed building.
Or staying in an exquisitely, charming bedroom filled with fresh flowers
where the warmth and charm of your hostess
make you feel as if you were staying in a beloved Aunt's home.
Some of the many options to rest your head during your visit to Uzès,
would you like to find out more?
 31 Rue de la Petite Bourgade, 30700 Uzès
Tel: +33 (0)4 66 22 71 10 
Location: Uzès center, seldom closed. parking available for about €8 a night,
Price: €100 -€130 per night, breakfast included.
You'll find exquisite rooms, enjoy breakfast by the pool in the pretty garden
and be charmed by the owner, Elizabeth, who opens up her home & her heart to her guests,
my very favourite B&B in 
Uzès
!
4 Place de l'Evêché , 30700 Uzès 
Tel: +33 (0)4 66 72 05 25 
Location: Uzès center
Price: €99 – €250 per night
Opposite the Saint Théodorit Cathedral and Fenestrelle tower, once a 15th century mansion, this charming, boutique hotel is right in the heart of the historic city. Beautifully restored in a simple modern style it offers 19 rooms & 3 suites. Dine under its golden arches from a delicious menu sourced primarily from local organic producers. Relax by its pool (Uzès' only hotel with a pool) and enjoy the splendid views from its panoramic terrace. Limited parking also available.
18 Rue du Docteur Blanchard, 30700 Uzès 
Tel: +33 (0)4 66 20 07 00 
Location: Uzès center Closed: mid February to early March  
Price: €190 – €530 per night
A wonderful Relais Chateaux hotel, tiny and discreet quite divine,
complete with a spa and fabulous restaurant, a luxurious splurge!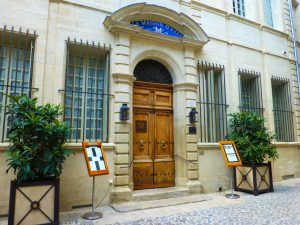 6 rue de la Perrine, 30700 Uzès
Tel: +33 (0)9 50 25 9 106 
Location: Uzès center
Closed: normally closed during winter months 
Price: From €110 -165 breakfast included, unsuitable for children.
A well renovated, listed building dating from 1830,
offering 5 suites, in the middle of town!
Chemin des Bégudes, 295, 30210 Vers-Pont-du-Gard
Tel: +33 (0)4 66 02 63 60
6 km east of Uzès on D981, 2 minutes from the Pont du Gard  
Price: €65 -€260 per night breakfast €15, parking free on site, gourmet restaurant
A recently renovated, former 17th century coaching inn
now offering 4 star luxury in one of its 23 rooms and suites,
we loved it here, this is a jewel!
Maybe you'd rather rent a 'mas' in the country or somewhere in the middle of town
to shop at the markets and prepare fresh, local produce at home?
There are many gorgeous properties available,
check out Alastairsawdays.com, homeaway.com and airbnb.com.
We rented the delightful
Maison Sept
 during our time in 
Uzès and could not recommend it highly enough!
Whatever you prefer, if you are staying in Uzès download The Uzès, Travel Guide for Uzès and the surrounding regions of Languedoc Roussillon and Provence.