I remember for my 9th birthday treat going to the cinema with my family and some friends from school who all came home for a birthday tea. In those days you actually got dressed up to go to the cinema, especially on your birthday! I felt very grown up as the film, although a musical, had serious 'tough guy' actors in it; Lee Marvin and Clint Eastwood; that 1968 film was 'Paint your Wagon', re-telling the gritty story of the Californian Gold Rush. Of course I had no way of knowing then, that one day I would live in Northern California and on a regular basis chase up the freeway to Lake Tahoe, by-passing the small mining towns and trails from those early pioneer years. It's a journey we have probably done more than any other but this time we abandoned the four lanes of incessant traffic to follow historic Route 49. It twisted and turned its way through some stunning scenery, every hairpin a delight for my chauffeur, who gripped the wheel of his beloved German automobile in sheer delight! Set against a back drop of distant mountains, the narrow meandering route 49, lined with towering pines and sequoias followed the path of the bubbling, chuckling Yuba River; it reminded us of similar drives in France, Switzerland and Italy; maybe it was prophetic that the song I remember most from 'Paint Your Wagon' was the gravely tones of Lee Marvin singing 'I was born under a wandering star! Serendipitous perhaps that our journey took us through Downieville, the very heart of the Gold Rush and probably what the fictitious 'No Name city' was modeled on.
Scattered along the route were small 'one horse' towns, their long ago abandoned buildings offering the promise of a new venture for a modern day pioneering soul!


The route climbed and then descended before making its way up again, unlike the gradual ascent on the '80' freeway. It followed the Yuba river, originally the home of the Nisenan people who for thousands of years had lived in small villages ranging in size from 15 to 500 people, by the streams and rivers of the Sierra foothills.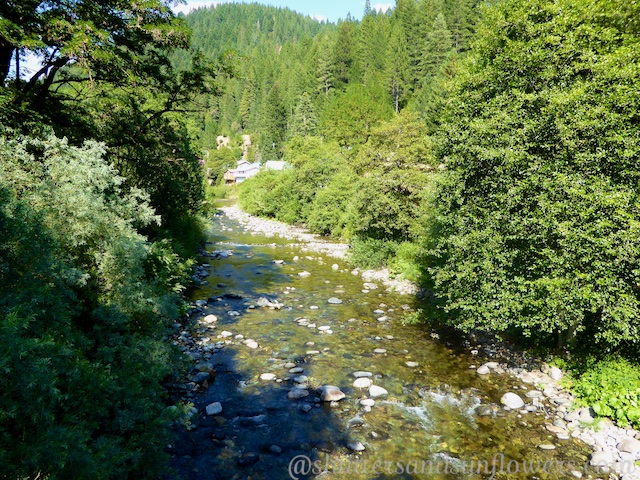 Eventually we were above historic Downieville,


about to embark on a charming journey back to the 19th century.


When gold was discovered here in 1849, Downieville became the most important gold rush town in the area. By 1850 it had 15 hotels and gambling houses, 4 bakeries and 4 butchers and 5000 people!


When Sierra County was established in 1850 and a bid was made for the state capital, Downieville received only less than 10 votes than Sacramento, how different history would have played out!
Back in 1849 gold was everywhere, reportedly a house wife discovered $500 worth just on sweeping the earth on her kitchen floor!


Route 49 runs right through its center, passing by the local theatre.


Evidence of the town's rich mining past is scattered through out the town,


all so crucial in their time, now just reminders of a bygone era.


A sixth sized scaled down model of an old gold ore grinding machine.


Route 49 led us out of town across the single lane 'Jersey Bridge' where the gold was first discovered.


After Downieville we continued to climb up into the Sierras
We continued on through Sierra City, passing it's 19th century country store.


Eventually the Sierra Plains peeked through the sequoias,


wide open spaces full of grazing cattle stretched for miles.


Route 49 finally met up with highway 89 and were on familiar territory heading towards Truckee, Lake Tahoe.
If you have the time it is so worth taking this journey back in time through California's history, it's beautiful scenery and spectacular vistas in what my father always told me is 'God's country'………
Download the Lake Tahoe, California Travel Guide PDF here