Our spectacular drive, just a week ago, from Liechenstein through the Alps to Lake Como, dramatic, breathtaking scenery, had us gasping on every twist of the highway. Azure skies, below which, everywhere you looked was a horizon dominated by brilliant white, soaring, jagged mountains. Thrusting out of the earth like angry explosions, Mother Nature demonstrating her immense power, both stunningly beautiful yet menacing. Like the huge rollers of the ocean, daring man to conquer them.
The view that greeted us from our Liechenstein bedroom window as our day began in the charming Hotel Oberland
Hotel Oberland Liechenstein, a real Alpine treat, highly recommended!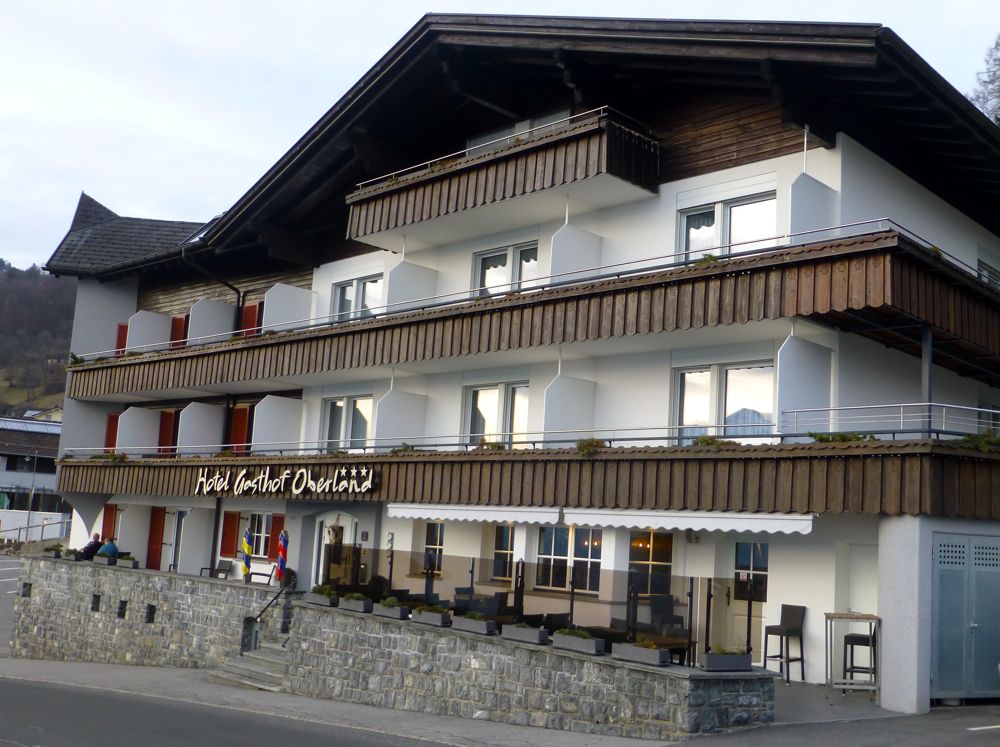 When our world momentarily darkened, as we hurtled at 120km/ph through one of the numerous mountain tunnels, each time we burst out into the sunshine the sheer scale of nature had us in awe. These sheer faces of white reaching into the clouds defying anything to grow on their steepest sides.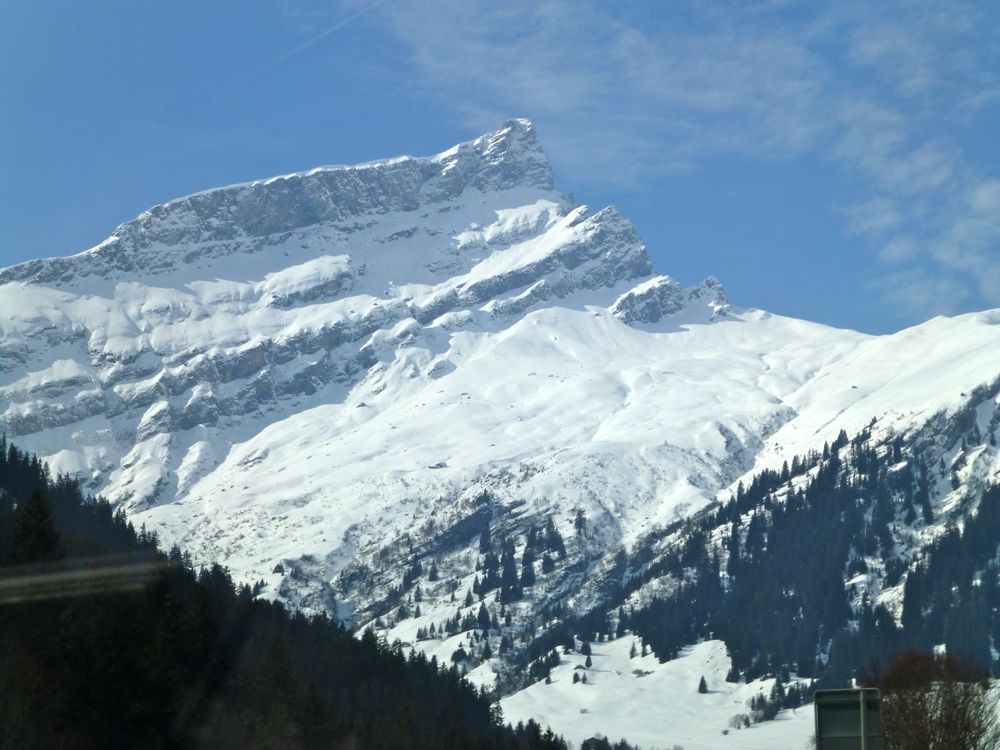 Man's bold engineering somehow seemed to challenge Mother Nature herself as the road ran on and on, allowing us to navigate through what at one time, in early Spring, would have been impassable terrain.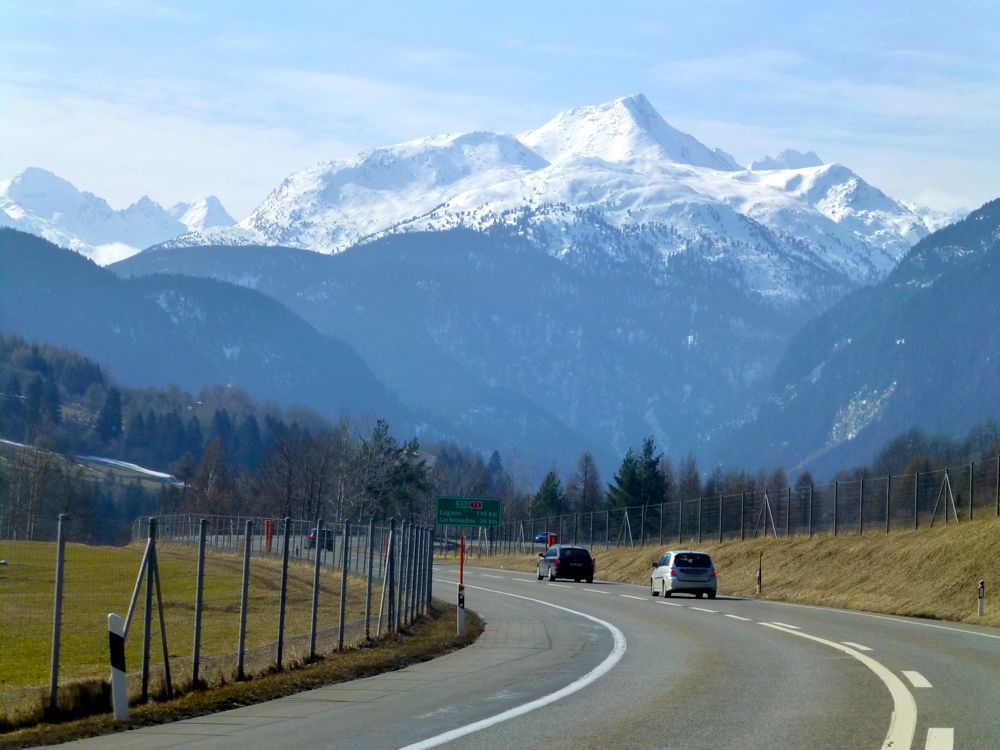 Church spires and small towns reminded you of a time without autobahnen and cars, when whole settlements were cut off through the harsh winter months. It gave you cause to pause and a respect for those people, not really so long ago, who lived in these then isolated mountain regions.

Signs for glamourous restorts like Kloisters and St Moritz tempted us, just a mere 30 minutes away! A few days in a Swiss Alpine ski chalet seemed so inviting. At one point we nearly ended up in one as our faithful 'Arabella' guided us to cross a Pass where the road abruptly ended in a ski resort car park, impassable at this time of year!! Lake Como just 50km away, instead of 150km via the autobahnen, if only we'd packed our skis!!

On kinder, gentler slopes, alpine trees clung precariously, splashing a smattering of evergreen amongst the snow. Like the folds of a billowing, two coloured skirt, the lower elevations gradually merged colour from icy white to fir green.
With her giant paintbrush, Mother Nature had wiped the promise of spring across the bottom of the mountains, sweeping them with a green lushness that was beginning to gradually seep upwards as the sun slowly began her next job of melting winter away.

As we left the most embracing of these heights behind us and slipped down toward first lake Lugano and then eventually Lake Como the skies sadly greyed like the ashes remaining after a fire. Water and sky almost merged in places into a milky blurr barely separated at the lake shore.

Despite the sorrowful skies and entrenched as our minds are with our beloved Californian Lake Tahoe, there was nothing to disappoint. This twisting, meandering lake, ribboned with vibrantly colorful Italian architecture was  as mystical and romantic as I had hoped. Like Lake Tahoe, we were surrounded by a dramatic mountainous landscape but somehow more fierce and soaring than the somewhat gentler Sierras. The Alps seemed to be cupping the edges of the water in their hands. Unlike Tahoe, Lake Como's edges were threaded with tiny, medieval, distinctly Italian villages and towns. Ancient cobbled streets and golden reds, oranges and yellows of shuttered, balconied buildings clung like a bead of brightly coloured jewels to the lake side, it was all and more I had believed it would be.