Visualise yourself sleeping beneath the rafters of a stunning converted olive mill
or being pampered in an exquisite guest room of a Provencal mansion.
Perhaps you'd like to be in a house in the country or in a village.
You can rent our house, Maison des Cerises, right in the middle of Lourmarin, the view from our shutters shown above! Completely renovated (December 2017) it has two double bedrooms – both with en-suites bathrooms – a terrace, separate laundry (washer and drier) air-conditioning, Wifi, Smart TV and American style fridge freezer. Do contact me if you are interested!
Renting a house provides a tiny snapshot of what it is like to actually live here; having more space to relax and shopping in the local stores and markets to cook at home.
If my house is unavailable or doesn't suit, Nikki offers a charming selection of other properties, check out her website at: Rent Our Home
HOTELS & BED & BREAKFASTS
Rue du Temple, 84160 Lourmarin +33 (0)4 90 68 06 69
Price: €110 -€186 per night, breakfast buffet €18.00 per person
Closed: mid January – February.
This charming, boutique hotel
in the center of Lourmarin  
is
 a converted old olive mill, 
full of ambience and character with 
17 rooms and 2 suites with a lovely restaurant.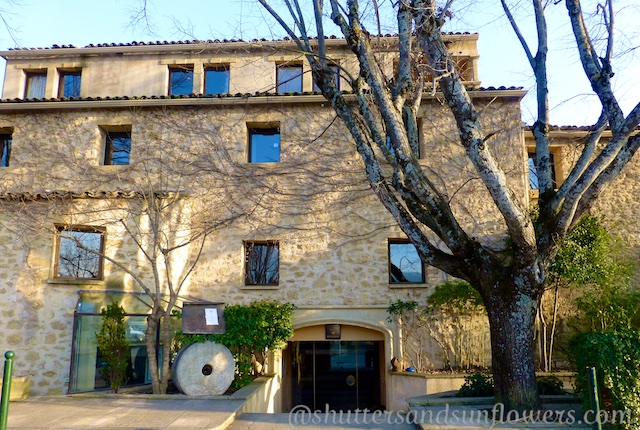 44 Chemin de Collongue 84160 Lourmarin + 33 (0)6 76 86 76 65  + 33 (0)4 90 77 44 69
Price: from €150 per room Closed beginning of the year, check website for details.
5 luxurious modern bedrooms, within a traditional Provencal Mas.Breakfast included, brunch on request €27.On Tuesdays, a fabulous dinner is served in the garden, €75 per person
Lovely pool and gardens to relax in, o
n site massages can be arranged. 
Impasse du Pont du Temple, 84420 Lourmarin +33 (0)6 09 16 9180
Price: €170- 250 A beautiful, historic mansion offering accommodation in 2 elegant rooms.Decorated with exquisite taste by your charming hostess, for whom nothing is too much trouble.Breakfast included, brunch available on request €18
Puyvert  BP 32 84160 Lourmarin + 33 04 90 09 97 40 Price: from €160
Closed November – March, check website. An exceptional place offering varied options;
Stay within the honied walls of an old Mas or at the neighbouring old domaine,
both minutes from Lourmarin.
Rent the newly renovated, chic apartment in the village. Enjoy the pool and the gardens from the shade of the old truffle oaks,it will be hard to tear yourself away!
Route de Lourmarin [ D943 ] 84160 Cadanet   Tel: +33 (0)4 90 68 11 79 Price: €110 -€186 enquire from website (breakfast buffet €18.00 per person) Closed: mid January – February . Hotel Auberge de La Feniere is just 2 miles from the center of Lourmarin. It is a wonderful 4 star boutique hotel set within 3 gorgeous buildings with 16 rooms and 2 suites. One exceptional, gourmet restaurant (closed Mondays and Tuesdays) with renowned chef Reine Sammut and an equally delicious but more casual Bistro. (closed Wednesday and Thursday)
LAURIS
Route de Roquefraiche, 84360 Lauris Tel:+33 4 13 98 00 00 Price: from €170
A luxury spa retreat retreat just 10 minutes from Lourmarin set within beautiful grounds adjacent to its wine domaine, with two excellent restaurants: Le Champ des Lunes, & La Cuisine d'Amélie, gorgeous!
BONNIEUX
Several options in this pretty perched village, seemingly hanging on the hillside 15 mins from Lourmarin
Chemin des Cabanes, Les Claparèdes, 84480 Bonnieux  Tel: + 33 (0)4 90 75 89 78 Price: from €140 enquire from website (breakfast buffet €18.00 per person) Set above the village of Bonnieux a luxurious boutique bastide and Relais & Château hotel with a gastronomic, michelin star restaurant from renowned chef Edouard Loubet. For more casual dining do not miss La Ferme de Capelongue where it is also possible to stay. The restaurant here, La Bergerie is set in an old sheep bergerie with magnificent views across its sweeping gardens. Open 7 days a week, year round, fabulous for lunch or dinner, a really special experience!
LES TROIS SOURCES
Chemin de la Chaîne – 84480 Bonnieux  Tel: +33 (0)4 90 75 95 58 Price: 3 charming spacious rooms from €80-140 and 1 suite for 4 people €140-200; all with en-suites and internet access, breakfast included. A warm and inviting building with large rooms and stone stair cases set within 8 acres of rolling cherry orchards and vineyards just below the village of Bonnieux. A great location for exploring the Luberon Valley.
LE PUY-SAINTE REPARADE
THE VILLA AT CHATEAU LA COSTE ~ at Château La Coste 2750 Route De La Cride, 13610 Le Puy-Sainte-Réparade Tel +33 (0)4 42 61 92 92 Price:From €550 A really luxurious boutique hotel on an incredible 800 hectare wine estate featuring an amazing outdoor art collection.
Leave time to take the 2 hour walking tour and dine in at least one of the domain's restaurants, the terrace shown here has a wonderful casual lunch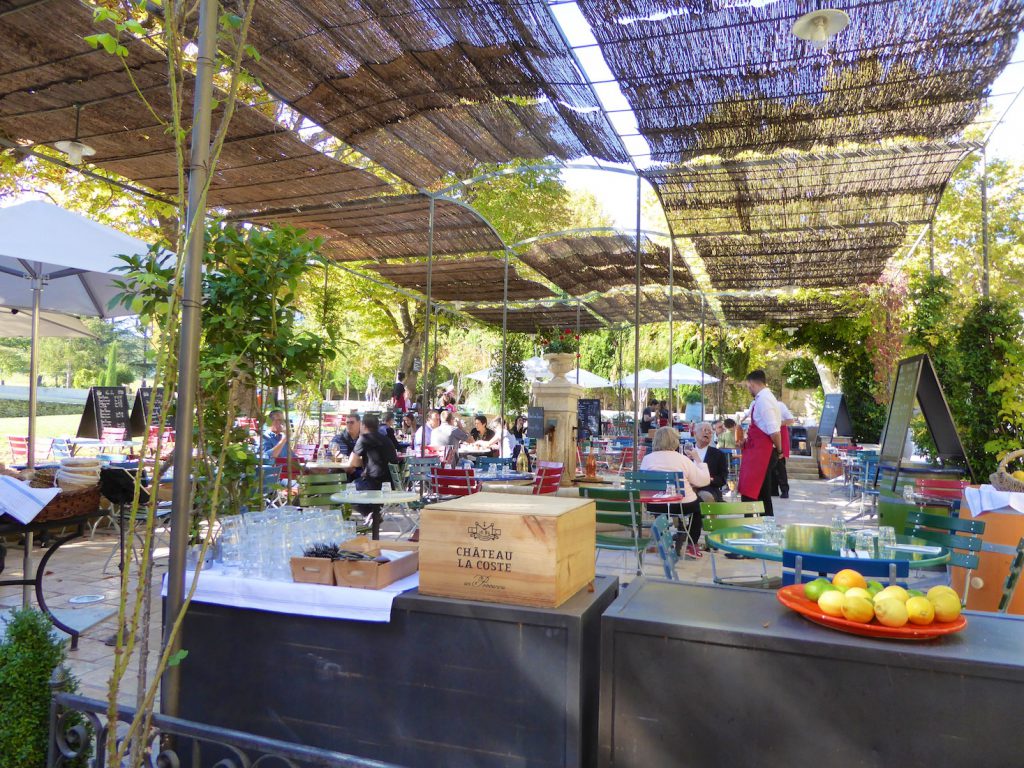 CHATEAU DE FONSCOLOMBE Route de Saint-Canadet. 13610 Le Puy-Sainte-Réparade  Tel: +33 (0)4 42 211 313 Price: from €190.00. Gorgeous 5 star luxury Relais Château hotel and wine estate with pool spa and wonderful dining set on a stunning 18th century estate