Sometimes life take us to places that perhaps we wouldn't have thought of visiting, and sometimes that place turns out to be a pleasant surprise! Just an hour north west of Detroit we discovered the leafy suburbs of Bloomfield Hills and Birmingham, the charming nineteenth century historic towns of Franklin, Plymouth and Northville, farmers markets, cider mills and art festivals, the incredible mansion house gardens and educational center of Cranbrook, the vibrant university town of Ann Arbor; sumptuous waterfront properties fringing the many local lakes and the amazing Henry Ford Museum and its adjacent inspiring Greenfield Village where you can step back into bygone times in the house where Henry Ford was born and where the Wright brothers invented the very first aeroplane; utterly wondrous! And despite all we did see there was so much more we didn't; we shall just have to come back and urge you not to miss a visit to this beautiful state.
Orchard Lake, a tiny baby sister to its vastly bigger 'great' relations nearby Michigan, Huron, Erie Superior and Ontario!


Driving in Michigan so reminded me of England with its trees and hedgerows and also its' roads; as this is THE home of the motor car, the first roads that were built here were not freeways, just as in Europe; unlike California where we seem to go everywhere in 6 lanes of traffic!


There were farmers markets everywhere, each bursting with local produce. Michigan is renowned for its sweet corn, cherries and apples, hence the abundance of cider mills! Fruits and veggies displayed in neat little baskets and of course I spotted the sunflowers,


this dried sunflower head was incredible!


There were bunches and bunches of beautiful chinese lanterns which I would have loved to have taken home with me.


This shady tree lined street was very typical of the many we drove along.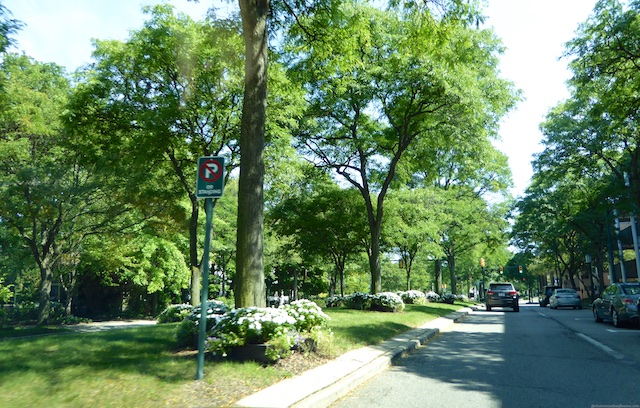 The University of Michigan in Ann Arbor – one of its very many impressive buildings scattered around the town.


I would also have loved to buy a few of these incredible painted gourds from one of the art festivals we visited.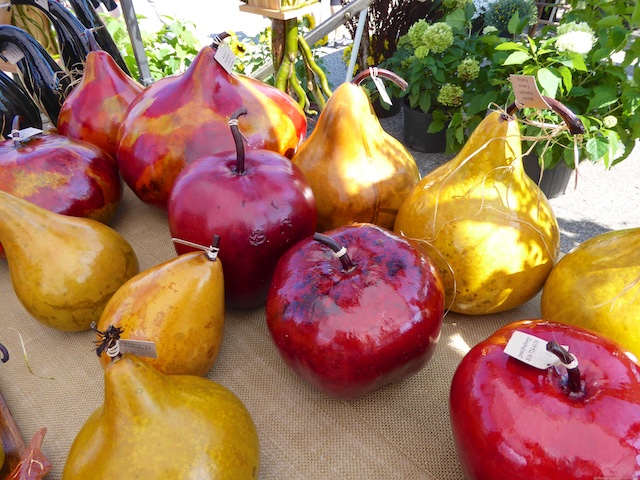 We ate just along here in Birmingham, a lovely town, much smaller and more elegant than its British namesake!


We spent a wonderful morning strolling the beautiful grounds of nearby Cranbrook, this will have to have a blog all of its own!


As will Henry Ford's incredible Greenfield Village. He had this village build to re-locate and preserve some of the very many historic buildings which were being abandoned and sometimes destroyed; including Edison's family property, the Heinz family home, the Wright brothers' and the house where he himself was born. Ford had great insight and has left an amazing historical legacy for millions to enjoy for always.


Greenfield Village is right next to the vast Henry Ford Museum which tells the Ford story but also explains the history of industry and how this has impacted all aspects of our lives. We ran out of time to tour the factory which is also part of the campus and we could spend at least another day at the village and museum. I will be writing about what we did see next time!