Probably, we were the only British family celebrating this much beloved American Holiday in Provence and certainly in Lourmarin!Like many families far away in USA,  I prepared the house for the family and for the celebration!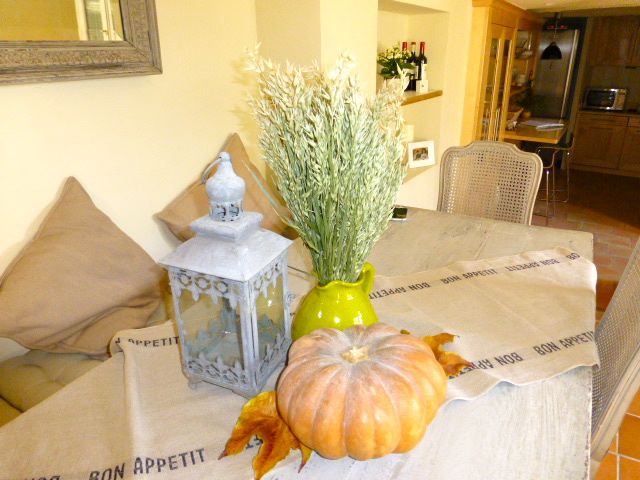 Once suit cases were unpacked, as it was my visitors first time here, I hurried them on to the streets of Lourmarin. I was excited to introduce them to this, my special corner of Provence.

It was a late afternoon stroll and Lourmarin didn't disappoint! Whilst we were wondering about whether we would find cranberries and sweet potatoes in the french market in the morning, the locals had other things on their mind.
We stumbled across an artist and admired their efforts as the fading light had them packing away their easels and paints.
There were still a few olive harvesters tirelessly working in the grove, again we wondered how olives weren't priced so much higher than they are!!

The next morning, the day before the big feast we toured the hill top villages.
We found extra treats in this sumptuous little Epicerie.
Before we went home to truss the chicken (not a turkey to be found!) we could not resist snapping this shot, which summed up what for us, Thanksgiving is all about.
For life is indeed beautiful, (La Vie est Belle!!)! How could it be anything else in this 'très belle region', surrounded by olive groves, golden vineyards, charming stone buildings and being with those that you love?