Why visit San Antonio, Texas?
Nestled along its meandering tree lined River Walk, packed with restaurants and history San Antonio, Texas exudes a special charm.
San Antonio has the largest concentration of Spanish Colonial architecture in North America, discover the influences of its captivating past; from being a Spanish Colony, to becoming part of Mexico before gaining its independence in 1836.
Explore not only The Alamo, San Antonio's most well-known treasure but don't miss its string of other beautiful Missions, all within minutes of each other.
Stroll passed the stunning 19th century mansions of the historic King William District which offer an incredible insight into how San Antonio grew and prospered and its German Heritage. 
A boat cruise and an amble along the River Walk is a must and a visit to San Antonio's Pearl District will rival all your previous dining experiences! Set on the site of the beautifully restored Pearl Brewery this is a foodie's heaven. A stay in the Pearl's boutique, newly opened Emma Hotel would make your visit to San Antonio quite unforgettable!
What to see in San Antonio
The Alamo, San Antonio
Indigenous people have lived along the San Antonio River for centuries. The river and this native population made it an ideal location for the Spanish to settle in 1724.


Spain ruled San Antonio and the surrounding area for over 300 years but paid scant attention to it until the French built outposts in the Red River near Louisiana. Suddenly threatened, the Spanish strengthened their claim in the area by building several Franciscan missions.


The first mission was San Antonio de Valero known today as The Alamo, was founded in 1718, a few miles from its existing site to where it relocated in 1724. It became the home to Spanish Missionaries and Indian converts, over 300 of whom lived here at its peak in 1739.


In 1793, still under Spanish rule, San Antonio de Valero was closed and converted into a frontier outpost and military barracks,


It was from then on that it was referred to as 'The Alamo'.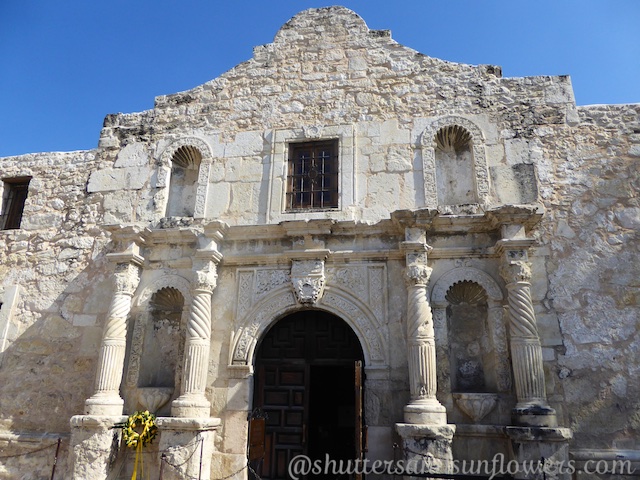 When Mexico declared its independence from Spain in 1821 and later during the Texas Revolution and Battle of the Alamo (February 23- March 6 1836) the battle cry "Remember the Alamo" spurred the Texans on in their quest for independence.
Visiting the Alamo today
Over 6 million visitors visit the Alamo annually. Although much of the original site has been lost there is still much to see. In July 2015 The Alamo was deservedly recognised as a UNESCO World Heritage Site.
Location: Downtown San Antonio steps from the River Walk, 300 Alamo Plaza San Antonio TX 78205 +1 210 225 1391
Hours: Open daily 9.00am -5.30pm
Admission: free, audio tours available
Click here for The Alamo Website
Click here for further information on battlefield and VIP tours
Don't miss the museum which includes a short film to learn more of the Alamo's fascinating history
The Church at The Alamo
The Alamo's most recognisable structure, originally a Spanish mission church built in 1755

The Spanish Hospital at The Alamo
This first recorded hospital in Spanish Texas, established in 1805. It could care for up to 30 patients at a time who slept in wooden beds like these

The Mill at The Alamo
This millstone was brought to The Alamo by Canary Island colonists to grind corn or wheat into meal at the mission's mill.

San Antonio's Missions
The Missions of San Antonio are all within a minutes drive of each other and are also accessible by The Alamo Trolley. They are superbly run by the National Park Service.
Admission: free and guided tours are available
Hours: Daily 9am -5pm except Thanksgiving, December 25 and January 1
Transportation: Visit the Missions along the trails, onsite bike hire is available at the Missions Click here for a map and additional information
For all further information click here
Mission San José was built a few miles down the river from The Alamo in 1720 and 11 years later 3 East Texas Missions, San Juan, Concepcion and Espada were relocated close by. Although initially (1745-1780) they flourished, increasing hostility from the Apache Indians, and the Comanche Indians, coupled with inadequate military support, and disease caused their decline.
I was able to visit two of them and wished I had had time to visit the remaining.
Mission San José

Mission San José is the only mission church in San Antonio that never lost its roof or walls to age or neglect. As a result, remnants of colorful frescos still remain.
Plan of the Mission Site

Mission Concepcion

Much of the original settlement at Mission Concepcion has fallen into ruin but the actual church proudly remains as the oldest unrestored stone church in North America.

The golden limestone walls of the San Antonio Missions stand as a testament to San Antonio's turbulent but intriguing past, a city whose history begs to be unravelled by any discerning visitor.
There are numerous choices of where to stay in San Antonio. Follow my tips for how to search for somewhere.
BUT if you want to spoil yourself I would highly recommend booking one of the delightful rooms in the Emma Hotel, a very special treat!
There are many other sites to explore in this beautiful city, click here for further suggestions and let me know what you may have discovered!
Read my next post for information on The Pearl District, King William and The River Walk!